England vs Scotland: Gareth Southgate, son of Euro 96, out to make country love the Three Lions again
After recalling a memorable tale of Paul Gascoigne, a fishing rod and a Wembley bath tub, Southgate explained how he is using the national team's long history to educate and inspire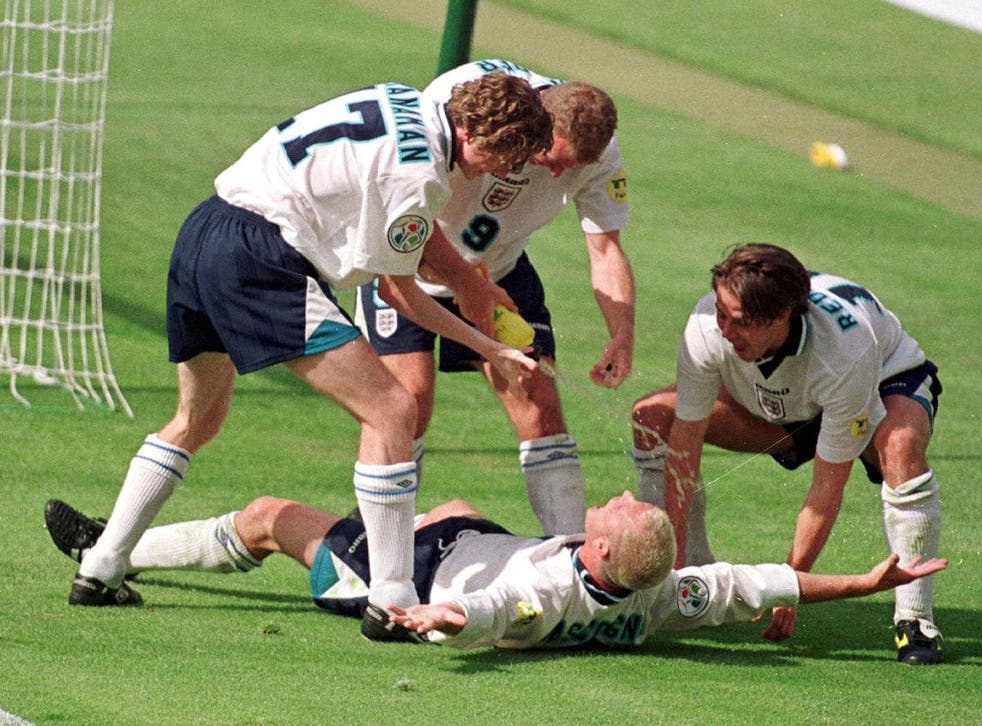 Gareth Southgate did not look or sound like an individual whose managerial future is contingent on the events of the next eight days, and may perhaps be defined by Friday night. He revealed a good line in dead-pan, asking his press manager: "Is that the first aid training session?" when a squeal emerged from the next door meeting room at St George's Park. And he provided a particularly memorable story about Paul Gascoigne, a fishing rod and one of the Wembley team baths.
It dated to the eve of one of England's finer moments against Friday's opposition - the Euro '96 meeting with Scotland at Wembley – when England's players were engaged in their perpetual search of activities to keep the then 29-year-old Gascoigne occupied, thus preventing his nervous energy driving them to distraction. ("I'm not sure emotional control was his [style]," said Southgate, whose arrival in the limelight these past weeks has revealed a dry humour.)
Bryan Robson was deputed to make Gascoigne a fishing rod, from supplies "in the medical skip," as Southgate remembered, and they sat him in front of the bath to enjoy one of his favourite pastimes. "It was pretend fishing…" Southgate pointed out. "… because that was the only time he ever relaxed. Make of that what you will. He used to go [fishing] with David Seaman during the week in the afternoon, just to get himself out of everybody's hair for a couple of hours. He found that the most relaxing thing."
The spontanaeity of Gascoigne seems now to belong to simpler times, before social media and smart phones suffocated players' freedoms. Southgate grinned as he remembered that player's 'Dentist's Chair' celebration the following day, after Gascoigne juggled a ball over Colin Hendry and volleyed it past Andy Goram into the net to set England on their way to a 2-0 win over Scotland. Gascoigne lay on the ground, of course, as Terry Sheringham squirted a water bottle into his mouth - a riposte to those who had moralised about a squad night out to celebrate the Geordie's birthday on an ill-fated pre-tournament trip to Hong Kong.
"Only he could remember the celebration he was going to do, having scored," Southgate reflected. "How does it even cross your mind? 'Oh yes, got to the do the Dentist's Chair.' I see lots of characters in the game, definitely. Whether they feel able to express themselves as much, he was unique. Whether a character like that comes through the academy system the same way I don't know."
It is perhaps needless to say that Southgate didn't get involved in the Hong Kong drinking episode, having survived Terry Venables' cull of the Euro '96 squad which saw Ugo Ehiogu, Dennis Wise, Peter Beardsley, Rob Lee and Jason Wilcox with sorrows to drown that night. At the time, he'd become close to Stuart Pearce, who gave Southgate some firm advice when he suggested they join the drinking contingent. "He said 'No. In my experience of England if you go out for a drink if it's as if nobody has ever drunk before in their lives, so my advice to you is swerve it.' I'd only just got in the squad. Sometimes advice like that is good!"
Southgate observed in the discussion of what the coming days might hold that history "sometimes paints a slightly rosier picture of the past." On Saturday, he was in the company of Gordon Taylor, the PFA chief executive, who recalled England's legendary 1950 World Cup defeat to the United States in the Brazil World Cup, which led to a ritual condemnation of England significantly greater than this summer's Iceland calamity. "Yes, maybe we colour the past with a different view," the interim manager said.
Our memories can certainly play tricks where those Euro '96 days of Gazza and the 'Dentist's Chair' are concerned. That Hong Kong tour also produced the story of Venables' players causing £5,000 damage to a screen on a Cathay Pacific plane and at the height of the immense ensuing furore back home, the Daily Mirror claimed that 86 per cent of respondents to a poll it ran wanted Gascoigne expelled from the Euros altogether. No-one would own up to the damage so the players, including Southgate, agreed to admit collective responsibility and paid money to charity.
The question of whether England's players could get away a night out now pre-supposed that they had escaped in May 1996 but Southgate thought not. "It would be riddled with concern," he said, raising collective laughter again. "After we (his England under-21s' side) won in Toulon we had all the players and staff in the bar and we shared a couple of drinks together, we put a time on it, and they were great…"

His attempts to prepare his squad for Friday will include showing them clips from previous Scotland clashes, going way back. They include the 2-0 Euro '96 win in which Alan Shearer - who had been under immense attack by the press for a lack of goals leading up to the finals - also scored.
"Some of [the current squad] are in a couple of the clips," Southgate said. "That and caps and medals is what football is about. We have some black and white stuff – that I am not in – and it's been really nicely done. You play for England and you are only looking after the shirt for the next person to come through. So there is some humility about that. All of those people have worn those numbers before and that is a good message."
Most of the clips belong to a day when there was there was a more intense passion for England games and as a boy, Southgate collected the videos. "That was all you could watch as there were not the live games. The live games were cup finals and home internationals at the end of the season. That was pretty much it. That was my diet of football. If I had videos of World Cups and historical matches, that was what I watched in the summer holidays if the cricket was rained off."
He steadfastly won't discuss whether he wants the England job permanently when the last of his four games in interim charge has brought Spain to Wembley next Tuesday, though he hardly needs to. His discussion of what the role entails makes it self-evident that he wants nothing more than to carry on permanently and lead the national team.
It also reveals a prospective manager with a more intuitive grasp of what comes with the England turf – the controversies, media storms and characters – than any foreign recruit to the post could possibly bring, and that asset should in not be overlooked. "Every time you play for England you have a chance to make some history, or to play in a game that people will remember forever and that's incredibly powerful," he reflected. "I want them to be aware of that."
Register for free to continue reading
Registration is a free and easy way to support our truly independent journalism
By registering, you will also enjoy limited access to Premium articles, exclusive newsletters, commenting, and virtual events with our leading journalists
Already have an account? sign in
Register for free to continue reading
Registration is a free and easy way to support our truly independent journalism
By registering, you will also enjoy limited access to Premium articles, exclusive newsletters, commenting, and virtual events with our leading journalists
Already have an account? sign in
Join our new commenting forum
Join thought-provoking conversations, follow other Independent readers and see their replies