England vs Spain: Gareth Southgate wants clarity over England role after putting his touch on national team
Southgate does not know if he will be England manager or demoted back to his Under-21s role come 2017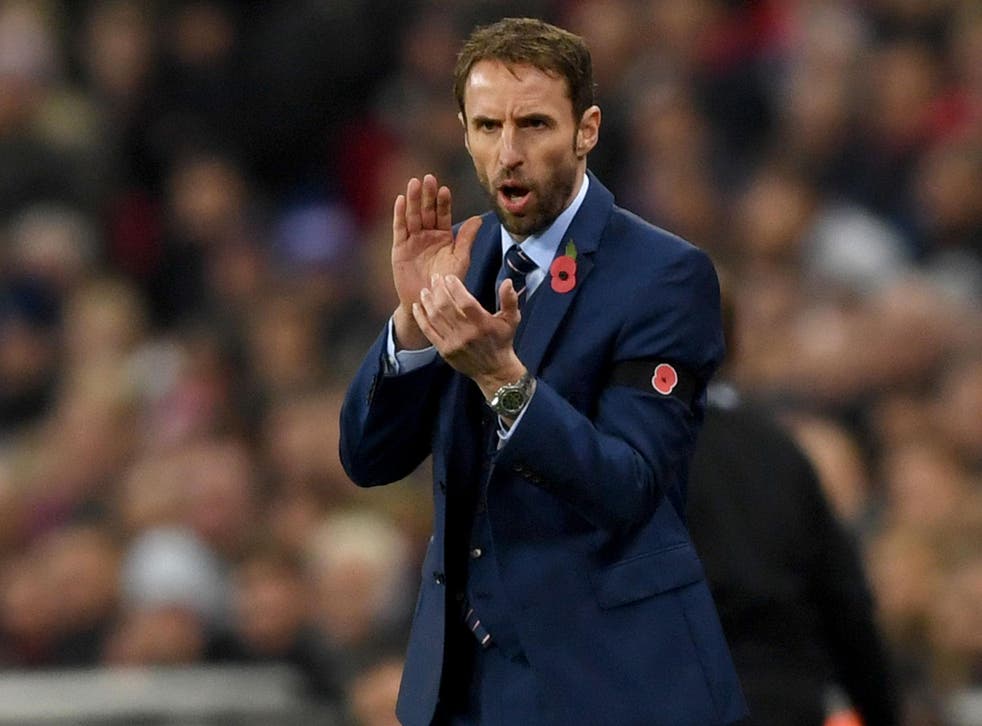 Gareth Southgate wants a decision from the Football Association within the next two weeks about whether he will be England's next manager, with Tuesday's match against Spain at Wembley providing the chance to make himself a dead-cert to be the 15th permanent holder of the post.
The 46-year-old said after the emphatic 3-0 win over Scotland on Friday night that he welcomed competition for the position, though the governing body are already understood to be strongly minded that he should now get a three and a half year deal, with a break clause after the 2018 World Cup.
Asked if it was important for the situation to be resolved now, thus allowing him to plan, Southgate said: "I think [we need that] for everybody because we've got the European Under-21 Championships to prepare for and the seniors have got the next round of games to prepare for. Everybody is going to want to know by the end of November, middle of December where everything's heading so that we can decide who is responsible for which parts of the organisation's work. Whichever body of work that is remains to be seen." He joked: "It would be important for me to know what I'm doing after the middle of November!"
Harry Kane has left the squad and returned to Tottenham Hotspur to work towards match fitness, having not arrived from the bench against the Scots following only 73 minutes of football since damaging his ankle against Sunderland on September 18. But with Daniel Sturridge, Jamie Vardy, Marcus Rashford, Wayne Rooney and Theo Walcott all options, England have not called up any replacements for the arrival of Julen Lopetegui's Spain side.
Southgate – for whom Rashford, Walcott and Vardy are possible starters against Spain - felt that there was some courage in the way he asked the players to play out from the back against Gordon Strachan's side and take "more risk" – despite the significance of a win to his hopes of being made permanent manager.
"It would be easy to say: 'Scotland is a pivotal game in what we are trying to do so we won't take any risks playing from the back. We won't encourage the team to play, play percentage football and with better players we win the game,'" he observed. "Well, we didn't want to do that, we wanted to play in a style which we believed was right in the long term, a style that would encourage our younger players. There is more risk in that."
England vs Scotland player ratings

Show all 30
England now face a football nation whose joined up approach between the age groups the FA has directly copied, having concluded that the lack of communication between the England manager and leader of younger age groups in the recent past was folly.
Southgate feels that his England side has displayed a distinct way of playing since he began work with them last month. It is more akin to the Spanish method, though he admitted that there is a technical deficit between the two nations – despite the mere two places which divided them in the Fifa world rankings. (Spain have slipped to tenth after a disappointing World Cup.)
"There are signs of how we would like to play," Southgate said. "We have certain attributes in the team that lend themselves to playing in a certain style. In the top two thirds of the pitch we did that really well [against Scotland]." But he wants more circumspection when it comes to playing out from the back, especially from Manchester City's John Stones. "I think it is decision-making and positioning sometimes: recognition on when to really commit to it and when to play past the first press."
Though FA chief executive Martin Glenn felt that England were psychologically "brittle" this summer, Southgate said he did not believe the side tended to "freeze" against tough opponents. "I'm not sure we [do]," he said. "You play the big nations and you play against better teams with better quality players and so the game becomes more even at times. Until we develop as a team, we are playing against teams who are further advanced in their way of playing. That's the challenge. That's why those games are tougher."
Join our new commenting forum
Join thought-provoking conversations, follow other Independent readers and see their replies