England manager Gareth Southgate satisfied with England's performance
Raheem Sterling praises Jadon Sancho's bravery and admits to changing his game to benefit the team
Sterling reveals how he's changed his game to benefit the team and says he's always highly rated Sancho
Raheem Sterling knows what it takes to make it as a modern winger. How to go from a talented teenager who can do anything with the ball to an established reliable senior player. When to move away from home to focus on your football. And how to make the most of your gifts on the pitch, for the good of the team rather than just for show.
So who better to talk about the rise of Jadon Sancho than Sterling himself?
Sancho made his England debut on Friday night, replacing Sterling in the second half. He immediately showed some of the traits that made Sterling such a teenage star. The dazzling quick feet. The desire to commit defenders. The direct commitment to the goal.
It may have surprised some observers – Sancho has never played one minute of men's football in England – but it did not surprise Sterling. He has known Sancho from when the youngster trained with the Manchester City first-team in 2016-17, before he left for Borussia Dortmund. And Sterling was always impressed.
Croatia vs England - player ratings

Show all 22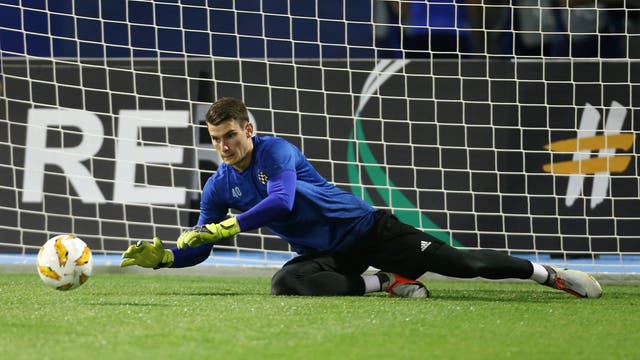 "He is a really good talent and someone I've thought highly of since the first time I saw him at Manchester City when he was training with us in pre-season," Sterling said. "I thought highly of him, his work ethic and what he does with the ball. I know him really well and he's someone that is really modest but when he's on the field he wants to express his ability."
Under different circumstances Sterling and Sancho could now be team-mates at City. But in the summer of 2017 Sancho turned down a lucrative professional contract at City because he feared he would not play. He went to Dortmund instead where he has started to break into the first team, and was rewarded by Southgate with a place in the England squad – and on the pitch – this week.
Sterling was impressed by how Sancho took a brave and difficult decision for the good of his career. "For someone so young to back themselves to go abroad is a credit to them," he said. "To go abroad so young and back yourself that shows a lot about the person. He could have taken the easy route and stayed at City but he saw himself developing better. That's what it's about in football, you have to judge your own situation and he did that perfectly and all credit to him."
There comes a time in the career of some teenage players when they have to move away and focus on development. The circumstances are not exactly the same but Sterling left London behind at 15, leaving Queens Park Rangers to move to Liverpool, seeing it as a better place to focus on his football and develop as a player. Two years later, at the age of 17, Sterling was in Brendan Rodgers' first team. By 19 he was an England regular.
Sterling hopes that Sancho has found the environment for him in Germany. "He has knuckled down in Germany," Sterling said, "and, when you're that age, it's probably something you need. To have that seclusion and be by yourself a bit and to concentrate solely on football. I'm really happy for him."
Sterling is still just 23 and admits he has plenty of improving of his own to do. He used to be player most focused on beating opponents but he is becoming increasingly hungry for goals under Pep Guardiola. He has changed his movement, more focused on arriving at goal at the right time to score, rather than staying wide. That is how he scored 23 goals last season, 18 in the Premier League, and has four already this year. He knows this is the way he will ultimately be judged, rather than how stylishly he can beat opponents if it does not result in anything.
"The main thing now is to keep trying to be a goal threat," Sterling said. "When I was a bit younger, I wasn't too interested in scoring goals, I was all about looking nice or trying to look nice and show people I've got a lot of ability. But now I've started to realise that no-one remembers the nice stuff you do on the pitch, it's about the effectiveness and what you do for your team."
"I think I'm probably more driven now, more driven to be able to get on the end of things, being in the box a lot more whereas before I was going wide, trying to beat a player and now I'm trying to get on the end of stuff, being around for scraps and trying to make goals for myself."
The next step is to start scoring more for England, which he has not been able to do yet. "As I'm growing and developing, I understand that now and I need to keep that going, especially with the national team because I need to get these goals going," he said. "I'm much more confident when I'm in and around the penalty area now so I feel the goals will come for England as they have been doing for City."
Join our new commenting forum
Join thought-provoking conversations, follow other Independent readers and see their replies