England vs Wales result: Jack Grealish offers reason to watch game barely worth playing
Midfielder assisted Dominic Calvert-Lewin's opener and shone elsewhere in the friendly at Wembley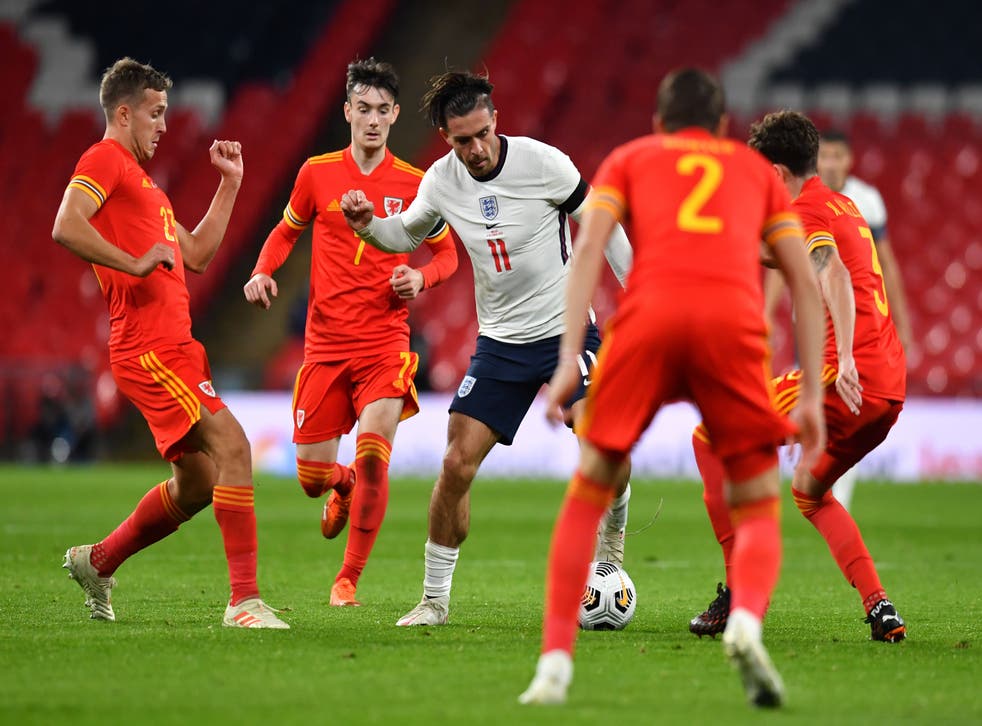 One of the big debates this week has been why these international friendlies are even being played, but Jack Grealish at least offered one fine reason to watch.
He was gloriously creative in a match that otherwise felt fairly predictable, and rather pointless without a crowd.
Gareth Southgate, Dominic Calvert-Lewin, Conor Coady and Danny Ings, for their part, would say very differently.
It was a night of firsts in that regard, not least an England international at Wembley with no fans. That is something that will have marginally taken away from genuinely special moments for these players.
Calvert-Lewin got a debut goal, Coady and Ings got first goals, and Southgate got a few pointers and potential solutions for Euro 2020. It felt instructive that, on what was Grealish's own first start, he set up England's first goal from open play since Kosovo. His work also won the free-kick for Coady's goal, which involved a typically fine delivery from stand-in captain Kieran Trippier.
Grealish is, very simply, great to watch – and uniquely difficult for defenders to pin down.
Wales, meanwhile, didn't get much out of this at all, other than a fairly chastening 3-0 defeat and a look at how they may approach some of the bigger international sides at next summer's Euros.
This is what these matches are partly supposed to be about, as well as badly needed income for the national federations. All of that starts to feel much less pressing among rising cases of coronavirus across the continent, and particularly among international squads.
That is why the debutants – Calvert-Liewin and Bukayo Saka – will have curious memories of their first games. They were successes nonetheless.
Calvert-Lewin's opening goal was of the classic number-nine type that he has already offered regularly for Everton this season, supremely set up by Grealish. It was such a divinely inviting ball, and the kind of finish Calvert-Lewin talked up in the build-up to the game.
The two are going to give Southgate some big decisions ahead of the Euros.
They might not even be that big by that point. They may be obvious. For now, with the forwards, it feels like Southgate is going to have to pick one of Calvert-Lewin, Tammy Abraham and Danny Ings behind Harry Kane. The Everton striker is currently well ahead in that race.
Grealish is meanwhile probably looking to be one of two to complement Raheem Sterling, with Jadon Sancho and Marcus Rashford.
The Villa playmaker does offer something very different in his languid play, and a hint of the wild card that can outfox defenders. He is almost unique as a playmaker in the modern Premier League, and in this game gave Southgate's side a greater freedom.
While Sancho and Rashford have tended to scorch backlines for England, stretching the pitch, Grealish is more withdrawn. There are times when he doesn't seem to be moving that much at all. He hadn't actually been out on the right once until the minute of the goal, when he then got it there and clipped in that inviting cross.
He can carry the ball, and dribble, in ways that had gone out of the game but may be becoming more important than ever now that pressing reigns.
Grealish's contributions did make elements of this game more compelling, and potentially consequential.
It still felt relevant that England's next two goals came from set-pieces, even if one was as inventive as an Ings bicycle kick.
That does touch on a wider debate around this team. Can Southgate develop a system that makes the side more penetrating in open play with this midfield? Are England too dependent on set play?
One of the great ironies of Southgate's search for a system that works is that what is best for England may not necessarily be best for winning tournaments.
There's first of all the issue that, even if he eventually gets the midfield right, the personnel mean it's not going to be as commanding as those of France, Germany or Spain. As such, England are going to have to adapt in those games. That, for his part, is the variety that Southgate is trying to find.
More generally, there is an interesting discussion to be had over what is the optimum approach at this level.
We know well what it is at club level. That is frenetic pressing of a level of co-ordination that creates chaos, married with controlled possession. Such a combination is achievable with clubs, however, because of the amount of time they have to train together; for managers to drill their players.
That just isn't possible with countries. There is nowhere near enough time to develop that cohesion, unless you have a core of players from one club, so attempting it will inevitably lead to gaps in the team and maybe a fair bit of sloppiness.
It might just be that a slightly outdated approach in the club game represents the most effective at international level. That would be locking games down at one end, and waiting on individual inspiration at the other. This is partly how France have become the best in the world, even if there is a lingering frustration that so many talented players are utilised in so constrained a manner.
That is the other side of it. It isn't exactly great to watch, and speaks to some of the issues that the level has seen in contrast to the club game.
Grealish made this match worth watching, but not necessarily worth playing.
Join our new commenting forum
Join thought-provoking conversations, follow other Independent readers and see their replies