Five questions new England women's manager Phil Neville must answer at his unveiling on Monday
Neville's appointment has been met with all sorts of controversy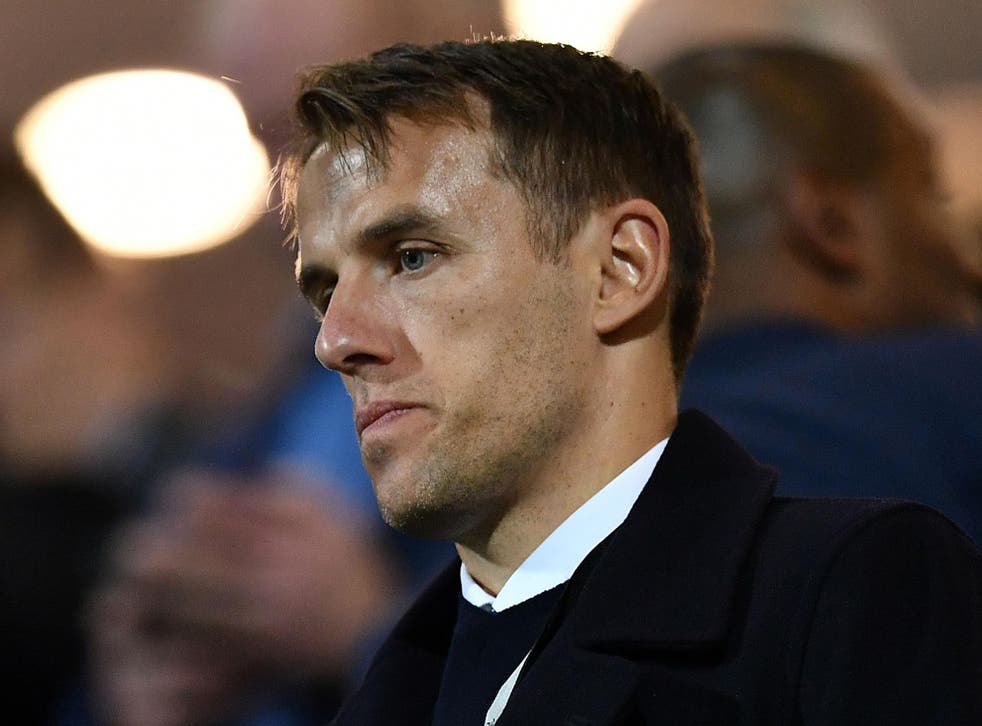 Phil Neville finally makes his public bow on Monday as the new coach of England women, six days after his shock appointment as successor to Mark Sampson.
Many within the women's game were bewildered by the choice of Neville, then inflamed by the revelation of sexist tweets by the former Manchester United player. Neville might be an inspired selection, but he has a lot to prove and will need to get off to a convincing start.
How do you explain joking about domestic abuse?
Neville is regarded by those who know him well as a decent person and an excellent husband and father. But he still found it fit to joke about domestic abuse in the public forum of Twitter. Many in the women's game feel his apology for that tweet was insufficient with suggestions he make a more specific response and a contribution to an appropriate charity.
2018 World Cup group-by-group guide

Show all 33
Neville is likely to win people over quite quickly with his diligence and amiable nature. He has made a good start with the squad in La Manga last week. Nevertheless, it was an unfortunate start to an already controversial appointment and he needs to put the episode to bed once and for all.
What do you know about women's football?
It is thought Neville had never attended a women's match prior to him being approached. Once he became the shock frontrunner for the job his research included following squad players on Twitter (until he quit the social network). He will doubtless have been frantically mugging up on who's who, watching videos of previous England internationals and recent FA Women Super League matches, but has his cramming been sufficient?
Sven Goran Eriksson, on his media debut, was asked if he could name Sunderland's left-back and Leicester City's goalkeeper (Michael Gray and Ian Walker respectively, both then ex-internationals hoping for a recall). Similar questions for Neville might involve Everton's goalkeeper and Birmingham's centre-forward (Lizzie Durack and Rachel Williams).
There are more pertinent questions. Are veterans Fara Williams and Laura Bassett in his plans for the 2019 World Cup? Who is his No.1: Karen Bardsley or Siobhan Chamberlain? Are Manchester City's Georgia Stanway and Arsenal's Beth Mead ready to step up to the full England side?
Who will be your coaching staff – and will you listen to them?
When Neville left Valencia in May 2016 – his last active role in football - he spoke of being a manager and bringing in his own staff. The FA, keen to allay reservations in the women's game, want to involve female assistants with a view to them eventually succeeding him.
Favourites are Liverpool's Casey Stoney, still an England player, and former international Rachel Yankey. However, while those two will be able to pass on a wealth of knowledge on the women's game they have even less management experience than Neville making for a trio of novices. Will Neville insist on having another coach he knows? Previously ex-player Marianne Spacey was assistant to Sampson, but unexpectedly moved to a new role before Euro 2017 – a switch believed to be because she felt Sampson relied on his own staff and her input was not valued. The FA will not want a repeat.
Are you going to continue living in Spain?
The England women's manager's job was advertised as being based at St Georges Park, Derbyshire. Neville currently lives in Spain and has two children at secondary school there with his son also on Valencia's books. The Spanish school year runs, like the English, until this summer. Any reasonable person will understand how important it is not to disrupt schooling and ordinarily a coach might be able to get away with commuting from the Continent for six months.
But given Neville is starting from scratch in the women's game he needs to watch matches and forge relationships with key people such as the WSL coaches (some of whom are perplexed at his appointment). The World Cup is 18 months away and England have a large group of talented players who need to be honed into a starting XI with a practiced philosophy.
What happens if a men's team offer you a job?
To the ire of the women's football community Neville's initial comments about his new role focussed on what a good developmental opportunity it was for him, rather than the prestige of the position. This seemed to be the view of others in the men's game too. This has created the impression that he – and the FA – see it as a stepping stone to 'greater things'.
Let's imagine England do well at the Women's World Cup – and they should do given they are No.1 in Europe. What happens then if an ambitious Championship club, or even one in the Premier League, offers Neville a job? Or the England U21 men's job comes up? Does he insist he wants to finish the job with the Lionesses? Or does he think, 'this opportunity will not come up very often', accept it, and throw the women's team into fresh turmoil?
Join our new commenting forum
Join thought-provoking conversations, follow other Independent readers and see their replies