Euro 2016 draw: England draw Wales but Republic of Ireland handed Group of Death
Northern Ireland will also have a tough time getting out of Group C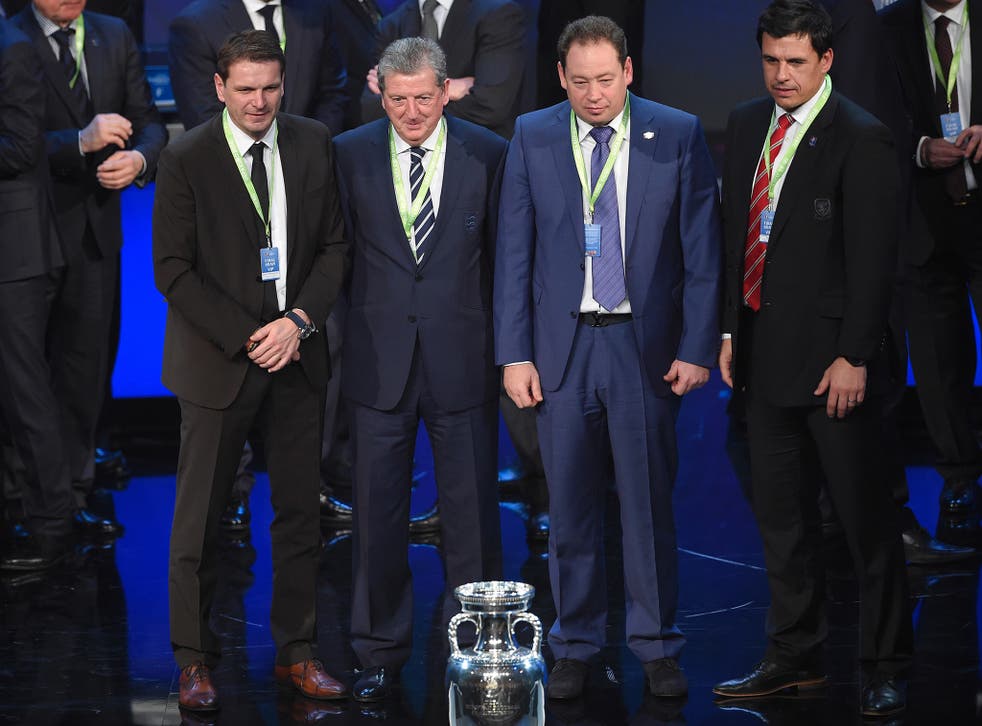 England will face Wales in France after the two Home Nations were drawn together in Group B of Euro 2016.
The two teams, who last met during Euro 2012 qualifying in September 2011, were also drawn with Russia and Slovakia. England and Wales meet for the first time in a tournament.
The Republic of Ireland endured a nightmare draw as they were selected alongside Belgium, Italy and Sweden.
The draw was not much kinder on Nothern Ireland who were drawn with Germany, Poland and Ukraine.
Cristiano Ronaldo's Portugal were given arguably the easiest draw, alongside Austria, Hungary and Iceland.
"There was always a very good chance we would meet one of the home nations," said England manager Roy Hodgson.
"We are very pleased Wales have done so well, and whichever of the teams we got in that pot it would be tough. Why not have a tough one close to home?
"We know all the Wales players - almost all of them play in England. But what we know most of all is the team is very organised, they have a strong spirit and a good spine. In Aaron Ramsey, Ashley Williams and Gareth Bale, they have three really top class players. We have a lot of respect for Wales.
"When it comes to draws, though, you are just happy your name is in the hat because it is such a lottery. You just take what you get."
Wales have risen up the world rankings under manager Chris Coleman and sit 17th, with England ninth, and Hodgson will not underestimate his country's near neighbours, they face each other on Tuesday, 16 June. England open their campaign against Russia on 11 June before facing Wales and ending the group stage against Slovakia in St Etienne on 20 June.
Hodgson also added to the BBC: "Chris Coleman and I have been friends for a long time, and whatever happens we'll be friends after the game as well.
"Slovakia and Russia are interesting. I've not come across either of those two teams in my international career - which is unusual given how many matches we play. They are two newcomers on my CV but we respect them and it will be a question of doing plenty of research now."
The game against Wales will grab the headlines and ex-England captain Alan Shearer believes the teams will relish it but played down England's chances in the overall tournament.
"I heard Chris Coleman say beforehand he didn't want to play England but deep down both him and Roy will be delighted. For the players to play against players they know very well, it's a game they will all look forward to," he told the BBC.
"For the first time in a long time we're (England) going into a tournament, without being disrespectful to any players, without any real superstars. We have a good team and some good youngsters coming through.
"If we're honest it might be a little bit early but we have (Gary) Cahill, (Ross) Barkley, (John) Stones and a very good keeper (Joe Hart). Who knows? We're just looking for a bit of progression with England."
Harry Kane took to Twitter after the draw to ask: "Who's looking forward to the summer already?" and former striker Michael Owen added: "Home Nations all should be reasonably happy with their draws. Rep Of Ireland's group is a stinker though."
England have won their last four internationals against Wales without conceding having beaten them twice during qualification for Euro 2012.
Ashley Young's goal won it for the Three Lions at Wembley in 2011 while early goals from Frank Lampard and Darren Bent gave England a 2-0 win in Wales in the first game between the sides in Group G.
They were also paired in Group 6 for 2006 World Cup qualification as Joe Cole earned a 1-0 win in Wales in 2005 after Lampard and David Beckham scored in a 2-0 victory at Old Trafford in October 2004.
England last played Slovakia in 2009 when two goals from Wayne Rooney helped them to a 4-0 win. The Three Lions faced Russia in their failed Euro 2008 qualifying bid, losing 2-1 away in October 2007, a month after winning 3-0 in England.
--
EURO 2016 GROUPS
GROUP A
France, Switzerland, Romania, Albania
GROUP B
England, Russia, Slovakia, Wales
GROUP C
Germany, Poland, Ukraine, Northern Ireland
GROUP D
Spain, Croatia, Czech Republic, Turkey
GROUP E
Belgium, Italy, Sweden, Republic of Ireland
GROUP F
Portugal, Austria, Hungary, Iceland
Additional reporting from PA
Join our new commenting forum
Join thought-provoking conversations, follow other Independent readers and see their replies