Euro 2016: 'England are going to have to prove that there is something different,' says goalkeeper Joe Hart
Facing his fourth tournament, the England goalkeeper has developed a weary cynicism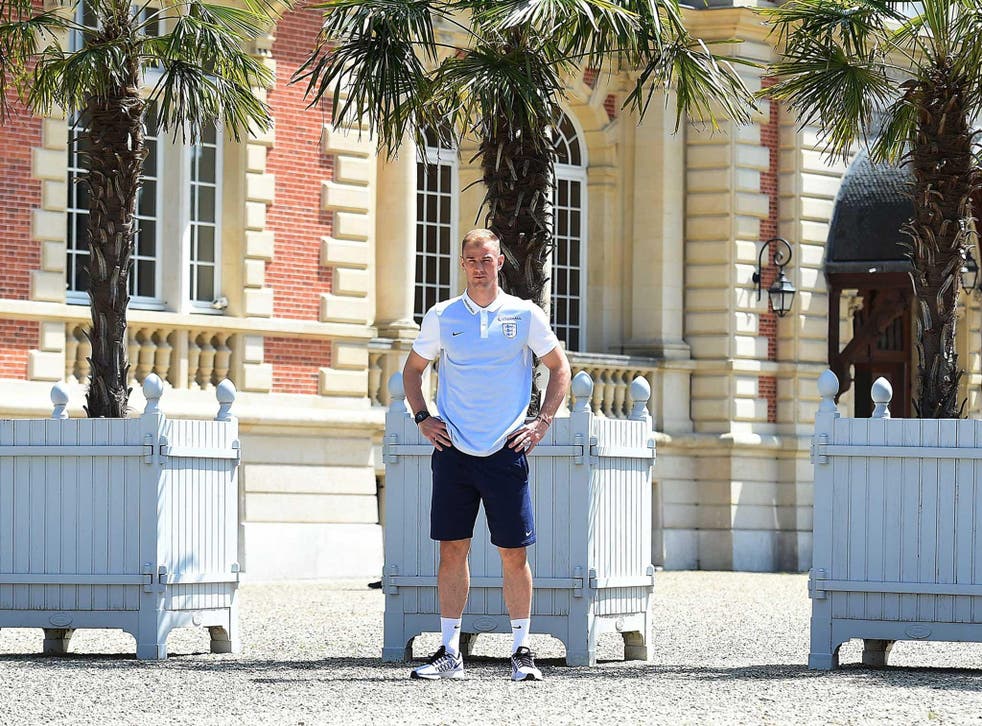 Joe Hart has endured enough inquests following failures in major tournaments to know what lies around the corner if England's Euro 2016 journey ends in the same culs-de-sac as those he has experienced in South Africa, Poland / Ukraine and Brazil.
Facing his fourth international tournament in France, the England goalkeeper has unsurprisingly developed the weary cynicism that comes with high hopes ultimately delivering nothing but disappointment.
The forced smile, the professional answer, the straight bat – all were deployed as the Manchester City number one looked ahead to England's Group B opener against Russia on Saturday.
Yet rather than betray a sense of exasperation with the recurring themes that accompany England on the big stage, Hart's display in front of the cameras hinted more at a determination for the action to start and the shadow boxing to end.
For Hart, the time for talking has stopped. It is now all about delivering and, perhaps, forcing a change of narrative by the time the next tournament comes around, rather than have to answer the same old question – can it be different this time?
"It's a tough one because I have answered it so many times," Hart said. "We are going to have to prove that there is something different.
"It's all very well me thinking it. I believe in every team I am part of, but it is down to us to prove it on the pitch that there is something different.
England Team Preps for Russia Match as Euro 2016 Opener Draws Closer
"I'm not driven by what has gone. I'm driven by wanting to improve and win things. I'm motivated by what we have as a nation – what's gone is gone.
"We have this team together and we are in this tournament, so we want to go as far as we can."
Hart's first taste of England on the big stage was back in 2010, when the then-23-year-old travelled to the World Cup in South Africa as third-choice behind Rob Green and David James.
Fabio Capello subsequently admitted his regret at not handing Hart the chance to impress in South Africa, with both Green and James failing to perform, but when Euro 2012 came around, Hart was the man between the sticks.
On that occasion, the defining image of his tournament was the ill-judged attempt to distract Italy's players during an unsuccessful penalty shoot-out – a tactic comprehensively swatted aside by Andrea Pirlo's 'Panenka' penalty past the goalkeeper.
Brazil was another tale of woe, with England flying home after a group stage elimination, but Hart insists that previous disappointments will not provide motivation in France.
"I don't need that anguish or pain," Hart said. "I am a motivated guy – football is a short career and I want to get the most out of it and really try to make the most of opportunities.
"So no, I am in the moment and in the mindset of building up to a tournament.
England Euro 2016 shirt numbers

Show all 23
"The other tournaments are gone, but I am excited and looking forward to this one. I am looking forward to the Russia game. Whatever is gone is not going to help that.
"We are working together as a group to look forward and go forward."
But at 29, with three experiences of international heartache already inflicted scars, is he in a rush to make it count before the opportunities run out?
"Yeah, but I feel like that every day and every game," he said. "I have no right God given right to win a tournament in my career, so it will not be down to the fact that I may only have six years left, so I had better win one.
"I want to win everything that I am involved in and this one is going to be no different."
It all begins with Russia this weekend, however, and a first meeting with the 2018 World Cup hosts since a 2-1 defeat in Moscow during the Euro 2008 qualification campaign.
Leonid Slutsky's team will provide Roy Hodgson's players with a step into the unknown, but Hart insists that England will have every angle covered in the Stade Velodrome.
"It's not going into the unknown," Hart said. "We can see as much footage as we want and we have played against some of them in the Champions League. From my perspective, I have played CSKA Moscow a few times with City.
"It is hard to be unknown, especially in modern tournaments with the resources we have.
"We are prepared and we can't use that as an excuse."
Join our new commenting forum
Join thought-provoking conversations, follow other Independent readers and see their replies