Euro 2016: England fan Andrew Bache in coma after being hit 'four or five times' in the head with an iron bar
A crowdfunding page has been set-up to help support Mr Bache and has already raised over £13,000
Jack de Menezes
Tuesday 14 June 2016 09:27 Comments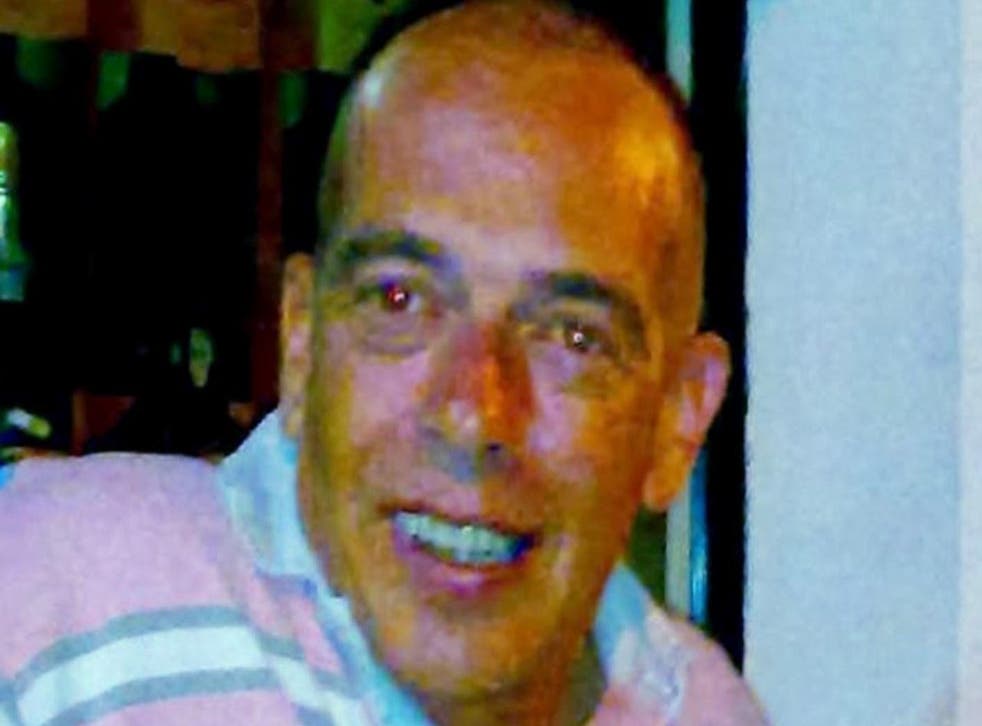 A crowdfunding page has been set-up to help an England fan left in a coma after he suffered serious head injuries when attacked by Russian gang members in Marseille.
51-year-old Andrew Bache suffered a critical brain injury when he was hit several times over the head by a Russian hooligan with what was believed to be an iron bar or hammer. Mr Bache required life-saving CP by French police, and was induced into a coma in an effort to reduce swelling on his brain.
Over £13,000 has been raised to help Mr Bache's treatment, with the Portsmouth local – affectionately known as the "Pepe of Pompey" – remaining in hospital in the south of France.
His friend, Jay Ricketts, set-up the page, and has said that Mr Bache was the victim of an "unprovoked attack" and had his life saved by French police.
"It's been difficult as none of his family are out there, it's difficult to get information," Mr Ricketts was quoted as saying by The Telegraph.
"His brother and son are on their way now.
"As far as we know he's been put in an induced coma to help the swelling in his brain to go down.
Russia and England fans clash at Euro 2016 – in pictures

Show all 15
"There's no real update on his condition as such time as they bring him out of that.
"His life was saved by the French police who gave him CPR.
"This was a completely unprovoked attack by the Russians. He sustained severe head injuries."
He added: "He's a long-time Pompey and England fan, gone out to watch the match."
Violence mars England-Russia Euro 2016 opener
Mr Bache was part of a group of six who were hoping to follow England throughout Euro 2016, but he was one of the fans who was unable to escape a large gang of Russians who arrived in Marseille equipped with gum shields and mixed martial arts gloves with the intention to insight violent clashes.
A second friend of Mr Bache, who did not wish to be named, said: He got caught up in it. He got smashed over the head with a hammer or iron bar four or five times.
"We're trying to get money up together to help with his mortgage. He was there with a group of friends.
"The Russians came into the square. It's quite sickening. Most people got away but he got caught up in it."
Mr Bache's brother, Dean, travelled to France on Monday evening to be at Andrew's bedside, and confirmed that he does not want to talk to the media until he has seen his sibling.
There will also be a benefit night at The Shepherd's Crook pub in Portsmouth, where Mr Bache drinks before Portsmouth matches, on Saturday to help raise money for Mr Bache.
Register for free to continue reading
Registration is a free and easy way to support our truly independent journalism
By registering, you will also enjoy limited access to Premium articles, exclusive newsletters, commenting, and virtual events with our leading journalists
Already have an account? sign in
Register for free to continue reading
Registration is a free and easy way to support our truly independent journalism
By registering, you will also enjoy limited access to Premium articles, exclusive newsletters, commenting, and virtual events with our leading journalists
Already have an account? sign in
Join our new commenting forum
Join thought-provoking conversations, follow other Independent readers and see their replies