Euro 2016: England manager Roy Hodgson comes out fighting but this tournament is wearing him down
What's most striking is how thin-skinned and offended by criticism Hodgson actually is as England prepare for Iceland on Monday evening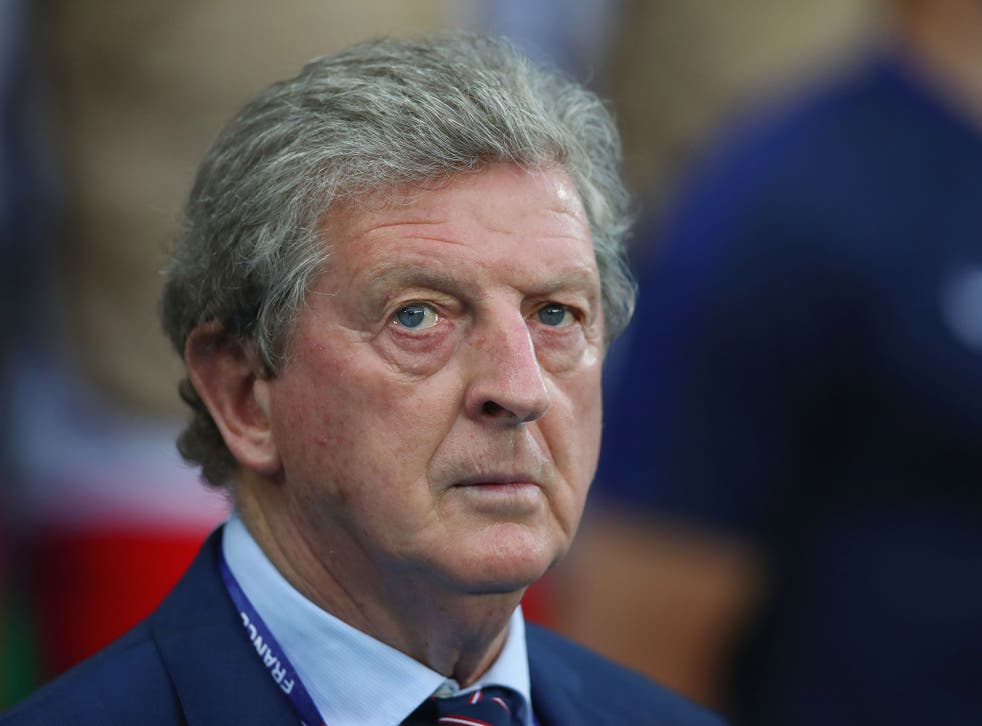 Roy Hodgson's initials have been painted onto his old-fashioned, black-and-white moulded stud football boots, which are spattered with whitewash.
The kit manufacturer's hi-tech watch he wears, with no clock face, looks out of place on his wrist. He's a traditionalist, a throwback to gentler times, and the fury of the assault on his management in the past seven days looks like it is wearing him down as he sits, perspiring from work under a midday Parisian sun, to discuss the fixture which could bring down the curtain on his England managerial tenure.
He is indignant, though: not a lot less than furious with the attack on his judgement which has followed the goalless draw against Slovakia in the game England started without both their captain and most effective creative player.
The opportunities to meet Hodgson like this, in the stand overlooking England's training pitch, are so infrequent that the next question comes before he has finished the last but he halts the battery at one stage to counter the criticism which has clearly been eating him. There are clearly things he wants to say.
"Roy, I assume…" comes a question.
"Just one second. I have to go through the histories first," he says. "Because otherwise, I just accept blanket… you know… I accept so many nonsenses that are said to me and written that I don't often get a chance to put things right."
And then comes the argument, precise and methodical like his own football philosophy, as he dissects the six changes for Slovakia - one by one. The full-backs introduced – Ryan Bertrand and Nathaniel Clyne for Kyle Walker and Danny Rose – were a success, Clyne particularly so. And besides, Tottenham never ask Walker and Rose to put in their own particular work load three times a week. "So I don't see where the point is."
The strikers, Jamie Vardy and Daniel Sturridge won England their game against Wales. "Naturally, we then started with them for the next game."
Rooney: England Euro chances
"So it boils down to those two," Hodgson continues, moving on to Henderson and Wilshere replacing Alli and Rooney.
"What did you think Henderson was like?" he asks his initial inquisitor.
"I thought he played very well..."
"So we're talking about one man. And that is amusing to me because of all the players that I've actually had to stand up and put my neck on the line and defend and stick my chin out and say: "I don't care what anyone else thinks Wayne Rooney is going to the Euros, Wayne Rooney is our captain and Wayne Rooney going to play.' And now we didn't score against Slovakia despite 29 shots and 15 corners and God knows what else because Wayne Rooney didn't play more than 30 minutes. Well, excuse me. I find it hard to go along with that line of argument that I should now regret the fact that I didn't start with Rooney or that I didn't start with [Harry] Kane and [Raheem] Sterling who, if I had started with them and lost the game, I would have been criticised."
What's most striking about all of this is how thin-skinned and offended by criticism Hodgson actually is.
To have watched last week's excellent ITV documentary about England's 1986 World Cup campaign, ended by Diego Maradona, was to see Bobby Robson enduring something similar, as the nation limped through a group stage that was close-to disastrous until Gary Lineker's hat-trick against Poland. The urbane, philosophical Robson was somehow able to breeze through it. We are talking about the bane of England manager down the ages.
It is Hodgson's sense of self that makes him so piqued. He sees himself, not unreasonably, as a statesman on the grand international stage. Not only does he know the Iceland manager Lars Lagerback– who was coaching at the Swedish side Hudiksvall when Hodgson was working at Halmstad between 1976-1980 - but he has, in a sense, helped his football education.
"I went up there to do a coaching session for his coaches," Hodgson says. "Of course since then he's done a fantastic job - his manner, demeanour and knowledge of the game, the way he organises teams."
It is the same sense of self-worth which causes him irritation when questions of tactics are raised – ironic, considering football journalists are so often accused of concentrating only on the personalities and never on the patterns of play.
Slovakia vs England ratings

Show all 14
And it also blinds him to the flaws in his argument. The notion that his Slovakia selections were fine because only one of them was questionable dissolves to dust when that decision happens to be the symbolically and strategically significant move to replace your captain and record goal scorer for a player who has started only three games for Arsenal all season. The absence of Rooney in the Massif Central sent a signal into the night that this game lacked a little edge and significance.
Henderson did play well against Slovakia, though a good day for him is not akin to a good day for Alli. One of those two is a game-changer. He plays for Tottenham Hotspur.
And though Hodgson is taking apart the newspaper talk, piece by piece, in the teeth of what kind of opposition can he claim to have championed Rooney? For all but a few of England's chroniclers, Rooney was a first pick. It was by choosing England's opening group game to appoint him to midfield for the first time that Hodgson created that sense of formulating strategy on the hoof, which his absence last Monday only inflated.
It is the lack of appreciation for the value of performance which is also gnawing at the manager. "I would be a bit surprised if you said that I was getting a lot of criticism as people are saying the team is no good," he said. "That would surprise me a bit and I would try to defend that. But I don't think there is anything to defend personally about the way the actual team has worked, the amount of effort put in and their desire to win the game, the quality of their passing and movement, the control they have had. I don't personally see they should be criticised for that. But, yes, criticise me and team because we haven't won, by all means. There is nothing we can do about that."
The evidence from Mexico in 1986 is that an anaemic group stage is banished to the recesses of memory if the knock-out stages provide something better. A reprieve is always around the corner. Hodgson, with the best attacking arsenal at the championships as one of the French papers told it last week, may yet see his reputation burnished. But a truth that spans all the ages is that history never remembers those who play well and lose. It is why Hodgson will - though he considers discussion of such cruelties to be a blatant "nonsense" - stand or fall on events on the French Riviera on Monday night.
Join our new commenting forum
Join thought-provoking conversations, follow other Independent readers and see their replies