Euro 2016: Iceland ready to go to war with England in bid to write history 40 years after triumphing in the Cod Wars
Joint-coach Heimir Hallgrimsson believes a victory over England will change the face of Icelandic football forever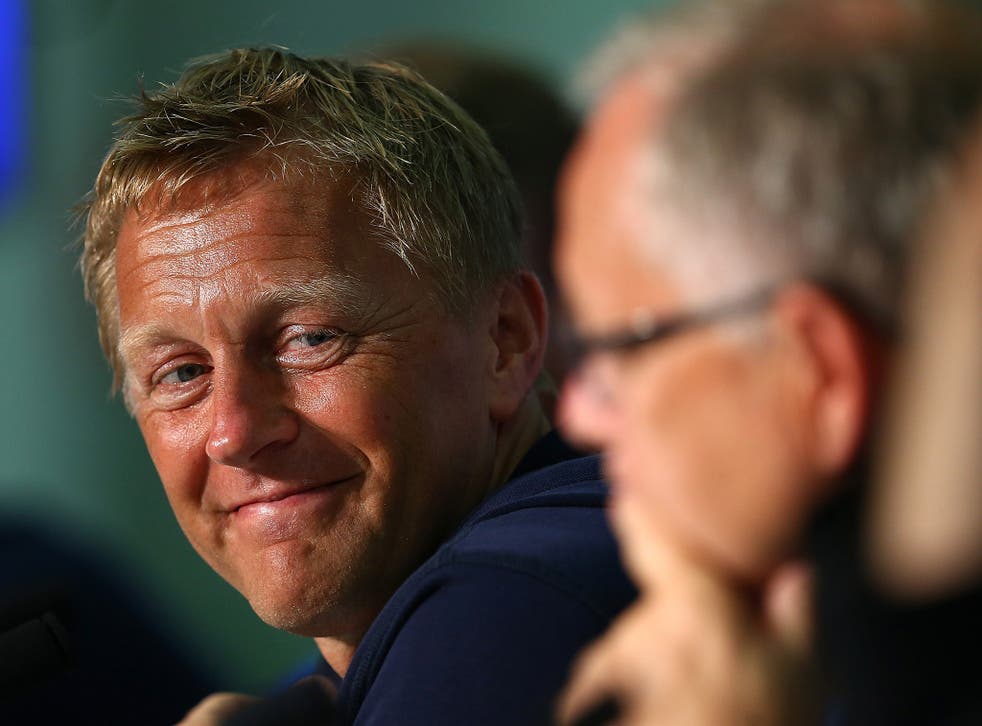 It was a battle-cry delivered with a grin, in keeping with Iceland's approach to Euro 2016, but it was a battle-cry nonetheless as joint-coach Heimir Hallgrimsson invoked the spirit of the Cod Wars ahead of his team's second round clash against England.
"This was the only time Iceland went to war," Hallgrimsson, a practising dentist, said. "We are too small to have an army and lack manpower, so would be easily beaten rather quickly.
"But these guys – the footballers – are the Icelandic army. That's why everyone is supporting them. But if we had a war, we'd be beaten pretty quickly."
Iceland, even without an army, triumphed over the United Kingdom during the dispute over fishing territories in the mid-1970's, but a win against England in the Allianz Riviera Stadium in Nice on Monday evening will eclipse the victory on the high seas four decades ago.
And Iceland, with a population of just 300,000, go into the biggest game in the country's history with not one hint of trepidation after emerging from Group F ahead of Portugal following a dramatic stoppage time victory over Austria in Paris.
"We've said previously that this game is a win-win game," Hallgrimsson said. "They've already won the hearts of all Icelandic people for their performances, but with a good performance against England, they'll always be winners in my book.
Slovakia vs England ratings

Show all 14
"On the other hand, if we beat England, their lives will change forever and significantly.
"Icelandic football will go up in reputation and the way we approach football will be different. It'll all look different for us.
"If you want the best out of life, you have to be ready when the chance is there for you and there aren't bigger chances than this for Icelandic football.
"It's just up to the players to play and hopefully we will beat England. But whichever way this goes, these players are winners already."
And having highlighted their defensive solidity and resolve by progressing to this stage, Hallgrimsson insists that England's usual strength of physical power at set-pieces will not concern Iceland.
"The physical battle? We're not afraid of that one," he said. "The boys have shown they can match everyone in that area.
"We have scored goals almost every game from a set-piece. What we have to concentrate on is not conceding against England and, if we don't, the day will be good."
Iceland may be forced to overcome England on penalties if neither team can be separated over 120 minutes.
But Lars Lagerback, Hallgrimsson's joint coach, gave England a ray of hope by revealing that penalty practice had been indifferent in the Iceland camp.
"On penalties, we have practised a bit if you can call it that," Lagerback said. "Some was good, some was not so good. Rather normal."
Register for free to continue reading
Registration is a free and easy way to support our truly independent journalism
By registering, you will also enjoy limited access to Premium articles, exclusive newsletters, commenting, and virtual events with our leading journalists
Already have an account? sign in
Register for free to continue reading
Registration is a free and easy way to support our truly independent journalism
By registering, you will also enjoy limited access to Premium articles, exclusive newsletters, commenting, and virtual events with our leading journalists
Already have an account? sign in
Join our new commenting forum
Join thought-provoking conversations, follow other Independent readers and see their replies