Euro 2016 final: Patrice Evra goes from public enemy No 1 to the leader of the gang in France's recovery story
Evra was banned for five matches after leading the 2010 World Cup mutiny but he has grown into one of France's wise heads that can lead them to Euro 2016 success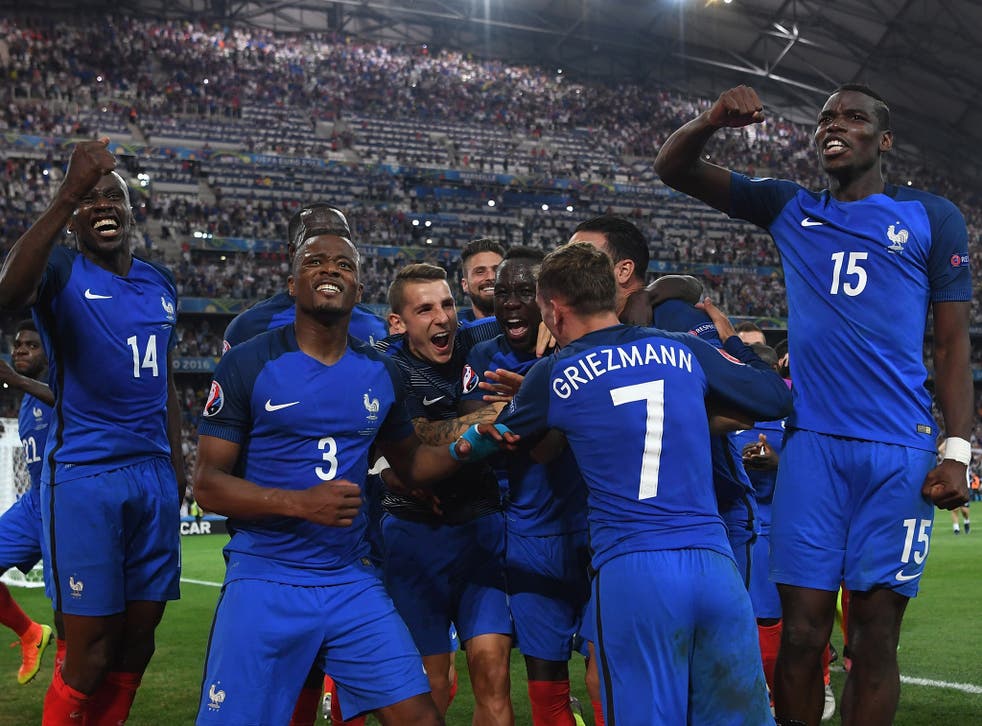 It has been some journey for Patrice Evra, one which may end at the Stade de France on Sunday evening with the France defender securing national treasure status just six years after being regarded as the enemy within.
At 35, Evra will win his 80th cap for Les Bleus in the Euro 2016 final against Portugal. The Juventus full-back perhaps should have broken the 100-cap barrier long ago, joining Lilian Thuram, Thierry Henry, Marcel Desailly, Zinedine Zidane, Patrick Vieira and Didier Deschamps in the elite bracket of French centurions, but Evra's history suggests he is simply fortunate just to be able to look forward to becoming European champion.
Identified as a central figure in the squad mutiny during the 2010 World Cup in South Africa, when Nicolas Anelka was sent home in disgrace from France's Knysna training camp following a dressing-room row with coach Raymond Domenech, Evra was given a five-match suspension by the French Football Federation – Anelka was banned for 18 matches – and castigated on his return to the country.
Thuram, the 1998 World Cup winner, demanded Evra never play for France again, while an editorial in L'Equipe condemned the then-Manchester United player as 'the leader of the gang,' in anything but complimentary terms.
Six years on, Evra is the leader of the gang again, but nobody in France is now calling for the full-back's head.
Deschamps may have coaxed a squad of experience and youth to gel into potential winners, but Evra's influence within the squad and on the pitch has been wholly positive.
With the likes of Paul Pogba, Anthony Martial, Kingsley Coman and Samue Umtiti regarding Evra as a mentor – Pogba calls his Juventus team-mate 'Uncle' – the old man of the squad has taken on the role of big brother to Deschamps' rising stars.
"Football is never easy," Evra said. "You can have the technique of Cristiano Ronaldo, or Lionel Messi, but the most important thing is that you believe in what you can achieve. I always give them (younger players) that message.
"I want them be like 'Wow! He's 35, he's not complaining, he's playing hard, I should do better'. That's my way to give them the message.
"But Paul (Pogba) is like my brother. We don't have the same parents, but I respect his mother like mine and his brothers like mine."
The strengthening bond within the France squad has been one of the crucial factors in the team's progression to the final, as has its success in winning back the hearts of a nation distracted by the more sinister realities of the past 18 months.
Whereas France's 2010 World Cup story was akin to Lord of the Flies, Euro 2016 is a tale of happy families, but Evra insists it has not happened overnight.
"We have started a family here in this squad," Evra said. "The breakthrough was probably our win over Ukraine [the 3-0 play-off victory against Ukraine to reach the World Cup in November 2013] because, after that, we had a good World Cup.
"But we must become a nation that wins. It is now, it must end with a trophy.
"I have never won anything with France and it will feel like a failure for me, a blot on my career, if it stayed like that.
"But I am proud of my team-mates. They are going all out to make me cry by winning the European Championships."
To do that, and ensure that France complete a hat-trick of triumphs on home soil following Euro 84 and the 1998 World Cup, Deschamps' team must overcome Portugal and Cristiano Ronaldo.
Ronaldo and Evra are close, remaining in contact over the years since Ronaldo left United for Real Madrid in 2009.
Portugal could test Evra's energy levels by deploying Ronaldo down the right to take on his old friend, but neither player would expect a free ride in Paris.
For Evra, though, the dangers of France under-estimating Portugal are clear and he has urged both his team-mates and the nation to take Fernando Santos's team seriously.
"It's a big match. Portugal is a very good team, one that was very much criticised," Evra said. "People said they hadn't won a game in 90 minutes and everyone said Croatia was going to make it when they played each other in the second round.
"But if Portugal is there it's not for nothing, they deserve to be there.
"A final is a final and I'm going to play against some old teammates there. It's a big moment, but there are no gifts here."
Having soaked up endless pressure against Germany in the semi-final before winning 2-0 in Marseille, France will now be expected to turn the tables and win by playing on the front foot against Portugal.
But Evra claims the same spirit displayed against Germany will be required if France are to become European champions for the first time since 2000.
"What is important is not to crack, to not give up, to be hungry," he said. "Possession does not win you football matches and that was shown against Germany, when we were ready to run. We were calm.
"But whatever the opponent, we are at home. We want to do the same thing like in 2000. A historical moment.
"It is not arrogant, but I am confident. I am very happy, my life is beautiful.
Register for free to continue reading
Registration is a free and easy way to support our truly independent journalism
By registering, you will also enjoy limited access to Premium articles, exclusive newsletters, commenting, and virtual events with our leading journalists
Already have an account? sign in
Register for free to continue reading
Registration is a free and easy way to support our truly independent journalism
By registering, you will also enjoy limited access to Premium articles, exclusive newsletters, commenting, and virtual events with our leading journalists
Already have an account? sign in
Join our new commenting forum
Join thought-provoking conversations, follow other Independent readers and see their replies