Euro 2016 Marseille violence: Russian media praise own supporters and label England fans 'drunk islanders'
State news service reports Russians 'did not flinch and repulsed the attack' by English fans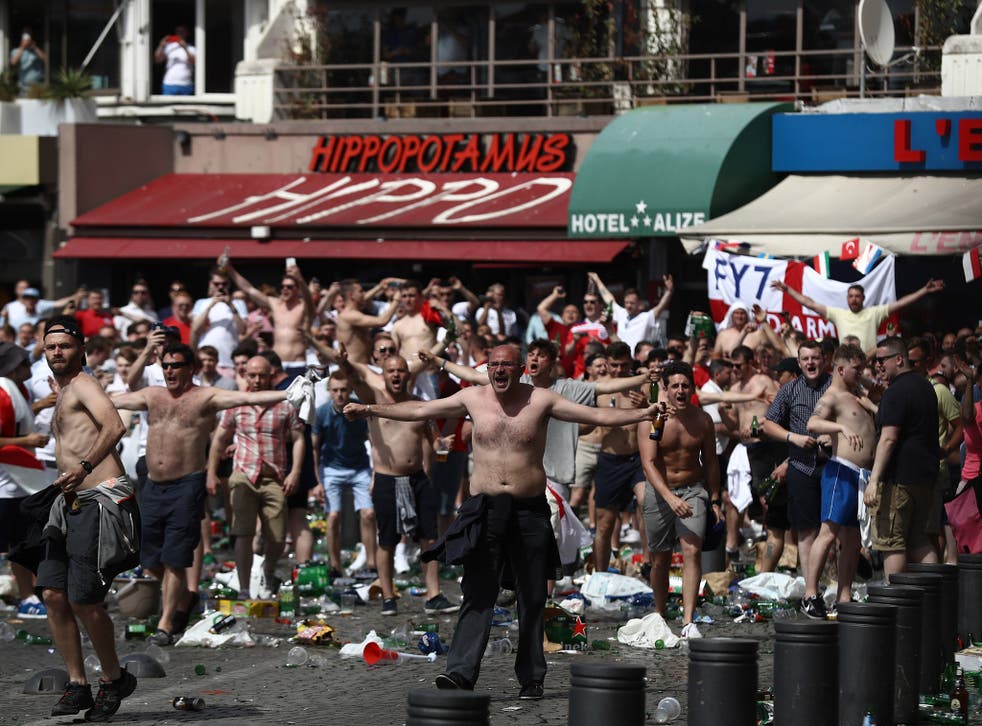 Russian media has praised the country's supporters and labelled England football fans "drunk islanders" after violence broke out during their Euro 2016 match in Marseilles.
"Two hundred and fifty Russian fans repulsed an attack by several thousand English and forced them to flee," state news service Vesti reported.
"English fans started the fight by attacking our fans, but 250 Russians from different corners of our country did not flinch and repulsed the attack of the heavily drunken islanders."
Lawrence Nunez, the region's police commissioner, said approximately 300 Russian and 300 English fans who were "very determined" took part in the clashes, but that "police presence allowed us to intervene systematically."
Uefa has now opened disciplinary proceedings against the Russia Football Union after crowd disturbances at the game.
Women and children were thought to have been caught underfoot in a stampede out of the stadium at the end of England's 1-1 draw, when Russian fans broke from their area of seating and ran at the English supporters.
ENGLAND FANS ATTACKED BY RUSSIA SUPPORTERS AT EURO 2016.mov
The charges against Russia are for crowd disturbances, racist behaviour, and setting off fireworks, Uefa said.
The European football governing body said it had not taken any action against the English FA.
Russia received a suspended six-point deduction for throwing fireworks and display illicit banners in 2012, but their period at risk ended after the Euro 2016 qualifiers.
When Russia lost to Japan during the 2002 World Cup, hundreds of angry fans went on the rampage through Moscow, torching cars and stabbing one man to death.
"The FA is very disappointed by the terrible scenes that we saw there and of course condemns such behavior," FA spokesman Mark Whittle.
"There was no clash actually," Russian Minister of Sports Vitaly Mutko told Russian state-owned TASS. "We are a civilized country. It's far-fetched. In fact here everything is normal. Game was over and there was no separation. The British got upset of course and everyone got dispersed pretty fast. Everything is normal."
In pictures: Euro 2016 violence in Marseille

Show all 12
In a statement, French Minister of the Interior Bernard Cazeneuve said officials have taken several precautions in anticipation of violence, including preventing more than 3,000 people considered "hooligans" from traveling to France for the tournament.
More than 200 foreign police are assisting French authorities during the tournament.
Register for free to continue reading
Registration is a free and easy way to support our truly independent journalism
By registering, you will also enjoy limited access to Premium articles, exclusive newsletters, commenting, and virtual events with our leading journalists
Already have an account? sign in
Register for free to continue reading
Registration is a free and easy way to support our truly independent journalism
By registering, you will also enjoy limited access to Premium articles, exclusive newsletters, commenting, and virtual events with our leading journalists
Already have an account? sign in
Join our new commenting forum
Join thought-provoking conversations, follow other Independent readers and see their replies