Euro 2016 qualifiers: Joe Hart reaches another level with half-century closing in
England's No 1 has come a long way since he was dropped by City and Messi's praise shows how he has revived reputation of England keepers
Simon Hart
Wednesday 25 March 2015 23:38 Comments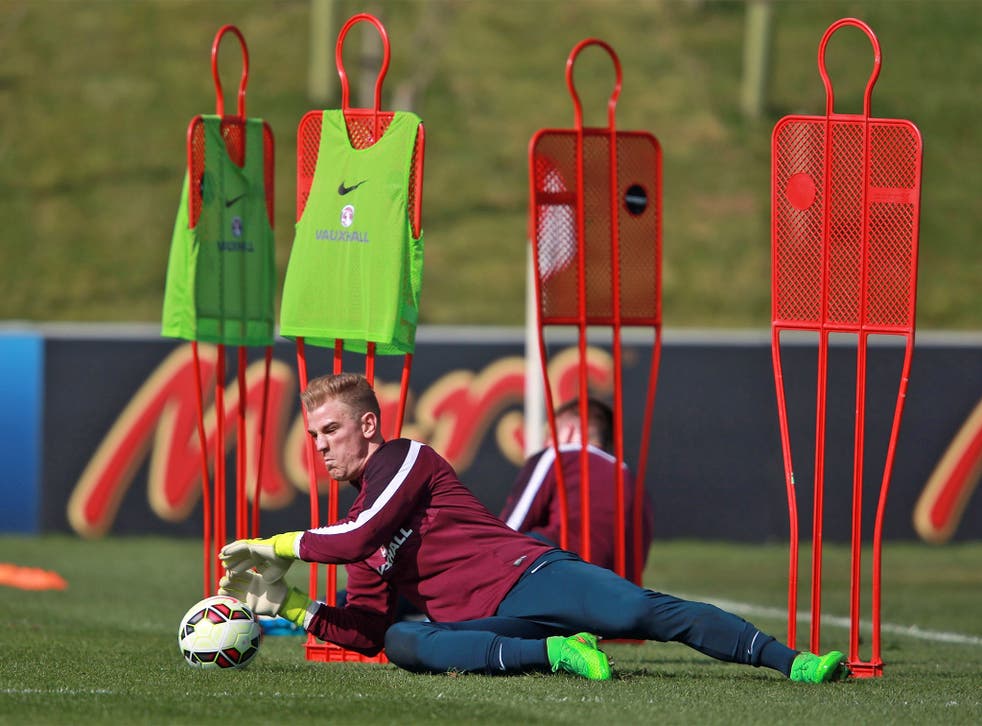 When Joe Hart reaches the milestone of his 50th appearance for England in next Tuesday's friendly against Italy, there could be no more fitting venue than Turin.
It was in the Alp-fringed city that Peter Shilton, England's most-capped footballer, made his last meaningful international outing in that epic 1990 World Cup semi-final against West Germany.
It was a match in which the then 40-year-old, whose 125th and final cap would follow in a third-place match against tournament hosts Italy three days later, was left backpedalling helplessly as Andreas Brehme's deflected free-kick looped over him and into the net for the German goal.
If that was an unfortunate end for "a despairing Shilton", as John Motson described him in his BBC TV commentary – he was later beaten by four straight German penalties – it was certainly not the end of despairing English goalkeepers, a concept which has gained currency ever since, especially abroad.
Memories of David Seaman's mishaps against Nayim and Ronaldinho – who left him red-faced with lobs from unlikely places in the 1995 Cup-Winners' Cup final and 2002 World Cup quarter-finals respectively – and Rob Green's error against the United States at the 2010 World Cup in South Africa have cemented a negative impression. Thankfully, England have in Hart a man who is bucking that trend.
Indeed, as he approaches that 50th cap – No 49 is on its way against Lithuania tomorrow night – there is an increasingly compelling argument that Hart, the quickest England goalkeeper to reach his half-century, is also the finest since Shilton, who was 33 when he reached this milestone, albeit in an era where he faced intense competition for the shirt from Ray Clemence.
He produced one of the best individual performances of the Champions League season last week with his heroics in Manchester City's defeat in Barcelona and on Saturday he earned his 100th Premier League clean sheet against West Bromwich Albion.
Speaking at St George's Park on Tuesday, the Manchester City keeper was happy to reflect on that night in Catalonia and the bouquets that have come his way since. As far back as Euro 2012, the Spanish newspaper El Pais applauded Hart for bringing to a close "the curse of the England goalposts" yet that paled beside the praise he received after producing all manner of saves to stop Lionel Messi and company. When Messi, a player who normally lets his feet do all his talking, describes you as "a phenomenon", you know you have done something right.
Hart does not seem the type to lack confidence but it must have boosted his self-belief. "Yes, definitely," he said. "It was a good night for me personally, making saves against some of the best players in the world. They're human beings and appreciate that I was making a lot of good saves. A lot of the time the duels were quite personal because of the way the game went."
He offered an insight into how he got that giant frame in the way of 10 of Barcelona's 11 shots on target – a record for an English goalkeeper in the Champions League. "I kind of worked out in my head that a lot of the time, knowing the way they play, being five yards from goal doesn't always mean they are going to shoot. They have other options so I was just trying to give them the least time possible to make it easy for them."
There was also his save from a Messi penalty in the first leg – "When potentially he's being honoured as the greatest player ever to play football then it will be a nice one to have," he admitted – and it all adds up to the feeling that Hart's game has reached another level since his troubles in autumn 2013, when he was dropped by Manuel Pellegrini, his manager at City.
"It wasn't an unfair decision at the time," he conceded. "Of course I needed to [improve]. I look to improve every single season and in every single situation my experience is broadening."
He has come a long way since his England debut in June 2008 against Trinidad & Tobago, when he was overawed by the attacking talent in the England squad. "When I first arrived, flipping heck, they were the best players I'd ever seen. Manchester City [then] didn't have the same quality that they do now."
This was before the oil money arrived, of course, and today Hart has to face Sergio Aguero in training every day. He considers him the best finisher he has played with or against. "He just knows how to score. I wouldn't say in training he particularly excites you most days but he's got that ability on the day to do it. To have that ability where a long clearance could turn into a goal because Sergio's taken it around five people and scored is a great thing to have."
Tomorrow's Group E meeting with Lithuania will be a different kind of test against a team yet to score away in qualifying. "There's no point me lying and coming in here and saying I know everything about Lithuania," said Hart. "[But] we'll know their strengths and weaknesses and for me, personally, I'll know all about their attack and how they like to play so we can work around it."
To be prepared, he will be "watching videos" of the Baltic nation in action. But a better idea might be for somebody from the FA simply to send Lithuania's forwards a video of Hart's Nou Camp exploits. That would be the psychological battle over before a ball has even been kicked.
Dyke has not discussed new Hodgson contract
England manager Roy Hodgson must wait and see if his contract will be extended after Euro 2016, according to Greg Dyke.
"We genuinely haven't discussed it," the Football Association chairman said. "We will have the discussion with Roy in the next nine months to a year. When we decided in Brazil that we wanted Roy to continue with his contract, we thought – 'he's got a contract, he sees it through'. Some time in the next year we will discuss what happens afterwards."
Register for free to continue reading
Registration is a free and easy way to support our truly independent journalism
By registering, you will also enjoy limited access to Premium articles, exclusive newsletters, commenting, and virtual events with our leading journalists
Already have an account? sign in
Join our new commenting forum
Join thought-provoking conversations, follow other Independent readers and see their replies