Euro 2016: Russia given suspended disqualification and will be thrown out if similar incidents happen in stadium
Russia will be disqualified from the European Championship if their fans are guilty of any violence inside the stadium during the remainder of the tournament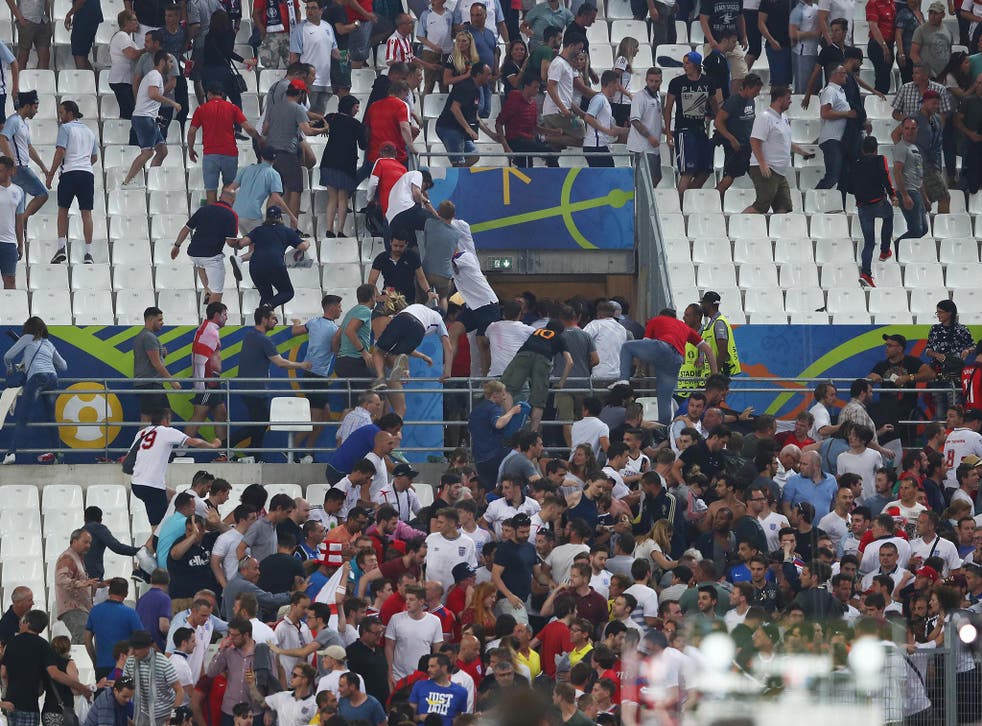 Russia have been handed a suspended disqualification from Euro 2016 by Uefa following the crowd violence that has marred the opening days of the tournament.
The Russians have also been fined €150,000 and told they will be kicked out if incidents of a similar nature happen inside the stadium at any of the remaining matches during the tournament.
However, Uefa said it can only take action against a federation if they are found to be guilty of fan trouble inside a stadium, meaning that any repeat of the clashes witnessed in Marseille's old port – where English and Russian fans fought alongside French locals and gangs – will not result in Russia being thrown out of the competition.
Russia and England fans clash at Euro 2016 – in pictures

Show all 15
The statement comes as French police launched an operation to arrest some 40 Russians suspected of being involved in violence last week in Marseille.
"As we speak there is a police operation to arrest some 40 of them (hooligans) that may have taken part in these acts in Marseille so that they can no longer do it in the next games with the violence we have seen," France's Interior Minioster Bernard Cazeneuve said. "There were photos and videos. They will be stopped."
DO NOT USE Russians hunt down and attack England fans in Go Pro footage
Elsewhere, the huge security operation surrounding England's next Euro 2016 football match has been bolstered amid fears of a fresh wave of violence.
Extra British police will be deployed to France ahead of the next round of Group B matches and authorities in both England and Russia have appealed for supporters to behave.
Both the Football Association [FA] and the Football Association of Wales [FAW] have urged fans without tickets for Thursday's Euro 2016 Group B encounter in Lens not to travel to the city due to the threat posed by an organised Russian gang. Russia play Slovakia in nearby Lille on Wednesday, and local authorities believe that plans are in place for similar assaults by the Russian gang, with England fans originally advised to travel to Lille before the match to enjoy the atmosphere.
French police have revealed plans to deport up to 50 Russian football supporters believed to have been involved in the violent clashes that marred the build-up to the Euro 2016 match between Russia and England in Marseille, which left 35 people in hospital after three days of trouble.
The Russian sport minister, Vitaly Mutko, has confirmed that the RFU do not intend to appeal the decision, and the sanction comes after the Kremlin urged Russian fans in France to behave and not rise to any "provocations" from other groups or fans.
A Kremlin spokesman Dmitry Peskov said: "This is absolutely unacceptable. We count on Russian citizens and fans to obey the laws of the country they are in, we can only call on our fans not to react to any sort of provocation."
It was also revealed on Tuesday that a coach carrying a group of Russian fans suspected of being part of the Marseille assaults was stopped, with the head of the Russian Union of Fans, Alexander Shprygin, claiming that they were innocent of committing any of the crimes in Marseille and were being "dragged" off the bus by police.
"Police are now dragging us out of the bus, they've announced deportation. No reasons are being given. There are 50 people in the bus. This is some kind of show-off, none of us were detained in Marseilles riots, but for some reason they're targeting the official fans union delegation," Shprygin said on Twitter.
Register for free to continue reading
Registration is a free and easy way to support our truly independent journalism
By registering, you will also enjoy limited access to Premium articles, exclusive newsletters, commenting, and virtual events with our leading journalists
Already have an account? sign in
Register for free to continue reading
Registration is a free and easy way to support our truly independent journalism
By registering, you will also enjoy limited access to Premium articles, exclusive newsletters, commenting, and virtual events with our leading journalists
Already have an account? sign in
Join our new commenting forum
Join thought-provoking conversations, follow other Independent readers and see their replies