Euro 2016: Why are we destroying England's Raheem Sterling with this gratuitous abuse?
The Manchester City forward provides the ingredients for the kind of demonisation that propel the cogs of the Twittersphere but he has potiential to improve in time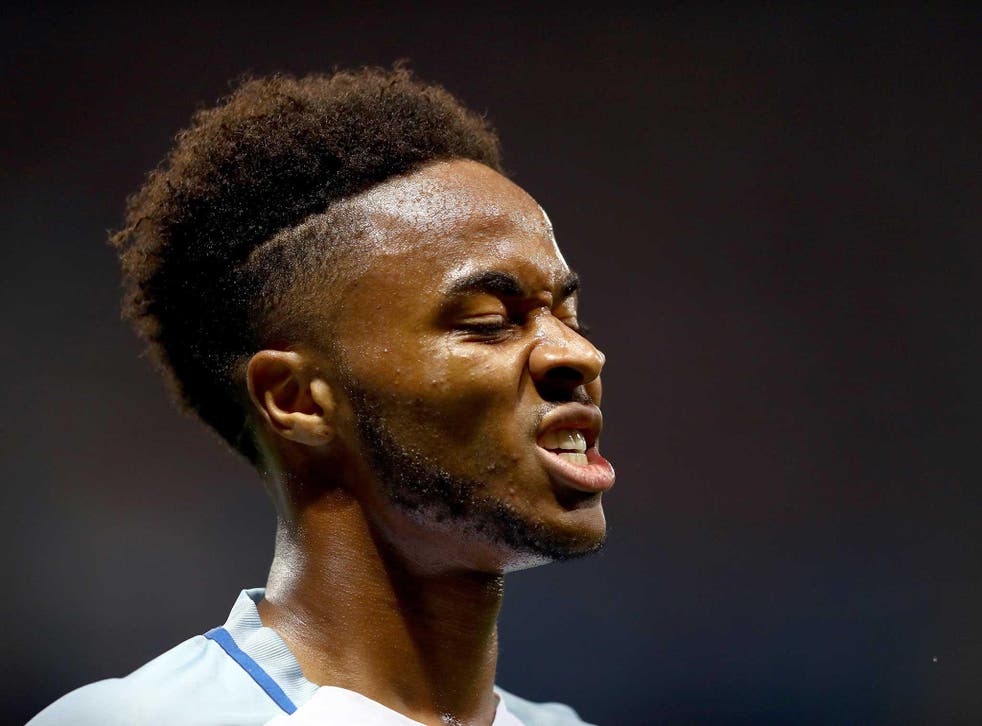 Raheem Sterling's return to England's starting line-up against Iceland on a day when our currency dropped like a stone was something sent from heaven for his detractors and they didn't pass it up. By the time the team kicked off in Stade de Nice on Monday, sterling had sunk below 1.313. Happy days.
Sterling's stock continued to plummet as the sun sank on the French Riviera. The player's confidence was so scrambled that the fundamental ability to control a ball had gone. He was up against arguably the weakest right-back in the European Championship, 31-year-old Birkir Saevarsson, who plays in Sweden for Hammarby.
Yet when Sterling span a ball around him and disappeared off up the left wing after 32 minutes, his touch was so blunt that Saevarsson had time to clamber to his feet, head back in pursuit and block Sterling's path.
Sterling is the epitome of all the characteristics which have made England so unattractive and hard to love: the headphones, the salary, the swagger, the substantial transfer fee (£44m; £49m if you compute the add-ons), the undignified and very public agitation to leave Liverpool. Ingredients for the kind of demonisation that propel the cogs of the Twittersphere.
He is by no means the first England wide player to incur dog's abuse. Ask John Barnes, who was booed because supporters happened to think he didn't produce for England what he had for Liverpool. But this is something quite different. It is vicious and gratuitous. The fact that he signed off an Instagram post #TheHatedOne has fuelled the flames, because the people who perpetrate this stuff certainly love a reaction.
Joey Barton killed Sterling with the precision of his own fire this week, declaring in a column for L'Equipe that the player had been "poor for two years," was "weak; very limited technically" and that he was "imprecise" and "clumsy" with his final ball. "Without his pace, would he be a professional?" Barton asked. "If he weren't so quick, he would not be apt to do the job. And to think he cost £50m!"
Roy Hodgson Resigns After England Crash Out of Euro 2016
Well, consider what Paul Scholes said of him precisely two years ago on Monday. Reflecting on England's exit from the Brazil World Cup, he observed that England could "take some positives" from the campaign. "Raheem Sterling, Daniel Sturridge and Ross Barkley are a sign of the future - fast, intelligent footballers."
Steven Gerrard, who doesn't generally deal in platitudes, urged Sterling to stay at Liverpool for the same reason, because this is a player who in the second half of their 2013/14 campaign was intermittently an even greater attacking threat than Luis Suarez. Gerrard was unconvinced when he first saw him. "Kid, you're very small'',' was his first thought. But when he put in one of the 'Welcome to Melwood' tackles on him which belong to the Liverpool initiation ceremony, Sterling bounced off. "He's got the strength and power of a man," Gerrard reflected in his autobiography. "Sterling could always mix it with hard men like Martin Skrtel. Sterling could carry Skrtel on his back. I've seen him do it in one-on-one situations..."
He's always needed handling. There was that famous scene from the Being: Liverpool documentary, when he gave manager Brendan Rodgers the backchat. "You say 'steady' to me again when I say something to you, you'll be on the first plane back," Rodgers told him. "I didn't say steady, I said…" Sterling started to reply. "You know what you said. I know what you said," Rodgers shot back.
Those who know Sterling best will tell you it was always better when his mother, Nadine, was around. She returned from England's North West to live in London about a year ago, leaving Sterling rattling around his place in Southport.
'His mother?' some will say. 'He's an international footballer.' Well, he is 20 years and six months old, actually, but that is one of the salient parts of this rather unsavoury story which seems to have been overlooked.
If his progress has stalled, then he will be neither the first nor the last. What lies ahead for Sterling is as unclear as the trajectory of a young career will always be. We could witness the best of the Liverpool player we saw – the Chelsea League Cup semi-final of 2015; the Anfield annihilation of Arsenal in February 2014 - or we could find that he doesn't re-scale the peaks. The fact that he reflects on these things, with Dr Steve Peters a part of his landscape with England and Liverpool, suggests his mind is open. The fact that Pep Guardiola has been in contact with reassurances suggests that the smart people see something.
Whichever manager is asked to lead England from this slough and whatever his strategy might be, the horizons will be extremely limited without a player or two at his disposal who can create the moments of imagination, invention and surprise which games require more than ever, now that 30-something defenders from obscure Stockholm club sides can repel £50m forwards. Few have more capacity for that than Sterling. He's rich, he's self-assured and he's just failed to deliver for England but none of the above are felonies. They do not warrant a public evisceration.
Join our new commenting forum
Join thought-provoking conversations, follow other Independent readers and see their replies