European Under-21 Championship: Israel put on united front as Beitar do their worst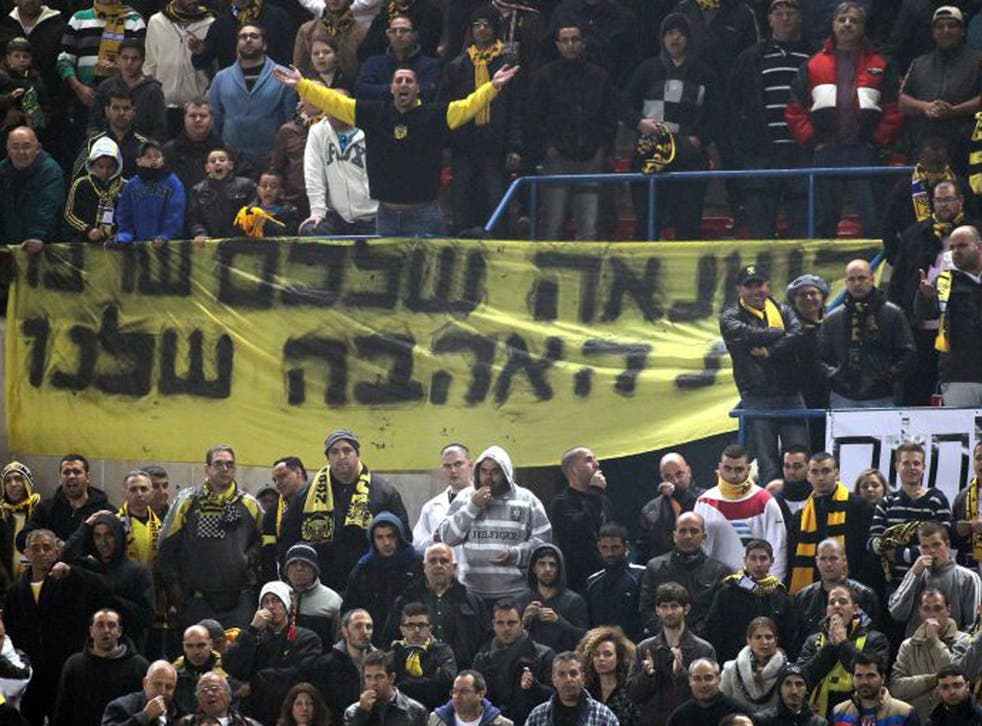 Football can bring people together or force them apart. In Israel they make claims for the positive case while acknowledging that in one notorious instance the opposite tends to happen.
The country was a controversial choice to stage the European Under-21 Championship, the biggest sporting event in its history. Those campaigning in vain for Uefa to move the tournament elsewhere had the support of the former West Ham striker Frédéric Kanouté, Archbishop Desmond Tutu, film-maker Ken Loach and Michael Mansfield QC among others, all of whom signed a letter to a national newspaper last month protesting about the choice of venue. They wrote that: "Uefa should not allow Israel to use a prestigious football occasion to whitewash its racist denial of Palestinian rights and its illegal occupation of Palestinian land."
A year ago Mahmoud Sarsak, once one of the leading players in Palestine, was reported to be close to death after 80 days on hunger strike in an Israeli prison. He had been arrested as he left the Gaza Strip on his way to a match in 2009 and held without trial or charge before being released after Fifa asked the Israeli Football Association to intervene. Palestine are members of Fifa but the football authorities there claim players are often denied exit visas to play in internationals abroad.
The real elephant in the room, however, will loom large when England meet the host country in Tuesday's final group match, being played – like the final – at the Teddy Stadium (named after a former Jerusalem mayor), which is shared by the notoriously nationalistic Beitar Jerusalem. Historically one of the biggest clubs in the country, Beitar have a hard core of supporters who refuse to accept non-Israeli players. If those hardliners turn up to watch an Israel squad that now includes six Arab players, the potential for conflict is high.
When Beitar's president, Arkady Gaydamak, father of Alexandre, the equally controversial former owner of Portsmouth, signed two Chechen Muslims a year ago, they became two of only five non-Israelis ever to represent Beitar. Shortly afterwards, the club's offices in Jerusalem were burnt down.
A journalist from The Independent attended a game at which one of the pair, Zaur Sadayev, was booed by some Beitar supporters every time he touched the ball. In a moment reminiscent of how right-wing Chelsea fans treated their black striker Paul Canoville in the Eighties, Sadayev then scored his first goal for the club; at one end supporters celebrated as normal, but behind the goal hundreds simply walked out.
"It's not racism, they just shouldn't be here," one fan called Jakob said at the time. "Beitar Jerusalem has always been a clean club, but now it's being destroyed – many of the other players are thinking of leaving because of the Muslim players being here."
England's Under-21s have already suffered from serious racist abuse this season, their play-off match in Serbia ending in chaotic scenes. Serbia escaped with a fine of £65,000 and one match having to be played behind closed doors, and England's numerous black players will be keenly aware of any further abuse on Tuesday.
Yesterday Piara Power, executive director of the anti-racist body Fare, told the Independent on Sunday: "Beitar have an appalling record on anti-Arab racism in particular, although there has been some progress in addressing the worst of it towards the end of this season, prompted by the reaction to the signing of two Chechen players. Our member organisation the New Israel Fund has done some great work, which will continue."
As Fare acknowledges, some strides are being made, and increasing the number of Arab players who make it to Israel's senior team will help.
There has been criticism that the Israeli-Arab striker Achmad Saba should have become a full international after he finished as the top scorer for Netanya four seasons running.
It was even suggested in some quarters that, aged 32, he should now opt for playing for Palestine, but he insisted: "I won't play for Palestine because I'm an Israeli player."
Instead he has founded a football school in his home town, one of the community initiatives that will be reflected in Netanya today when players and managers from the Israel and England teams join the the Football Association chairman, David Bernstein, for a "Football for All" tournament featuring children from every part of Israel's population.
On Tuesday, just as before Israel's two previous games, Jewish and Arab children, who play together throughout the season, will be led on to the pitch. It is what happens next that is a matter of concern, since whether Jakob and his right-wing friends will turn out for a demonstration of warped patriotism is not known.
Israel v England is on Sky Sports 2 on Tuesday, kick-off 5pm
Israel's Under-21 Arabs
Ben Vahaba
Defender from the unfashionable Beer Sheva club, who has nevertheless played Champions' League football.
Taleb Tawatha
Left-back of Maccabi Haifa, who also has Champions' League experience.
Marwan Kabha
Midfielder from Maccabi Petah Tikva. Missed last night's game with Italy but hopes to return against England on his home ground.
Ahad Azam
Midfielder from Hapoel Haifa, a Bedouin who has graduated from Israel's Under-17 team.
Moanes Dabbur
Striker from Maccabi Tel Aviv. Has played in Europa League.
Mohammad Kalibat
Striker from Bnei Sakhnin, at 22 one of the most experienced players in the squad.
Join our new commenting forum
Join thought-provoking conversations, follow other Independent readers and see their replies