FA lines up Gareth Southgate as interim England boss and will take up to a year to make final pick
Arsene Wenger is a candidate in the longer term
Mark Ogden
Chantilly
Tuesday 28 June 2016 22:42 Comments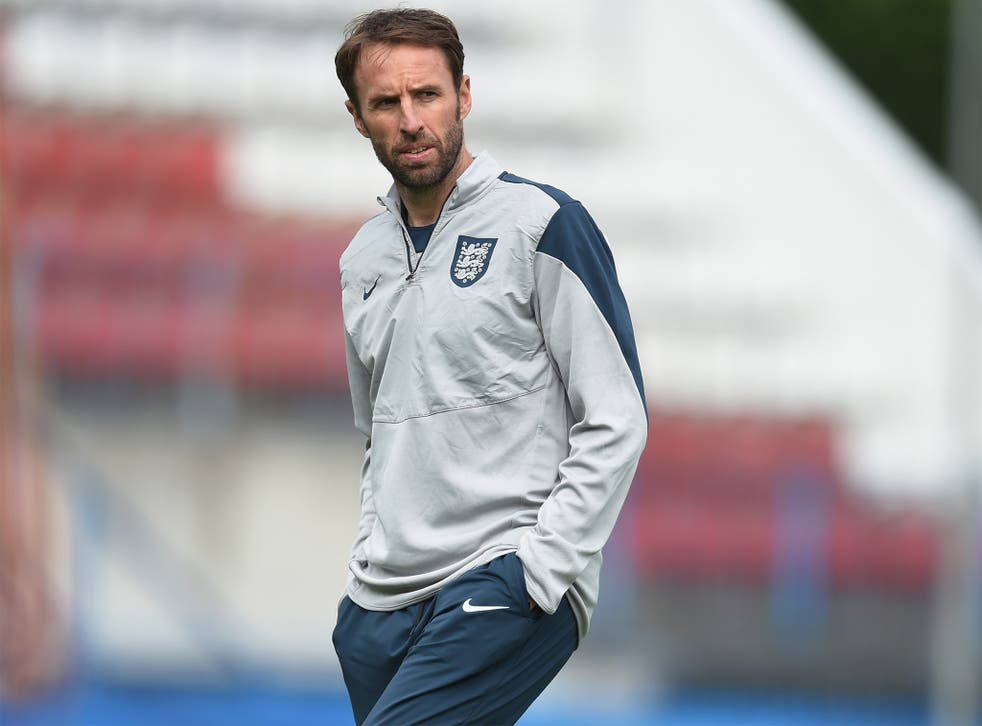 Gareth Southgate has been lined up to take charge of England on an interim basis with the Football Association prepared to wait up to a year to secure the permanent successor to Roy Hodgson – potentially opening the door for Arsene Wenger to be offered the chance to take the job.
With Hodgson resigning his post within minutes of the humiliating Euro 2016 second round exit at the hands of Iceland on Monday evening, FA chief executive Martin Glenn has confirmed that he will be form part of a three-man panel – alongside technical director Dan Ashworth and FA vice-chairman David Gill – to identify the man charged with taking England to the 2018 World Cup in Russia.
Glenn, Ashworth and Gill are set to meet in London later this week to outline the criteria for the next manager, but the search will not be restricted to a domestic candidate with Glenn admitting that there is no "perfect" English candidate currently available.
However, with the FA determined to recruit the best possible candidate to replace Hodgson, the organisation will not seek to force through an appointment ahead of the start of England's World Cup qualifying campaign in September. And Glenn admits that, while a swift appointment would be the ideal scenario, a caretaker-manager cannot and will not be ruled out.
"We'd like to get one [manager] for the first World Cup qualifier, but if we don't, we have an interim plan in mind," Glenn said. "We are not talking about names today [for the interim post], but it would be a pretty obvious one to pick.
"We just don't know yet who the runners and riders would be for the job. We are going to scope out, which we start at the end of this week with David Gill and Dan.
"We clearly need an inspirational manager who can harness all of the resources that the English game, the big resources, has got, everything we have now got at St George's Park, to make us more resilient in tournaments.
"That I think is the brief, but we want to work that through – but it is an inspirational manager and management team to get the best out of a squad which has got high potential."
Although insisting there will be no rush to make an appointment, Glenn accepts that it could damage England's World Cup qualifying hopes if the selection process takes too long.
"If it did [affect qualification], it would be a wrong decision," Glenn said. "It's a hypothetical. If you said you were going to wait a year, a lot of things can happen in a year which may undo your plans.
"So what I am saying is that it is a hypotheical, I wouldn't rule it out but it would be less likely."
Prising Wenger from Arsenal is likely to prove difficult, with the Frenchman previously rejecting advances from the Football Association.
Wenger's contract at the Emirates is due to expire at the end of next season, however, and Glenn has previously admitted his belief that he would be a strong candidate for the England job.
"Arsène Wenger has been here since 1996," Glenn said. "Has Arsène got a fantastic understanding of the Premier League, of English players, of the English media, of the expectations of England? Absolutely. So would you rule him out? Probably not, but he might not want it."
Jurgen Klinsmann, the United States manager who guided Germany to the semi-finals of the 2006 World Cup, is another contender and, while contracted to the US Soccer Federation until 2018, it is understood that the Americans would not stand in his way if an approach was to be made by the FA.
But despite the huge investment in developing English coaches at St George's Park, Glenn insists there is no sense in limiting the search to an English manager. "If there were the perfect English manager, you would pick them," Glenn said. "I am not sure there is, but we would take a good look and make a rational assessment.
"We'll be looking for the best person for the job, so I am not ruling out a non-English coach. I'm not going to talk about names, it's not even 24 hours since we've gone out of the tournament, but we will are looking for the best person, not necessarily the best Englishman.
"I won't be drawn [on names], but track records are very important. It's not always a factor that one can translate to the other, but clearly track record is an important part of any process."
Southgate's prospects of becoming England manager on a full-time basis should not be discounted, with the former Middlesbrough manager, who guided the Under-21s to success at this summer's Toulon Tournament, highly-regarded by Ashworth, who will lead the search for Hodgson's replacement.
And Glenn, who twice insisted he was "not a football expert," admits that a decision on the appointment will be made once Ashworth has canvassed leading figures in the game, including managers, players and former players such as Alan Shearer.
"We are going to canvas opinion across the game," Glenn said. "It's an important appointment and we've obviously got to get it right. We kick the process off with the three [of us].
"Dan Ashworth will lead the search process, reporting back to me and David in terms of checking out what his criteria are. Dan is the guy that is primed to go and do that, but the process will involve a wider consultation within the game."
Meanwhile, Wayne Rooney has insisted that Hodgson always had the players' support, labelling reports they had lost faith in the outgoing manager "completely untrue".
Reports emerged on Tuesday that senior players had doubted the manager's ability to lead the team to the latter stages before the game, but captain Rooney has rejected those reports.
In a statement, the England captain said: "In response to recent media reports, I'd like to say that is completely untrue. On behalf of the players, we completely supported the England manager but we understand his reasons for stepping down. We had absolute faith in the build-up and throughout the tournament."
Register for free to continue reading
Registration is a free and easy way to support our truly independent journalism
By registering, you will also enjoy limited access to Premium articles, exclusive newsletters, commenting, and virtual events with our leading journalists
Already have an account? sign in
Join our new commenting forum
Join thought-provoking conversations, follow other Independent readers and see their replies