FA may turn to foreign England coach after Hodgson
I wouldn't die in a ditch for English national manager, says FA chief executive, Martin Glenn
Mark Ogden
Chief Football Correspondent
Sunday 13 December 2015 23:37 Comments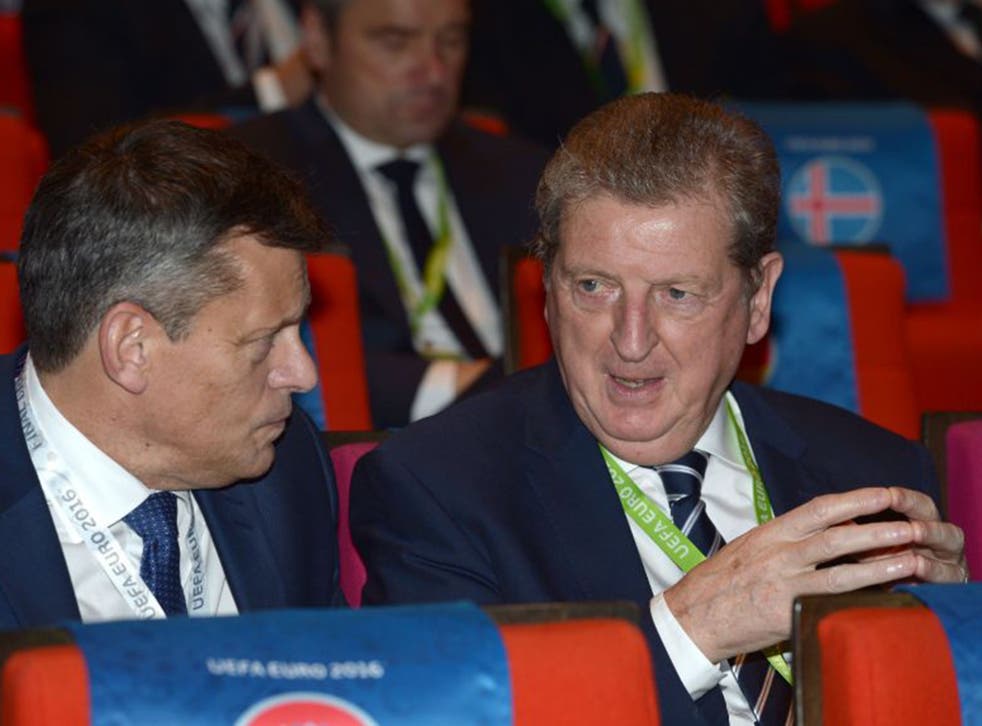 The Football Association will consider a foreign coach to succeed Roy Hodgson if his four-year reign as England manager comes to end at Euro 2016.
Hodgson, who will be 70 at the start of the 2018 World Cup in Russia, has been told by the FA chief executive, Martin Glenn, that he will be backed to continue in the role beyond the end of his contract next summer should England enjoy a positive tournament in France. But although Hodgson has insisted he expects to remain in management beyond Euro 2016, whether with England or another employer, he has so far refused to look beyond France.
With the prospect of the European Championship signalling the start of a race to succeed Hodgson, Glenn admitted he has no intention of restricting the field of candidates to Englishmen.
"I would have a preference for an English manager, but I wouldn't die in a ditch for one," Glenn said. "I don't believe [the next manager has to be English], it may help, but it doesn't have to be. You go for competence over nationality.
"The England job is a plum job and there will be plenty of people who will want to fill it and fill it in a way which would be building on the legacy that St George's Park has created and Roy has created."
After England enjoyed limited success – at great expense in salaries – under the management of Sven Goran Eriksson and Fabio Capello, Hodgson's appointment following Capello's resignation prior to Euro 2012 had been regarded as a nod to the FA's desire for the England team to be led by an Englishman.
The huge investment in the national football centre at St George's Park, with the heavy focus on developing home-grown coaches, has been designed to ensure the FA no longer needs to look beyond the United Kingdom for future managers.
Gary Neville, Hodgson's assistant coach with England, has impressed the FA hierarchy by moving into management in La Liga with Valencia, while Gareth Southgate, the England Under-21 coach, and Crystal Palace manager Alan Pardew would almost certainly be viewed as leading contenders to replace Hodgson.
England managers: How Roy Hodgson's predecessors fared

Show all 13
But while Glenn is prepared to recruit a non-English coach, he insists that Hodgson's successor must embrace English football at all levels, from junior level through to the senior team.
"What we want is people who are signed up to the holistic development of England, so you cannot run an England senior team without an interest in the Under-16s, 17s, and 18s," Glenn said.
"We want to build incremental progress. The history of replacing an England manager with X, Y and Z and then they don't pass on knowledge to each other is gone.
"The principle is dead simple. If we're going to win the World Cup in 2022 then it's the Under-16s now who might be a big part of it.
Despite Glenn's public backing for Hodgson to continue as England manager until Russia 2018, the 68-year-old is reluctant to declare his intentions.
"At the moment, if you ask me, 'Can you see yourself working after next summer?' I'd have to say yes, absolutely," Hodgson said. "I know that when the day comes when I do have to accept not working as a coach on a regular basis, I will miss it very much indeed.
"That day will come but I'm not prepared to say I'm ready for that yet. All I'm concentrating on is the present day.
"I'd rather wait really until the time comes when I have got something quite specific to say because I don't like being caught up in these 'what if' scenarios.
"We are all fairly relaxed about it, I think, but before I can say anything about my thoughts on post-tournament, I need to sit down and have a face-to-face over a coffee with the two men [Glenn and the FA chairman, Greg Dyke], find out what their thoughts are, see how that ties in with thoughts I might have and we will take it from there.
"It is nice to know that I feel well supported by the FA, but I've got to be honest, I've always felt well supported by the FA."
Register for free to continue reading
Registration is a free and easy way to support our truly independent journalism
By registering, you will also enjoy limited access to Premium articles, exclusive newsletters, commenting, and virtual events with our leading journalists
Already have an account? sign in
Join our new commenting forum
Join thought-provoking conversations, follow other Independent readers and see their replies