Fifa corruption: Qatar and Russia World Cup bids under FBI investigation following Chuck Blazer's bribery confession
The hosts for the 2018 and 2022 World Cups have reacted furiously to claims they could be stripped of their hosting rights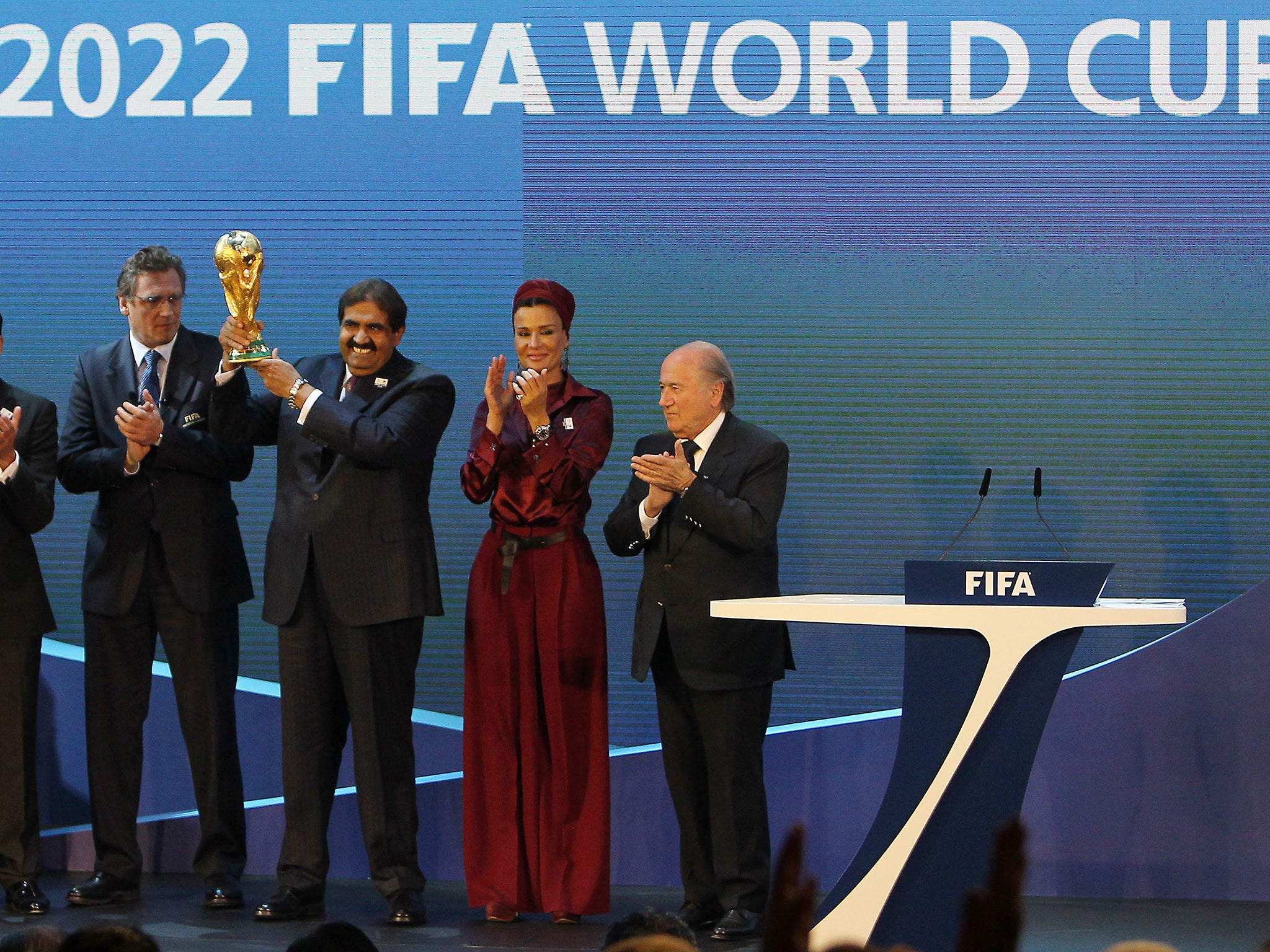 The FBI has confirmed that they are investigating how the right to host the Fifa World Cup was awarded to Russia and Qatar in 2018 and 2022 respectively.
Sepp Blatter's surprise resignation as Fifa president, just four days after winning a fifth term as the head of world football, left the world in shock and searching for more information about the United States-led investigation in to widespread corruption among Fifa officials.
Russia beat England as well as a number of other nations to host the 2018 World Cup, while Qatar was given the 2022 tournament despite temperatures in the summer exceeding 50 degrees Celsius and serious concerns regarding the treatment of migrant workers responsible for building the facilities that will be used during the Fifa showcase tournament.
Contenders to replace Sepp Blatter as Fifa president
Show all 6
Voting for both tournaments took place on 2 December 2010, and questions were immediately raised of how Qatar could be elected as hosts given the unfriendly conditions that footballers would face in terms of the searing summer heat.
However, many of the 22 men that voted on that day have since been arrested or accused of corruption and accepting bribes for their votes, and the FBI investigation in a widespread Fifa scandal has resulted in 18 arrests across the globe – seven of which came in Zurich last week ahead of the Fifa Congress where Blatter was re-elected.
The Swiss Office of the Attorney General opened criminal proceedings over the bidding process last week, according to The Telegraph, and are due to interview Blatter as part of the investigation, although Swiss Authorities have confirmed since Blatter's resignation that they are not investigating Blatter personally.
However, federal officers in the US are believed to have opened an investigation into how the 2018 and 2002 bids were carried out last night. Former Fifa Executive Member Chuck Blazer's testimony to US officials, which was publicly released on Wednesday night, revealed a long and widespread history of accepting bribes that stretches as far back as 1992 in the bidding process for the 1998 Fifa World Cup, which was held and won by France.
The news fuels further speculation that England, who lost out to Russia in the bid for the 2018 World Cup, could be chosen to host the tournament at short notice should Russia be stripped of their election victory. The prospect remains an unlikely one, but an FBI-led investigation into the election process will be serious cause for concern for Russia, and especially Qatar given there is still a large amount of time to hold a re-vote and plan a World Cup in another country.
Both host nations furiously hit back at allegations against their bid teams, with Qatar's foreign minister Khaled al-Attiyah claiming they are being singled out because Qatar is an Arab state.
Al-Attiyah said: "No way Qatar can be stripped [of it]. We are confident of the procedures and deserve to win it because we presented the best file. It is very difficult for some to digest that an Arab Islamic country has this tournament, as if this right can't be for an Arab state."
Russia's sports minister Vitaly Mutko believes that there is "no threat at all" despite calls for Russia to be stripped of the World Cup, while President Vladimir Putin's spokesman Dmitry Peskov added: "We have no information on what the reason was for Blatter's resignation. Cooperation with Fifa is going on and, most importantly, Russia is continuing preparations for the 2018 World Cup."
Join our commenting forum
Join thought-provoking conversations, follow other Independent readers and see their replies