Fifa corruption scandal: Jerome Valcke named as official who reportedly authorised $10m payment to Jack Warner
The US Justice Department alleged last week that Warner received three payments totalling $10m in 2008 which was deposited in a US bank account to secure a vote to back the South African bid for the 2010 World Cup
Kunal Dutta
Tuesday 02 June 2015 00:56 Comments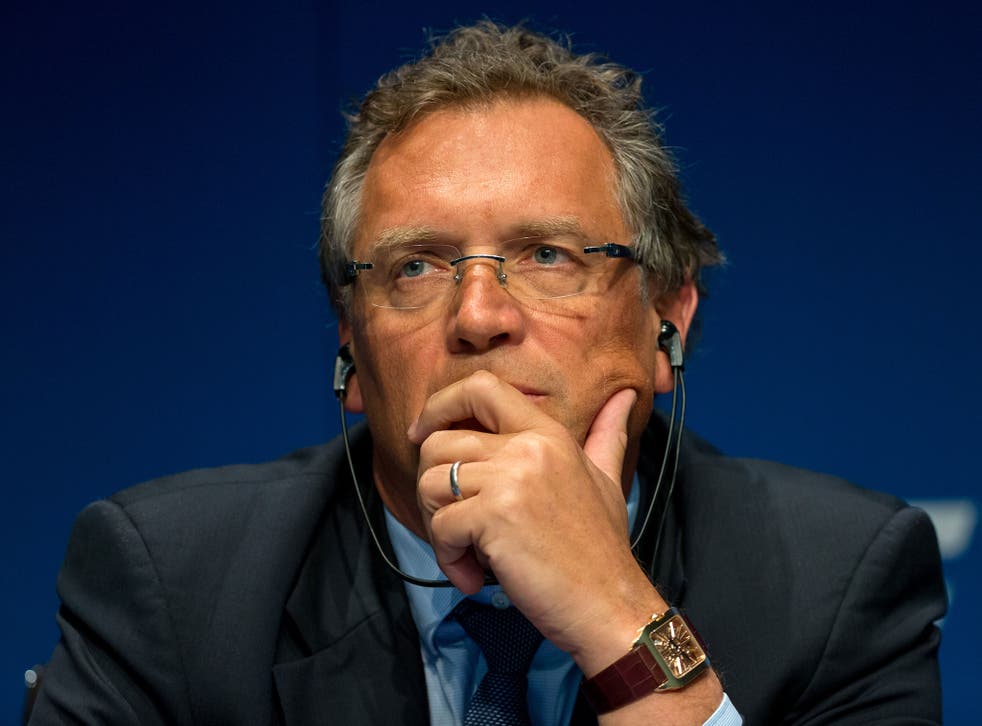 The re-elected Fifa president Sepp Blatter is under mounting pressure after it inadvertently emerged that one of his closest allies reportedly authorised $10 million (£6.5m) of cash transactions to another soccer official in what is thought to be central to the bribery scandal engulfing international football.
Jérôme Valcke, Fifa's secretary general, is the unidentified "high-ranking FIFA official" who US Federal Prosecutors say transferred the money in 2008 from Fifa to accounts controlled by former Concacaf president Jack Warner, the New York Times reported.
The US Justice Department alleged last week that Warner received three payments totalling $10m in 2008 which was deposited in a US bank account to secure a vote to back the South African bid for the 2010 World Cup. South Africa's sports minister has denied any wrongdoing involving his country.
The New York Times names that Mr Valcke as the official responsible, though the official told the newspaper that he did not authorise any payment. He has not been charged or accused of wrongdoing.
The Fifa bigwigs facing charges

Show all 14
Nonetheless the suggestion brings Mr Blatter uncomfortably close yet again to allegations of wrongdoing. Should Mr Valcke's involvement turn out to have been the case, it would be almost impossible for Mr Blatter not to have at least known about the transaction. Both men were among Fifa's highest ranked officials at the time.
A Fifa spokeswoman told The New York Times that the chairman of the finance committee in 2008, Julio Grondona, authorized the payment. Mr Grondona died last year. Ms Fischer said the payment was "executed in accordance with the Organisation Regulations." But those regulations state that the secretary general is responsible for maintaining the organisation's accounts and has the authority to make transactions, the New York Times said.
Meanwhile, back in Britain the Government and the Football Association (FA) have agreed not to rule out any options in their response to allegations of corruption. Culture Secretary John Whittingdale said he had spoken to FA chairman Greg Dyke and they had agreed to keep all options on the table in an effort to end a "culture of kickbacks and corruption that risk ruining international football for a generation".
Amid calls for a boycott of the World Cup, he assured MPs the Government would do anything in its power to bring about change in world football's governing body. "Fifa needs to change and to change now, and I can assure the House that the Government will do all in its power to help bring change about.
Momentum is building against Mr Blatter and sponsors should "think long and hard" about whether they want to be associated with "discredited and disgraced" Fifa, Mr Whittingdale said, reiterating his call for Mr Blatter to stand down for the good of the game. Shadow culture secretary Chris Bryant said Mr Blatter survived due to his "Mafioso cronyism" but is a "tainted leader of a corrupt organisation". He said: "By clinging on, he is merely dragging Fifa further and further into the mud."
Mr Blatter denies any wrongdoing.
Register for free to continue reading
Registration is a free and easy way to support our truly independent journalism
By registering, you will also enjoy limited access to Premium articles, exclusive newsletters, commenting, and virtual events with our leading journalists
Already have an account? sign in
Join our new commenting forum
Join thought-provoking conversations, follow other Independent readers and see their replies