Fifa president: Who are the election candidates? When is the vote? How does it work?
Everything you need to know ahead of the Fifa extraordinary congress on Friday where Sepp Blatter's successor as president will be determined
Samuel Stevens
Thursday 25 February 2016 11:54 Comments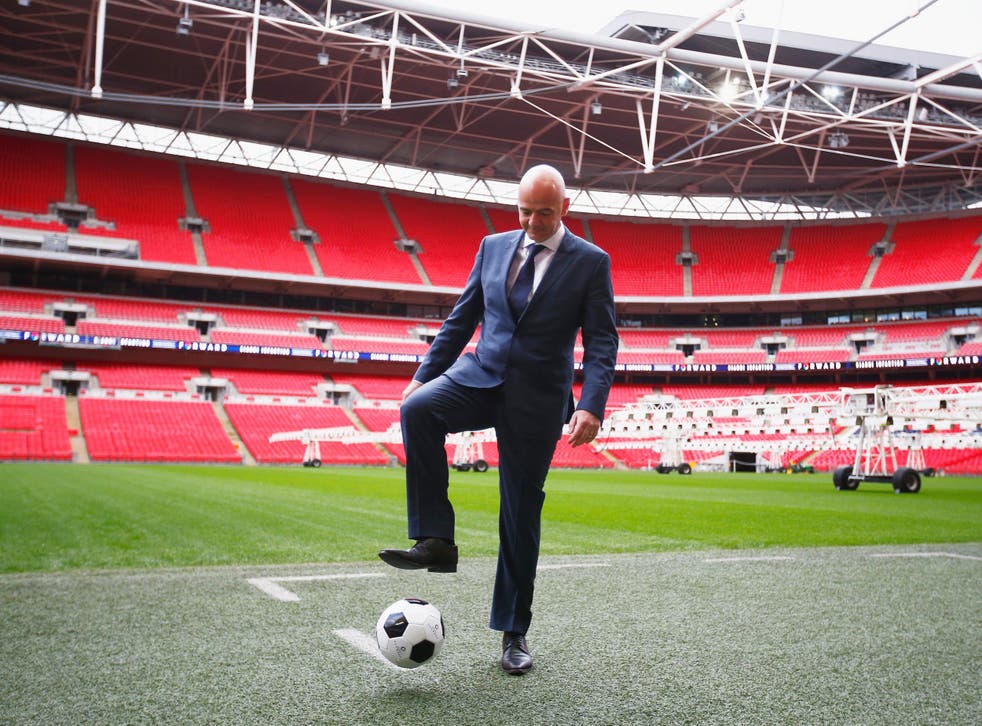 Who are the candidates?
Gianni Infantino, 45, Italian/Swiss
Uefa general secretary, joined in 2000 as a lawyer
"Fundamental reforms must be at the heart of Fifa to ensure that it regains the trust of both the football world and the wider public. These reforms need to be structural but also cultural in nature. In this respect, Fifa must demonstrate that it has the strength and determination to reform itself into a modern, well governed, institution which is a worthy leader for the world's number one sport."
Headline policy: Expanding the World Cup to upwards of 40 nations, ensuring less reputable football countries are represented.
Sheikh Salman bin Ibrahim al-Khalifa, 50, Bahraini
Asian Football Confederation president and Fifa vice-president
"My track record demonstrates that I can be relied upon to serve associations and the global football community with distinction and to lead Fifa through this critical transition. Starting out as a player, I then worked my way up through the ranks of the Bahrain Football Association to become president. Consequently, I fully understand the daily realities and difficulties faced by associations, clubs and players in everyday football."
Headline policy: Splitting Fifa into two entities, one for commercial practises and another for footballing operations.
Prince Ali Bin Al Hussein, 40, Jordanian
President of Jordan Football Association and founder and president of the West Asian Football Federation, former Fifa vice-president
"I know well the challenges faced every day to develop football in countries around the world. I also know Fifa well from the inside, having served as Fifa vice-president and as a member of both the Fifa executive committee and the AFC executive committee for the past four years. Most importantly, I am a straight-forward person with straight-forward ideas and ethics — a person who loves our sport. I believe in uncompromising integrity. In good leadership. In fair play. In a service oriented approach. And in hard work."
Headline policy: Total development of football around the world, quadrupling the amount of money member associations receive to increase sustainability.
Jerome Champagne, 57, French
Consultant in international football, a former diplomat who worked at Fifa as an executive and advisor to Sepp Blatter for 11 years
"In my view, and as I've written and said many times, we must continue and further improve what has been done well under the mandates of presidents [Joao] Havelange and [Sepp] Blatter: implement development programs, organize Fifa competitions on every continent, and take the correct sports policy decisions (e.g. the exclusion of South Africa because of apartheid in 1976). But we must do more. We must do better. Above all, we must do it differently."
Headline policy: Strengthening the role of national associations, involving leagues, clubs and players in the decision-making process.
Tokyo Sexwale, 62, South African
Mining businessman, anti-apartheid campaigner and ex-member of the Fifa anti-discrimination task force
"All this occurs in the midst of unprecedented action by law enforcement agencies against several leaders of FIfa. As a presidential candidate, I fully understand that these are difficult times for Fifa, which demands extraordinary and resolute leadership. These events, do not mean the death knell of football, the biggest sport in the world played since time immemorial and still to be played for many generations to come."
Headline policy: Growing and developing football worldwide, enhancing all nations not just the recognised 'bigger' countries.
How will it work?
Fifa's 207 eligable member states (Kuwait and Indonesia are excluded) will be invited to vote in alphabetical order in a secret ballot from midday. Prince Ali has called for the governing body to use transparent voting booths after claims some candidates photographed their ballots in the 2015 election - which saw outgoing Swiss president Blatter defeat the Jordanian - to inform interested parties of who they were supporting.
In the first round, there will only be a winner if one candidate secures more than two-thirds of the votes. This appears unlikely, however, owing to the voting habits of various regions, meaning just a straight majority would be enough in the second round of voting.
If there remains a need for a third round to be held, the candidate with the lowest amount of votes in the previous round will be eliminated.
The afternoon's preliminary agenda has been revealed on Fifa's website and goes as follows; Welcome, roll call, appointment of scrutineers, suspension or expulsion of a member, approval of the agenda, appointment of the agenda, appointment of five members to check the minutes, president's address, reform of Fifa's organisational structure, vote on proposals for amendments to Fifa's statutes, election of replacement of members or judicial bodies, election of the president and, finally, the president's closing remarks. In short, it's going to be a long day, but one which aims to outline how Fifa will deal with accusations of corruption in the new era regardless of who is elected.
Each candidate will have an allotted 15 minutes to address the congregation. It is hoped that voting will commence at around 1.30pm on Friday afternoon but these events are renowned for delays. It is within the bounds of reality, for example, for the various rounds of voting to last into the early evening.
What about the proposed reforms?
Before the presidential election takes place, the 207 eligable Fifa nations will gather for the extraordinary congress to agree and finalise a set of reforms which, it is hoped, will eradicate the chances of another corruption scandal engulfing the organisation. Chiefly among the planned proposals is the intention to set fixed terms for officials and set the benchmark for full disclosure of the payment structure at Fifa.
It is expected that the executive committee will be replaced by a 36-member council designed to set global policies and include at least six female representatives. The proposals need to be approved by at least 75 per cent of the members to be passed.
Before the election in the summer of 2015, arrests were made at the request of the United States Department of Justice. Many remain under investigation by the Federal Bureau of Investigation, in co-ordination with Swiss authorities, over corruption allegedly involving more than $150m (£98m) worth of bribes dating back 24 years.
On Wednesday, Blatter and former Uefa counterpart Michel Platini saw their appeals against eight-year bans, for a "disloyal payment" of £1.3m between the pair, rejected but their suspensions were reduced from eight to six years by Fifa's appeals committee.
The candidates' manifestos
Gianni Infantino: Uefa general secretary, supported by the Football Association.
Prince Ali Al Hussein: Fifa vice-president, runner-up in the previous election.
Salman Bin Ibrahim Al-Khalifa: president of the Asian Football Confederation.
Jerome Champagne: former executive at Fifa from 1999 to 2010.
Tokyo Sexwale: South African businessman.
Click the links to read the candidates' manifestos.
Register for free to continue reading
Registration is a free and easy way to support our truly independent journalism
By registering, you will also enjoy limited access to Premium articles, exclusive newsletters, commenting, and virtual events with our leading journalists
Already have an account? sign in
Join our new commenting forum
Join thought-provoking conversations, follow other Independent readers and see their replies