Russia and Qatar deny bribery allegations over World Cup as new information emerges
Former Fifa official Jack Warner is accused of receiving $5m in bribes to vote for Russia to host the 2018 World Cup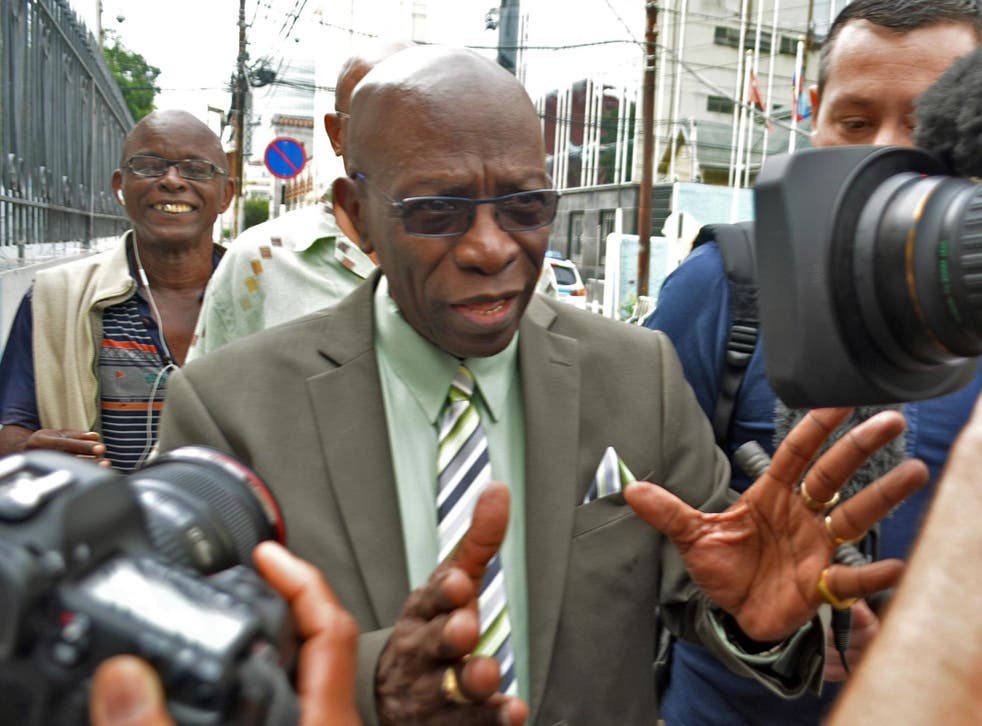 Qatari and Russian officials have strongly denied allegations bribes were paid to secure votes for the 2018 World Cup and 2022 World Cup.
Kremlin spokesman Dmitry Peskov said Russia had no part in bribing Fifa executive committee members to win the World Cup hosting vote in December 2010. So did Russia's top soccer official Alexey Sorokin, who led the bid.
"We can't understand what this is about, or how to react," Sorokin told The Associated Press, referring to claims in a U.S. Department of Justice indictment unsealed late Monday. "We the bid committee had nothing to do with this. ... It looks like a perfect conspiracy theory."
The indictment said high-ranking FIFA official Jack Warner of Trinidad and Tobago received $5 million in bribes to vote for Russia from 10 different offshore shell companies, which used correspondent accounts in the U.S.
Warner was first indicted in 2015 on financial corruption charges that included a separate $10 million bribe from 2010 World Cup host South Africa. He was an influential FIFA vice president at the time of Russia's victory against three rival European bids.
Detailing a new digital money trail, the fresh indictment said payments arrived in Trinidad and Tobago via "densely layered transactions between and among offshore accounts," including in Cyprus and the British Virgin Islands.
Some money was wired using accounts that also paid "companies based in the United States that performed work on behalf of the 2018 Russia World Cup bid," the DOJ said.
Meanwhile Qatar's Supreme Committee for Delivery and Legacy (SC) rejected the charges: "They are part of a long-standing case, the subject of which is not the 2018/2022 FIFA World Cup bidding process.
"Despite years of false claims, evidence has never been produced to demonstrate that Qatar won the rights to host the FIFA World Cup 2022 unethically or by means that contravened FIFA's strict bidding rules.
"The SC maintains that it strictly adhered to all rules and regulations for the 2018/2022 FIFA World Cup bidding process and any claim to the contrary is baseless and will be fiercely contested."
FIFA said in a statement it supported all investigations into "alleged acts of criminal wrongdoing" and noted it had been accorded victim status in the U.S. criminal proceedings.
"The FIFA Ethics Committee has already imposed sanctions, including life bans, on football officials mentioned in this process," said a FIFA spokesman.
"So far as FIFA is concerned, should any acts of criminal wrongdoing by football officials be established, the individuals in question should be subject to penal sanctions.
"As the respective criminal cases are ongoing we are not in a position to comment further for the time being."
AP
Register for free to continue reading
Registration is a free and easy way to support our truly independent journalism
By registering, you will also enjoy limited access to Premium articles, exclusive newsletters, commenting, and virtual events with our leading journalists
Already have an account? sign in
Register for free to continue reading
Registration is a free and easy way to support our truly independent journalism
By registering, you will also enjoy limited access to Premium articles, exclusive newsletters, commenting, and virtual events with our leading journalists
Already have an account? sign in
Join our new commenting forum
Join thought-provoking conversations, follow other Independent readers and see their replies