Don't panic! There's no need to give Gareth Southgate the full time England job now. FA is right to take its time
The 'interim' part of former Middlesbrough man's job title is perfect for now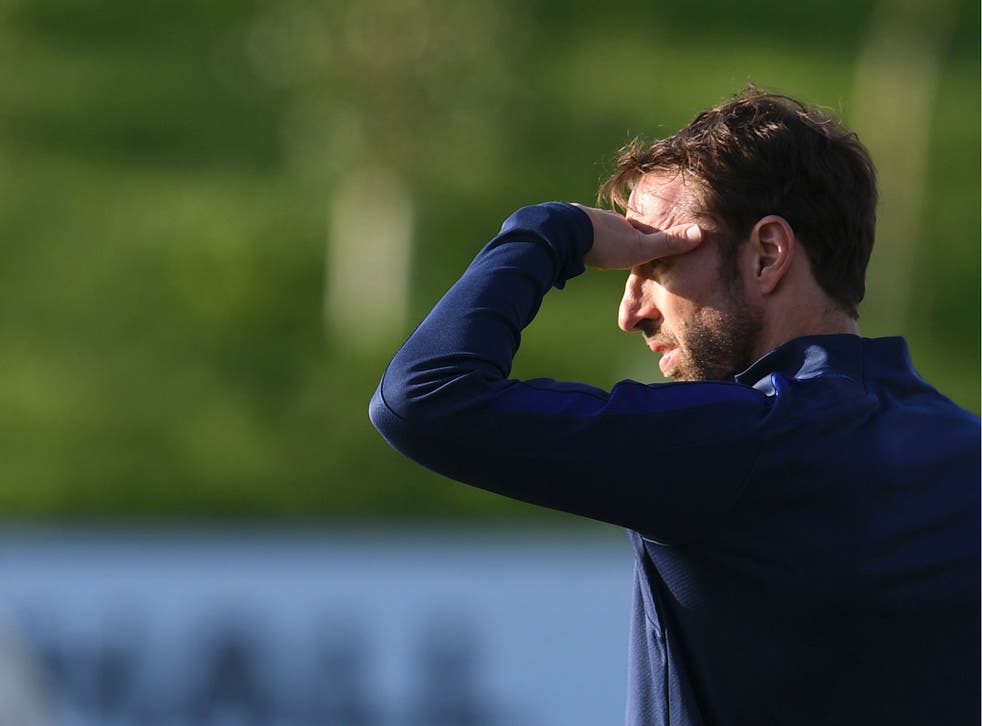 There is little more frustrating in football than an impatient centre forward, giddy at the prospect of being put through on goal, who can't hold the line, goes too early and runs smack into the offside trap, wasting a golden opportunity.
Timing is everything in the beautiful game. The Football Association would do well to remember this and stick to its guns about leaving the 'interim' half of the 'interim manager' sign stuck firmly to Gareth Southgate's door at St George's Park.
There is a school of thought that Southgate should be handed long-term responsibility for the national side now; that having him in temporary charge only for the next four games will damage England's prospects at the Russia World Cup because of the uncertainty over who will be leading the team in 2018. Will it be him? Will someone else come in? How can we plan ahead?
How can the team hammer out drills on the training ground, go over tactics, formations, resolve personnel issues if they have an interim manager in charge until March?
But it hardly matters for the here and now. A lot can change in the fluid world of football – ask Sam Allardyce. And that storm blew through in three days. There are 616 days between now and the start of the World Cup in 2018.
The FA is right to leave Southgate with the job on temporary basis. He is a steady hand you would hope would guide England safely over the coming six weeks.
If he really impresses between now and mid-November and is impossible to look beyond at that point, fine, send off for the business cards, print the T-shirts and rename the Wifi code. But let him do the audition first. Martin Glenn, the FA chief executive, insists it isn't an audition. But how else can it be termed? And it is an audition that will give the FA a telling insight into whether he is up to the job. Malta at home less so (Remi Garde could oversee England beating Malta) but then it is Slovenia away, Scotland at home and Spain at home in a friendly.
Reassess at that point. If it's four wins out of four it would be hard to look beyond the former Middlesbrough manager but if it's been a poor run of results – surely not a defeat to Malta? - the FA can start the manhunt. It would have plenty of time to track down the right candidate before the World Cup. The next game is not until the following March.
It is not naïve, complacent or arrogant to wait until the Wembley stands have been swept post-Spain to make a decision. It is prudent.
The FA chief executive Martin Glenn and chairman Greg Clarke already have a set of interview questions written up from the last appointment but that may have actually decided – given the appalling choice they made – that those questions need a thorough rewrite. Southgate buys them time to find the Tippex. Glenn denies this. Allardyce's error was out of the blue, he claims. Either way, the accusation of indecisiveness is unfair. They are being thorough.
What the FA doesn't need is to have painted itself into a corner by appointing Southgate now and then deciding in six weeks' time that he is not the man for the job. That would be a crisis the FA could do without so hot on the heels of the Allardyce affair.
It is true that when Roy Hodgson was dropped into the international job shortly before Euro 2012 – following the resignation of Fabio Capello - he had little time to prepare and England were poor in Poland and Urkaine. Four years later at Euro 2016, after all the meticulous planning, training ground drills and free-kick routines, the national side was hardly a well-oiled machine as it rumbled into Russia, Slovenia et al. It was more a spluttering, stalling wreck eventually consigned to the scrapheap by Iceland.
Had the idea to let Harry Kane - arguably England's most lethal striker in the penalty area - take corners been four years in the planning? One certainly hopes not. England hardly need to have free-kick routines down pat a year before Russia.
In some ways letting Southgate get these early World Cup qualifiers out of the way may help should a new manager come in - assuming we are still in with a hope of reaching Russia. There is no doubt Hodgson was blinded by his perfect 10 qualification campaign for Euro 2016, sticking with the likes of Jack Wilshere, Raheem Sterling and Wayne Rooney who had helped get England to France but were woefully out of form or fitness.
He should have trusted form players such as Dele Alli as his No 10 and he should have had Danny Drinkwater and Andros Townsend in the squad at the least.
Yes, there are wrinkles that need to be ironed out such as where – or indeed should – Rooney play. But these may have resolved themselves one way or another by the time March comes around. Injuries will have a say. England need a manager who can be reactive, can adapt, not one who has entrenched views anyway.
The FA may also, of course, be waiting for Arsene Wenger whose contract at the Emirates expires at the end of the season. Glenn has admitted that the Arsenal manager is the ideal fit for the job. But appoint Southgate now and that door closes. The picture regarding the Frenchman's future at Arsenal could be that much clearer come Christmas so again, timing is key. And who knows what other candidates may surface between now and then?
Let's not panic, Rome is hardly burning. Yes, there is a stench around the England team but it is not the smell of smoke, rather the rotten stench Allardyce left behind. Why rush to find the man to clean it up and risk making it worse?
Join our new commenting forum
Join thought-provoking conversations, follow other Independent readers and see their replies