Germany 2 Poland 0: Polish-born Podolski strikes twice to double German delight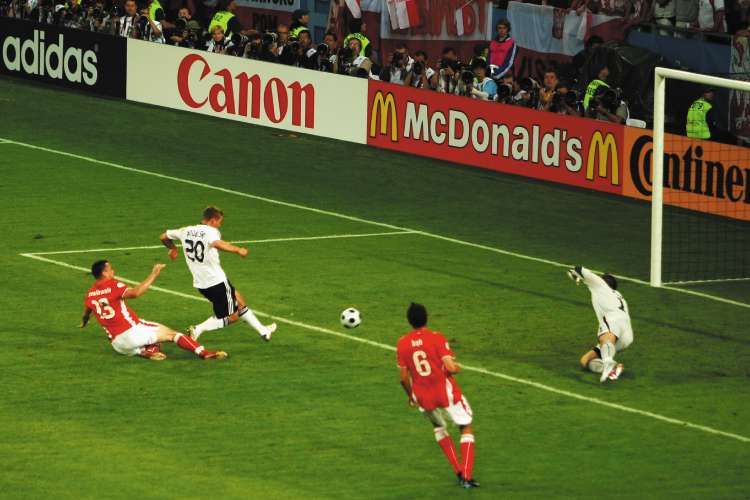 Locally this stadium is known as the UFO because of its resemblance to a spaceship. But there was nothing unidentified about what flew last night. German hopes are soaring again with a hard-earned victory over a committed Polish side who will have caused a ripple of apprehension among their other Group B opponents.
Incredibly, this was the first Euro finals match that the Germans had won since they took the competition 12 years ago. They are tipped to triumph again this year and, with Michael Ballack producing the form expected from him, and Lukas Podolski, with two goals, recapturing his, they have set a benchmark. Podolski, Prince Pod of 2006, appeared reborn against the nation of his birth. It was a case of Pole 2 Poles 0.
The victory over Poland in the World Cup two years ago fired German belief that they could win that tournament. And with eight survivors from a raucous evening in Dortmund there was experience as well as ability in the team that lined up in an equally charged atmosphere. Indeed, during the day it had seemed that Klagenfurt would burst with the influx of supporters. Instead the Carinthian capital simply gave itself over, even if the alcohol consumption, particularly from the Poles, reached scary proportions.
But then this game meant so much to them and, with their impressive qualifying record, topping Portugal's group, and the wiliness of their coach, Leo Beenhakker, there was hope also in what was their first venture into a European Championship finals.
Inside the opening minutes that venture almost took off. Pre-match and there was concern about the form of Jens Lehmann and when he collided with Per Mertesacker it presented the ball to Jacek Krzynowek who, off balance, ballooned over. Astonishingly, Ballack then threaded a pass through to Miroslav Klose. Clear on goal the striker foolishly chose to pass to Mario Gomez, who was offside, but turned the ball wide.
Playing a high line of defence was dangerous for the Poles. And so it proved on 20 minutes when Gomez flicked the ball through to Klose. Again clear, this time he chose the right option in crossing for Lukas Podolski, who coolly side-footed home. It hurt even more for the Poles that both players were born on their soil. For Podolski, so out of sorts this season at Bayern Munich, and shunted to the wing for his country, there were only muted celebrations.
The Poles bit back and, when Wojciech Lobodzinski broke down the right, Maciej Zurawski should have done better than sweeping his shot wide, although, at the other end, Gomez was just as wasteful after being teed up by Clemens Fritz.
The introduction of Roger Guerreiro, the Brazilian-born attacking midfielder, who only gained a Polish passport in April, gave Beenhakker's side impetus. He fizzed over a cross, hit a crisp drive and breached the German back-line but, then, Ballack delivered a wonderful deep cross that Klose headed over under pressure. It meant the favourites were working hard to protect their status while Beenhakker threw on another attacker.
But still it was Germany who carried the greater threat and when Ballack connected fully with Philipp Lahm's cross, with a fierce side-footed shot, it was only a fine tip over from Artur Boruc that prevented the lead being extended. But it soon was. Schweinsteiger was pulled back, but swivelled inside the area to find Klose, who sliced his shot. However, it fell perfectly for Podolski, who slammed his volley high beyond Boruc. An alert block by Lehmann, from Marek Saganowski's near post header, denied any consolation.
Goal: Podolski 1-0 (20), Podolski 2-0 (72).
Germany (4-4-2): Lehmann (Stuttgart); Lahm (Bayern Munich), Metzelder (Real Madrid), Mertesacker (Werder Bremen), Jansen (Bayern Munich); Fritz, Frings (both Werder Bremen), Ballack (Chelsea), Podolski; Klose (both Bayern Munich); Gomez (Stuttgart). Substitutes used: Schweinsteiger (Bayern Munich) for Fritz, 55; Hitzlsperger (Stuttgart) for Gomez, 76.
Poland (4-5-1): Boruc (Celtic); Wasilewski (Anderlecht), Zewlakow (Olympiakos), Bak (Austria Vienna), Golanski (Steaua Bucharest); Lobodzinski, Dudka (both Wisla Krakow), Zurawski (Larissa), Lewandowski (Shakhtar Donetsk), Krzynowek (Wolfsburg); Smolarek (Santander). Substitutes used: Guerreiro (Legia Warsaw) for Zurawski, h-t; Piszczek (Hertha Berlin) for Lobodzinski, 65; Saganowski (Southampton) for Golanski, 75.
Referee: T Henning Ovrebo (Norway).
Booked: Germany Schweinsteiger; Poland Smolarek, Lewandowski.
Man of the match: Podolski.
Attendance: 30,000.
Join our commenting forum
Join thought-provoking conversations, follow other Independent readers and see their replies