World Cup 2014 final - Germany vs Argentina: Five main reasons the Germans reached the final
Germany can thank a penalty, a sub and an error
Miguel Delaney
Monday 14 July 2014 01:57 Comments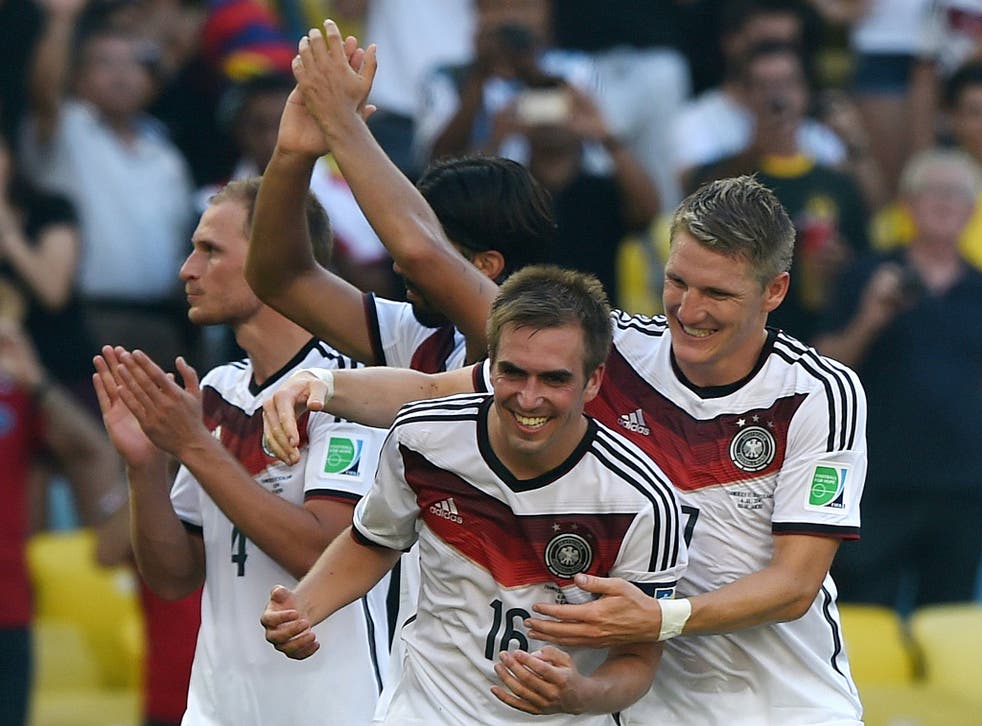 Germany are into the World Cup final against Argentina. We take a look at the key moments on their way to the Maracana.
1. The reshuffle ahead of the quarter-final
Before the France fixture, Jogi Löw's use of an out-of-sorts Phillip Lahm in defensive midfield had disrupted Germany's structure and made them so much more porous. Lahm's return to left-back brought an immediate and assured step-up in every area. It wasn't just a different set-up. It was a different team.
2. Spot-kick turned the tide against Portugal
In the first 12 minutes of their opening game, Portugal created a large number of chances. Germany looked on the edge and that they were going to concede the lead at any time. Then there was a major turning point. Mario Götze was fouled, Thomas Müller scored from the spot and the Portuguese collapsed. With a 4-0 win, Germany had the foundation to ease through a difficult group.
3. Feghouli decides to shoot rather than pass
First place in the group might have created a false sense of security, because there was still no security at the back. That was repeatedly proven early in the second round as Algeria sliced through Germany, and should have gone ahead. Yet, with El Arabi Soudani unmarked, Feghouli instead shot from an impossible angle. Germany eventually forced a win and Löw re-assessed.
World Cup 2014: 20 things we learned

Show all 20
4. Muller's first goal against Brazil
Through a simple set-piece, Germany easily went ahead in the semi-final. It also meant that after working themselves into a frenzy following the Neymar injury, Brazil's siege mentality evaporated and they completely caved in.
5. Klose's impact against Ghana
Although Germany had the safety net of the opening win, the African side were cutting Löw's defence apart. Just when it looked like 2-1 to Ghana could become 3-1, Klose (top right) came off the bench to equalise and equal Ronaldo's finals record of 15 goals.
Register for free to continue reading
Registration is a free and easy way to support our truly independent journalism
By registering, you will also enjoy limited access to Premium articles, exclusive newsletters, commenting, and virtual events with our leading journalists
Already have an account? sign in
Join our new commenting forum
Join thought-provoking conversations, follow other Independent readers and see their replies