The Independent's journalism is supported by our readers. When you purchase through links on our site, we may earn commission.
Germany vs Argentina match report World Cup 2014 final: Gotze scores extra-time winner to crush Messi dream
Germany 1 Argentina 0 (aet)
Sam Wallace
Monday 14 July 2014 12:36 Comments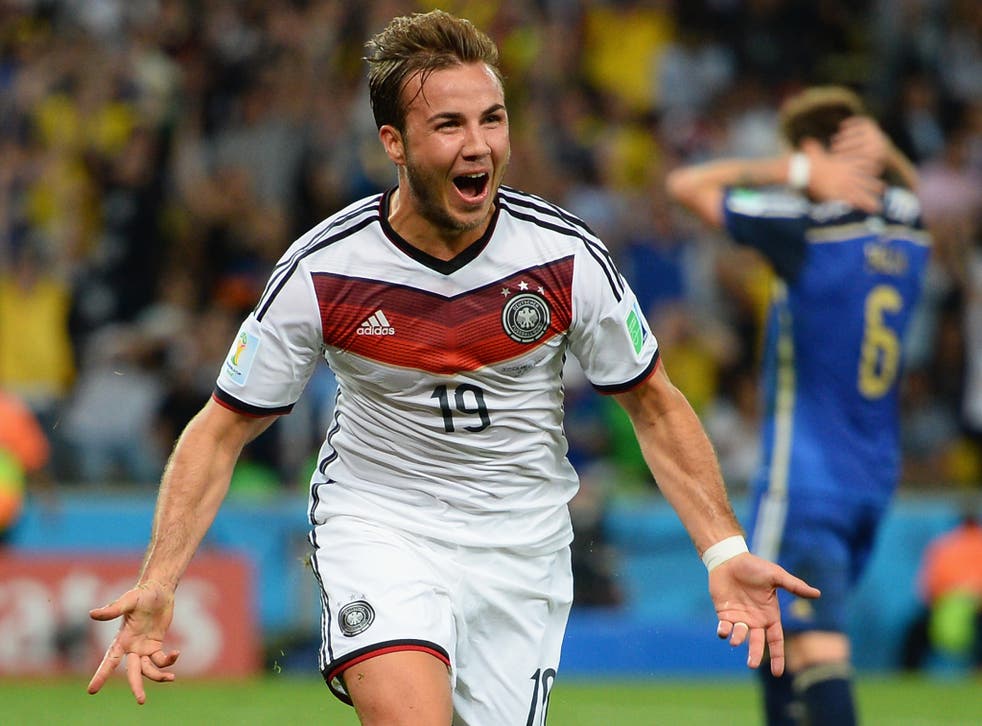 For one last moment, Lionel Messi's face loomed on the stadium screens as he stood over a free-kick that was, by anyone's estimations, too far out and too wide of goal to consider shooting. But then this was the best player in the world, a goal down in the World Cup final with two minutes remaining and history slipping through his fingers.
He skied it and so went the chance of what will probably be his lifetime. Messi, named player of the tournament, will probably never have that gold trophy to set on the table alongside Diego Maradona's from 1986. He will have to make his peace with that. As for the rest of his team, this was a marvellous Argentina performance but they were up against the most impressive group of international footballers of this generation.
Germany have taken the place of Spain as the pre-eminent world team and the fourth World Cup of their history, although the first for a unified Germany, is richly deserved. They have worked towards this with ingenuity and patience and Mario Gotze's goal deep into extra-time, was reward for all the years of planning and the laudable belief that a proper football nation should develop, not import its best footballers.
Germany 1 Argentina 0 player ratings

Show all 23
This is not a Germany team to blow your mind, as Spain could be at their best. In fact there were long periods of the game when they looked second best to Argentina, but the character of Joachim Low's team came shining through. They were led by Bastian Schweinsteiger, bloodied by an elbow from Sergio Aguero in extra-time but back on his feet and relentless in his pursuit of this title. He was repaired on the side of the pitch like a proto-Robocop and sent back into battle.
It had been an inauspicious game for the Italian referee Nicola Rizzoli. He might have sent off Benedikt Howedes in the first half for a bad foul on Ezequiel Lavezzi that only earned a booking. So too, Manuel Neuer's mad lunge, foot up at Gonzalo Higuain in the second half. Both Javier Mascherano, a superb little general again, and Aguero could have gone for second yellows in extra-time.
As the teams tired, the goal finally came. It arrived in the second half of extra-time when Andre Schurrle broke down the left and crossed for Gotze who did well to take the ball on his chest, swivel and strike a left-footed shot past Sergio Romero.
The third World Cup final in a row to go extra-time but this one was an engrossing game. There were chances, although not many, but most of all it was a good, open battle. Both teams believing that they could win it. Argentina had the more chances. Germany got the closest, when Howedes headed against the post late in the first half.
Sami Khedira was lost to injury in the warm-up, the cruellest of fates on this, the biggest day in any footballer's career. He was replaced by Christoph Kramer who ran into Ezequiel Garay's shoulder after 15 minutes and, having been sponged down, and woken up, did not last until half-time. He was led away with a faraway look in his eyes that suggested he was not quite certain where he was or what he was doing.
It all contributed to the feeling that the small things were not going the way of the Germans. They had one big escape when Gonzalo Higuain dragged a right-foot shot wide, the best chance of the half, but otherwise they were beset by a series of minor but significant mishaps. First they were opened up down the left side, where Howedes seemed to be targeted by Messi and Ezequiel Lavezzi. Then they picked up two bookings, for Schweinsteiger and Howedes.
The sheer bloody-mindedness of Argentina's defence has been one of the cornerstones of their tournament. They are not the four most cultured defenders, but the combination that Alejandro Sabella has alighted on in the last three games fits together beautifully. They are led by Garay, a tough old general who fits seamlessly into a long historical line of Argentines who just won't let the striker pass.
In the first ten minutes, Messi turned on the after-burners to get away for Mats Hummels. Pablo Zabaleta found some space down Germany's left side too. Then Toni Kroos completely misjudged a header in midfield, lofted the ball towards his own goal and out of Hummels' reach and sent Higuain in. The memory of his shot, pulled wide, will live with Higuain for the rest of his life.
He had the ball in the net nine minutes later and was almost back to the Argentine bench celebrating before he checked over his shoulder and saw the Italian linesman with his flag raised, correctly, for offside. Yet even so, it felt like Argentina had the first half on points. Howedes misjudged a tackle on Zabaleta, went far too high over the ball and connected with his studs high up the leg. On another occasion it could have been red, not yellow.
Lavezzi ran at and through Germany again on 36 minutes. Jerome Boateng had to get a Messi cut back away in that last ten minutes of the half, too. The Argentines looked confident and were getting the ball forward quick enough that they did not find themselves out-numbered when they attacked.
But Germany, as is their way, withstood this pressure. They had Andre Schurrle on for Kramer and in the final five minutes of the first half they made two good chances. Thomas Muller, a puzzle that the Argentine defence never got to grips with, popped up on the right and crossed to Ozil who teed the ball up for Kroos. His shot, which flicked off Ozil on its way goalwards, was saved by Sergio Romero. Kroos might have done better.
Then, with almost the last act of the game, Howedes headed a corner from the right side against the post. It was the first time that the Argentinians had to rely on their own good fortune to survive.
Two minutes after the break and Messi got himself into one of those positions behind the defence from which he has racked up the industrial quantities of goals for Barcelona. He was wider than he likes to be, which ruled out the trademark dink over the goalkeeper, but even so he normally finds the space between goalkeeper and post. This time he rolled it wide.
Just before the hour, Neuer came out to clear a ball on the left side of his box, jumping with his right leg raised to punch and catching Higuain flush on the head as he followed the flight of the ball. It looked a bad one, although the mercy was that Higuain was back on his feet almost immediately. For a goalkeeper who had hitherto barely put a foot wrong all tournament, it was a reckless challenge.
In the first period of extra-time, indeed, the first minute, Schurrle had another chance on the left which Romero saved well from. The substitute Rodrigo Palacio had an even better opportunity when Hummels missed the cross from the left but Neuer was quickly out and he shot wide. Then finally Gotze scored the goal that won the game for the team that never gives in.
Germany (4-2-3-1): Neuer; Lahm, Hummels, Boateng, Hoewedes; Schweinsteiger, Kramer; Kroos, Ozil, Muller; Klose.
Subs: Schurrle/Kramer 31, Gotze/Klose 88, Mertesacker/Ozil 118
Argentina (4-3-1-2): Romero; Zabaleta, Garay, Demichelis, Rojo; Biglia, Mascherano, Perez; Messi; Lavezzi, Higuain.
Subs: Aguero/Lavezzi ht, Palacio/Higuain 78, Gago/Perez 88
Booked: Argentina Mascherano, Aguero Germany Schweinsteiger, Hoewedes
Rating: 8
Attendance: 74,748
Referee: N Rizzoli (Italy)
Man of the match: Schweinsteiger
Register for free to continue reading
Registration is a free and easy way to support our truly independent journalism
By registering, you will also enjoy limited access to Premium articles, exclusive newsletters, commenting, and virtual events with our leading journalists
Already have an account? sign in
Join our new commenting forum
Join thought-provoking conversations, follow other Independent readers and see their replies