World Cup 2014 final - Germany vs Argentina preview: German team ethic tests Lionel Messi's ability to meet the challenge
No game is ever about one man but Joachim Löw's side know that if they fail to contain Argentina's shimmering talent they will lose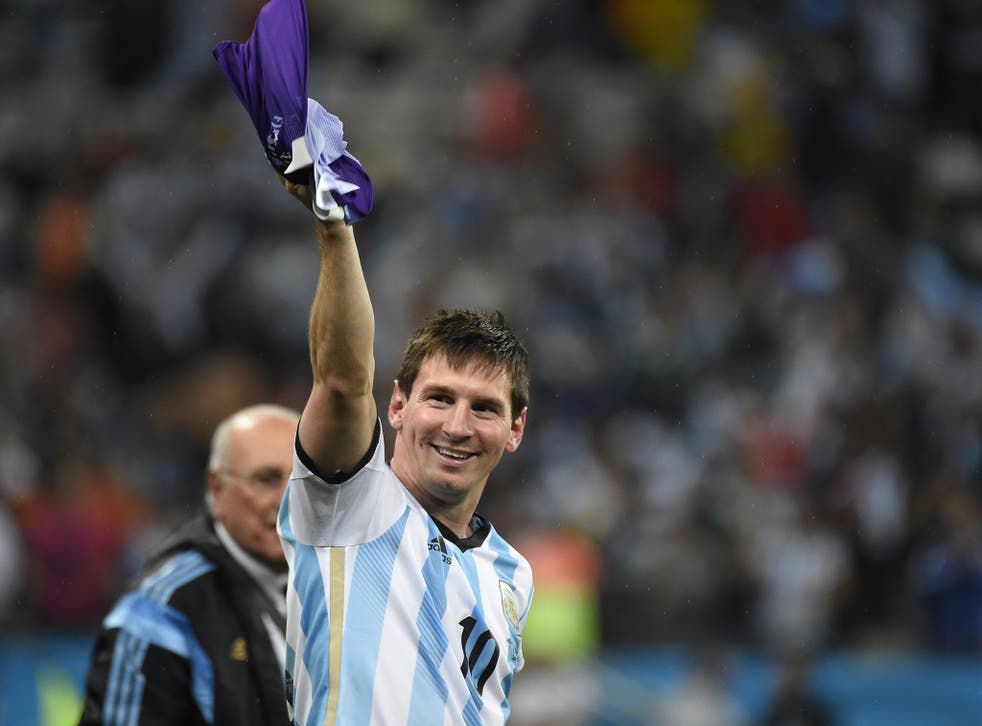 After 31 days and 63 matches it has all come down to this: a squad defined by their team collective take on a squad defined by an individual. This German generation await completion; Argentina's Leo Messi awaits coronation.
That contrast does not just condition the game but the moods ahead of it. "We're in top shape," Bastien Schweinsteiger declared on the eve of the final. "I just have a good feeling about tomorrow. There's huge anticipation. We have no pressure.''
If Germany are engendering a mood of relaxation, Argentina are all about resilience. Beyond Messi, the South American side have struggled to find the same fluency as Germany, but that in itself has created a more epic sense of struggle around their roughly-hewn path to the Maracana. The relief can be seen in the mixed zones after every anxious win, with the drive to rectify 24 years of underachievement becoming all the more overarching. The emotion was evident on Javier Mascherano's face after the semi-final win over Holland, and could be heard in his words.
"The special thing is to be in the final. It's a delight, a delight that lifts your soul," he said. "It's something you can't explain, something I never imagined, but there we are."
Accompanying them is a deeper sense of emotion, of narrative force, not least because of all the discussion about Messi finally replicating Diego Maradona.
It's different with Germany.
World Cup 2014: 20 things we learned

Show all 20
None of this is to fall back on the classic clichés about their teams just doing their job, but they've had a contrasting route here. While Argentina have had to fight with every step, Germany have gradually begun to soar. The trajectory of their World Cup performances also reflects the rise of the last decade, as if this final is the inevitable consequence of the structural changes implemented in 2000.
"We have players right now who are playing at their peak," Jogi Löw, the manager, said on the eve of the final.
That is not to say Germany have not worked to get there. It would be a huge mistake to think otherwise. The point is the work done 12 years ago has facilitated the apparent ease and smoothness of their play.
Like the Spanish before them, Germany's coaching revolution and the way in which they bring through young players affords them a team cohesion beyond pretty much any other national team. It is a cohesion Argentina could never hope to reach without the same deeper long-term transformation, so Alejandro Sabella, their manager, has constantly had to figure out a different way.
Germany's performance against Brazil reached a different level. There was no better display of the merits of their overall football culture. There may be no better display, full-stop.
From very early in that semi-final, there was a sense of their performance coming together to produce a high quality of execution so rarely achieved. Brazil may have buckled, but Germany brutally produced their absolute best.
Once Thomas Müller had scored the opening goal from the rehearsed work of a set-piece, there was the excellence of Philipp Lahm's tackle through to the effortlessness with which they interchanged and evaded Brazilian defenders. By the time Toni Kroos had dispatched a volley past Julio Cesar without a split-second's hesitation, they were on that elusive plane of performance where everything just works. The fact Miroslav Klose broke Ronaldo's World Cup scoring record and they achieved the highest semi-final win emphasised the scale of the performance.
"That was perfection," Franz Beckenbauer said. It also shifted the central issue of this final from stopping Messi to stopping the force of inevitability, the idea of a grand project coming to fruition.
"We just have to tap into our potential," Schweinsteiger said, with Löw repeating the same phrase.
"We believe if we can impose our game, we will win."
That is difficult to dispute. The one potential problem is whether that has all come to fruition at a fractionally inopportune moment. The one issue with perfection is that it is virtually impossible to maintain and can create challenges of its own.
There is something universal about a group suffering a hangover after such a heady night. On the other side, there is sheer disruptiveness of Argentina's bloody-minded ability to dig in. Schweinsteiger pointedly described Mascherano as "the leader of a pack of wolves." Argentina have often shown a feral response to the idea of being beaten, and tomorrow is likely to be no different.
"The team puts their lives on the pitch. They kill for each other," the goalkeeper Sergio Romero says.
Mascherano struck a similar tone. "We need to be narrow and we need to be compact."
The issue of Germany's level adds another layer to the match. Löw is clearly excellent at creating an attack, but has always had something of a blind spot with backlines. That rarely matters if Germany are on form, but becomes a formidable issue when they are not. If the latter is the case, it will mean Löw simply has to come up with something to stop Messi. That is a fearsome task, as so many have found.
It was put to the German manager, how devastating the No 10 can be. "We don't have any fear whatsoever," he said. "It is a matter of winning. We know we can write history."
Join our new commenting forum
Join thought-provoking conversations, follow other Independent readers and see their replies