World Cup 2014 final - Germany vs Argentina: Will Martin Demichelis be a warrior or a liability?
Despite many fine showings, the Manchester City defender's career has been punctuated by errors in big matches
Sam Wallace
Monday 14 July 2014 01:59 Comments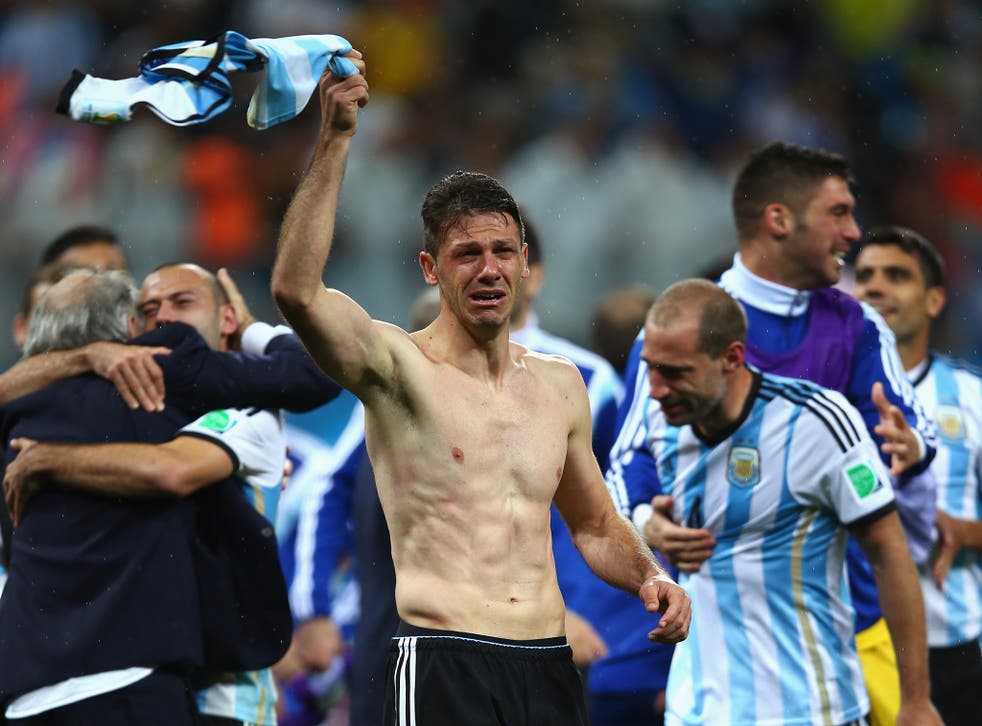 As the pressure grew four years ago ahead of Argentina's World Cup quarter-final tie against Germany in Cape Town, Martin Demichelis appraised the performance of England's defence, on the wrong end of a 4-1 defeat to the Germans in the previous round. "Look at the way John Terry played against Germany," he said, "if I was Terry I wouldn't be able to go back to my country."
With Demichelis in the side, Argentina promptly lost 4-0 to Germany. When he returned to Bayern Munich for pre-season, Demichelis found himself out of Louis van Gaal's plans and he left the club later that year for Malaga, embarking on the path that eventually took him to Manchester City with Manuel Pellegrini. Those six months are a snapshot of a career that has encompassed its fair share of boom and bust.
On Sunday night, Demichelis plays in a World Cup final. He did not start the tournament in the Argentina side which began with a five-man defence in their opening game against Bosnia-Herzegovina and nor was he a first choice in the back four that Alejandro Sabella selected for the next two group games against Iran and Nigeria and the round of 16 win over Switzerland.
Then, ahead of the quarter-final against Belgium, Sabella has second thoughts about Federico Fernandez, the Napoli centre-half, and Demichelis was called into the side. At 33, he had said earlier in the year that he was "95 per cent sure" that he would be spending this summer "on a beach somewhere", but here is Demichelis in a World Cup final against Germany with the hopes of his team largely dependent on how well they defend.
World Cup 2014: 20 things we learned

Show all 20
At times in the Premier League last season he had the look of a man who had opened a door expecting to find a quiet garden, only to walk in the middle of King's Cross station at rush hour. He seemed bewildered, not least against Chelsea when he was played as a defensive midfielder at Stamford Bridge in his first start after injury against a confident, attacking home side. But if you check his record for City, they tended to win most of the games that he played.
His pursuit and foul of his international team-mate Lionel Messi in the Champions League tie in February was the season's most predictable red card from the moment Demichelis set off, the only question being whether the latter would manage to bring Messi down inside or outside the area. It made Demichelis look faintly absurd, and in such a big game too, but then Messi does that to lots of defenders.
In an interview given to the Catalan press before the World Cup finals, Demichelis said that his five-year-old son Bastian had cried watching a video of a five-year-old Messi playing football, having been struck by the realisation that he had nothing like the same ability. "I told him not to worry," Demichelis said. "Neither do I."
His career has been punctuated with errors that have had repercussions. He lingered over the ball too long in a World Cup qualifier against Bolivia in Buenos Aires in 2011 and allowed the striker Marcelo Martins to steal it away from him and score. Argentina drew the game 1-1 and Demichelis was not selected again until his end-of-season form earned him an unexpected place in Sabella's 30-man squad, and then his final 23.
He is the kind of defender to whom things happen, but in his two games at this World Cup against Belgium and Netherlands he has found himself in a team that suits his talents. He can pass the ball which makes him a good foil for the much less complicated Ezequiel Garay alongside him. He has played well in a defence that sits deep, takes no risks and battles hard, as they had to against the Dutch.
Whether Demichelis sees out the second year of his contract at City remains to be seen with the club now close to the signing of Porto's Eliaquim Mangala, whom they missed out on last summer. When that failed, Pellegrini turned to a player he had managed at River Plate and then at Malaga, whom Demichelis had left last summer following rows over tax bills and unpaid wages. He joined Atletico Madrid but never played for them, joining City carrying a knee injury.
The long hair has gone too, a style-change that took place when he was named in the World Cup squad, with Demichelis tweeting pictures of the unlovable thrash-metal pony-tail undercut being consigned to history. It will not help him to defend any better but it certainly looks a lot more presentable. The Argentina players are devotees of Twitter with a steady stream of dressing room pictures posted after games. The Argentina football association tweeted the list of penalty takers ahead of the shoot-out against the Netherlands.
Demichelis has had a fine career. In May he won his fifth league title in Europe, to go with the four Bundesligas won in seven years with Bayern Munich. He won the German Cup with Bayern four times too but lost the Champions League final to Internazionale in 2010 in what was another bad game for him. He struggled against his fellow Argentine, the striker Diego Milito, who scored twice.
When Demichelis is good, his performances tend to pass without comment. When he is bad, he is a liability. His foul on Marc-Antoine Fortune, which resulted in a penalty to Wigan Athletic in the FA Cup defeat in March was one of those games when it goes wrong for him and the consequences are severe. But you have to hand it him, there are plenty of stars who have gone home from this tournament long ago, and the old warrior is hanging in there.
Register for free to continue reading
Registration is a free and easy way to support our truly independent journalism
By registering, you will also enjoy limited access to Premium articles, exclusive newsletters, commenting, and virtual events with our leading journalists
Already have an account? sign in
Join our new commenting forum
Join thought-provoking conversations, follow other Independent readers and see their replies