Gianni Infantino elected Fifa president: Swiss-Italian won the vote but clubs set to grab the power
THE LAST WORD: The existential crisis of institutionalised corruption is likely to deepen, since another round of FBI-prompted arrests is said to be imminent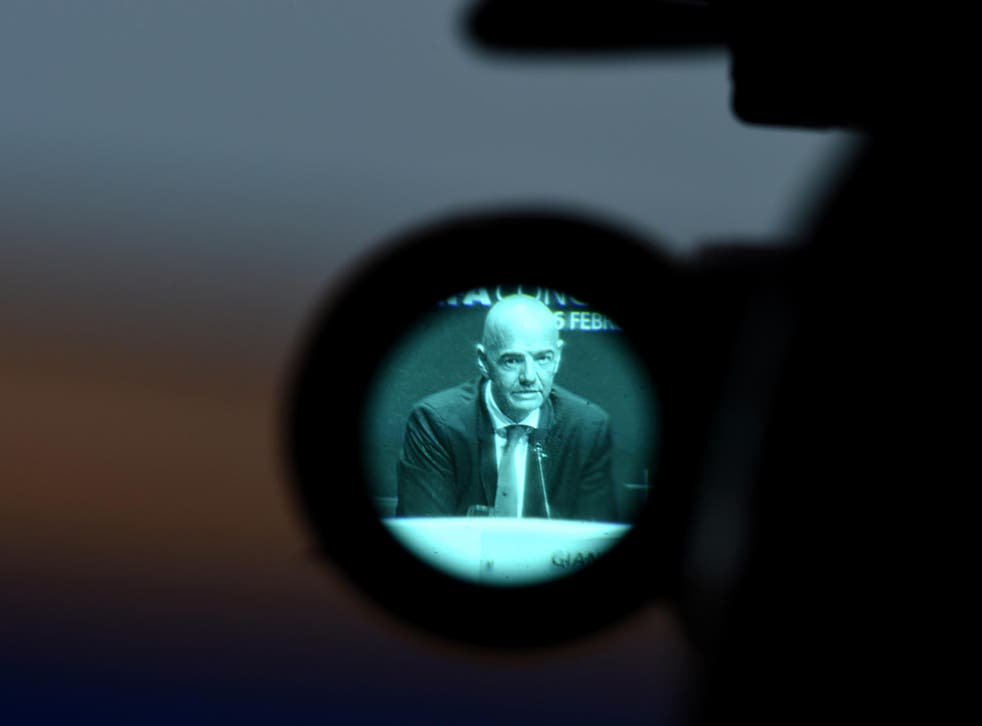 Fair-weather friends and covert enemies queued, like supplicants at a Mafia wedding, to embrace Gianni Infantino. For the scene to be complete, their whispered promises of loyalty should have been drowned out by the saccharine love songs of Jonny Fontane, the Don's godson.
Fifa and Hollywood may not mix following United Passions, the execrable film which represented an £18m extension of Sepp Blatter's ego, but standard cinematic narratives, of betrayal, flattery, intrigue and the abuse of power remain relevant.
Infantino has been prematurely hailed as a soothing presence, a champion of consensus, but in a sense it did not matter who emerged triumphant from the electoral charade designed to select supposedly the most important man in world football.
Although Fifa avoided the doomsday scenario of being led by Sheikh Salman, the Bahraini dogged by aggressively denied but inadequately deflected association with human-rights abuses, the prevailing culture of cronyism and hypocrisy is unaffected.
The existential crisis of institutionalised corruption is likely to deepen, since another round of FBI-prompted arrests is said to be imminent. Suspicions that a loudly trumpeted reform package will consist of little more than financially induced tokenism are acutely appropriate.
Not everyone is as naïve as FA chairman Greg Dyke, who immediately suggested England consider bidding for the 2030 World Cup. Despite the contrasting respect in which David Gill is held, the FA is about as welcome in the corridors of power as a federal agent carrying an extradition warrant.
The real influence lies elsewhere, and was revealed within minutes of Infantino's victory, when the European Clubs Association pointedly reiterated its opposition to his Big Idea, the expansion of World Cup from 32 to 40 teams, in a tournament shared between several nations.
Infantino's acolytes, who have magically multiplied over the last 36 hours, envisage the plan being put into operation in 2026, when the United States' pivotal political support for the Swiss lawyer in the second round of voting on Friday afternoon is likely to be rewarded with World Cup hosting rights.
The new president's knowledge of the G spot of every administrator – it is located in their bank account – is intimate and effective, since he ignored Fifa's admission of a $500m (£360m) deficit to promise to quadruple the centralised cash given to national football associations.
Infantino's florid flight of fantasy that he would ensure "kids smile with their eyes because they have a ball to play with" rather ignores the grubby reality that many grassroots schemes wither while the authorities play hide and seek with the grant aid.
Money is one thing leading clubs do not have to worry about, in an age in which they have become big players in the entertainment business. They have a vested interest in consigning Fifa's cash cow, international football, to the nearest abattoir.
Fundamental change is afoot. The price of leading clubs' co-operation, in lending their prized assets, players, to national teams, is almost certain to involve a radical realignment of the football calendar. Tradition has the cache of a used teabag, and everything is up for negotiation.
The momentum for repackaging the Champions League as an invitation-only cartel is gaining seemingly irresistible momentum. The commercial and competitive isolation of Manchester United in the Europa League has already prompted Barcelona president Josep Maria Bartomeu to call for wild-card options.
Domestically, I have long believed that the development of the Premier League into a two-tier, 36-club competition which effectively cuts smaller clubs adrift is inevitable. Offering up FA Cup replays as sacrificial items is a classic case of a concession offered too late.
Premier League executive chairman Richard Scudamore's much-maligned 39th game, staged on foreign territory, already appears uncharacteristically unambitious. I foresee traditional international weeks being restricted and repackaged as global showcases for the club game.
The corporate missionary work could easily span the globe – a day of matches, begun in Asia, stretched into the Gulf states and ending in South and North America would leave sponsors, advertisers and TV schedulers salivating.
International tournaments would be staged under sufferance, in small blocks sandwiched between post and pre-season tours. A World Cup qualification programme, streamlined and heavily seeded, could be fitted in during week-long autumnal and spring breaks.
Infantino is in a delicate position. Though considered affable and pragmatic, he is remembered less than fondly by leading clubs as the architect of Uefa's widely reviled if ultimately superficial Financial Fair Play initiative. He is tainted by a failure adequately to address match-fixing scandals in Greece and Turkey.
Fifa may, in any case, lose its so-called victim status under Swiss law, which offers some protection since it enshrines the belief the organisation was powerless to prevent its annexation by criminals. Another tranche of evidence of corruption may lead to official acknowledgement that it is incapable of reform, and liable to dissolution by the authorities.
The most direct comparison is with Enron, the Houston-based energy and communications corporation which, seemingly worth around $110 billion, collapsed following the exposure of institutionalised, systematic accounting fraud.
Though the notion of Wall Street being able to offer moral guidance is risible, suggestions that Fifa should be floated on the New York Stock Exchange, so that it can be accountable and transparent, have not been immediately dismissed.
Infantino insists: "Fifa has gone through sad times, times of crisis. Those times are over."
But who is listening to such self-justification? Who can truly believe in the leadership qualities of a bureaucrat? Who is willing to offer the benefit of the doubt? In short, only a small minority of those who cling to their faith in football's social impact have been given a reason to believe. Infantino might have asked for time to "chill out and realise what is going to happen" but that will not be forthcoming.
Join our new commenting forum
Join thought-provoking conversations, follow other Independent readers and see their replies