Greece stay in Euro at Russia's expense
Greece 1 Russia 0: Champions of 2004 produce another shock to ease the national gloom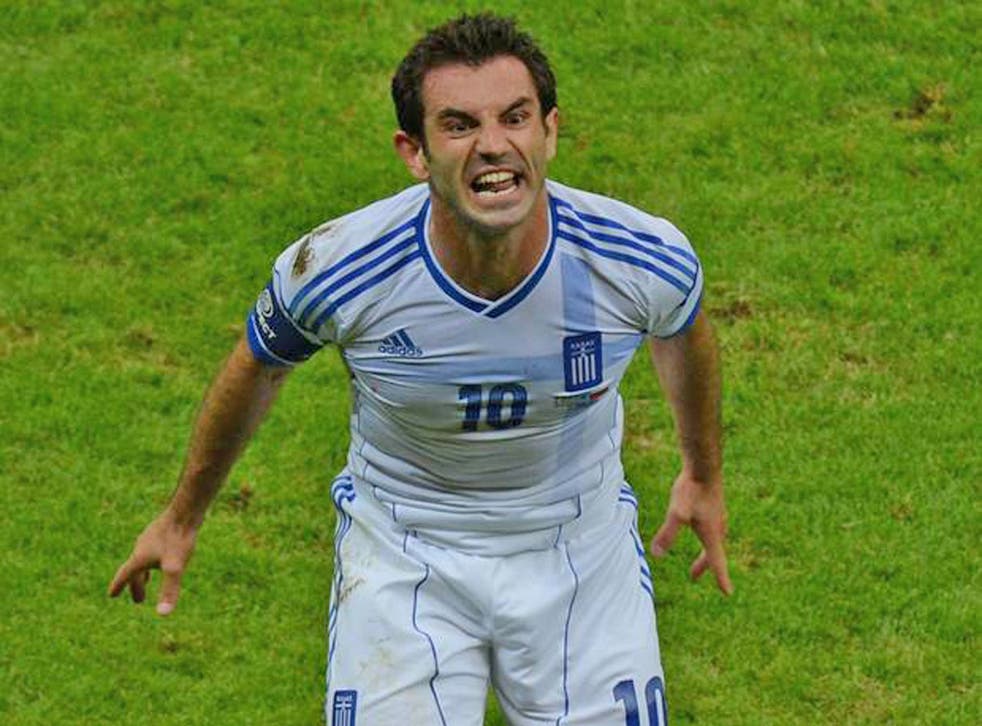 What is it about Greece and European Championships? The miracle-workers of 2004 are on their way again, safely through to the quarter-finals after an unexpected but thoroughly merited victory over the group favourites, who faded badly after commanding the first 44 minutes.
Giorgos Karagounis, Greece's captain and most creative force, scored the only goal after a Russian aberration in defence just before the interval and later Greece were refused what appeared a clear penalty when Karagounis was brought down. Even more harshly, they will lack him in the next match after he was deemed to have dived.
The Greeks also hit the goal-frame with a free-kick in a second half during which the increasingly dejected and plodding Russians could manage no better than a late header from Alan Dzagoev that narrowly missed.
After all the promise of Russia's opening win over the Czech Republic, few would have dreamed that they would go out and the Czechs stay in. But even top tournaments can surprise us and Greece seem bent on doing it again. A blighted country can be proud of its latest heroes. Under Fernando Santos, just as under Otto Rehhagel eight years ago, they have displayed character and composure under pressure.
The Greeks have got to the knockout stages through the same approach as Chelsea took to the last two rounds of the Champions League, so let no one grudge them their progress or accuse them, as when they lifted the trophy in Rehhagel's time, of lacking flair. There is plenty of that in Karagounis and neither he nor any other Greek would have had to endure the squeaky-bum late stages but for the referee's unsympathetic attitude to Sergei Ignashevich's upending of him just after the hour mark.
Greece now go to Gdansk for the quarter-finals. They await the emergence of Group B's winners tonight having all but strangled Russia, for whom this was as near a home match as made no difference, their supporters filling all but a few thousand of the National Stadium's seats.
Yet Greece had seriously threatened to beat Poland in the opening match and there was soon discomfort for Russia as Karagounis, whose dead-ball delivery is a key weapon for the Greeks, swerved a corner to the near post and Kostas Katsouranis flicked on with such craft that the ball was about to creep inside the far angle of post and crossbar when Vyacheslav Malafeev threw up a hand.
As Russia responded with slick and penetrative passing, it became a fine first half. One in which Greece did well to reach half-time with a clean sheet. But they went one better than that. A throw was misjudged by Ignashiev with Yuri Zhirkov stranded and the lack of cover allowed Karagounis a free run on Vyacheslav Malafeev, whom he beat with a low shot. The majority of the crowd were stunned.
Roman Pavlyuchenko replaced Aleksandr Kerzhakov for the second half as Greece dug in and anxiety radiated from the stadium's slopes. Roman Shirokov also betrayed it when receiving a nice layoff from Andriy Arshavin that was blasted high and wide. Pavlyuchenko then swung his left foot and the ball flew even more horribly off target. Igor Denisov was more accurate but Michalis Sifakis had his effort covered.
The nearest a Russian got to scoring at this stage was when Anyukov, in trying to clear, almost put the ball in his own net; he was straining to get to a low cross after Vassilis Torosidis had nutmegged Zhirkov. Greece were confident they were getting convincingly on top and it might have been emphasised if a penalty had been awarded. Instead, Jonas Eriksson flourished a yellow card at the Greek captain, whose outrage was understandable.
Karagounis gave way to Grigoris Makos a few minutes later. Greece's ascendancy was unaffected. With a curling free-kick, Giorgos Tzavellas struck the junction of post and bar. Qualification was in their grasp.
Greece (4-2-3-1): Sifakis; Torosidis, Papastathopoulos, K Papadopoulos, Tzavelas; Katsouranis, Maniatis; Salpingidis (ninis, 83), Karagounis (Makos, 67), Samaras; Gekas (Holebas, 64).
Russia (4-3-3): Malafeev; Anyukov, Izmailov, 81), Ignashevich, A Berezutski, Zhirkov; Shirokov, Denisov, Glushakov(Pogrebynak, 71); Dzagoev, Kerzhakov (Pavlyunchenko, h-t); Arshavin.
Referee: Jonas Eriksson (Sweden)
Register for free to continue reading
Registration is a free and easy way to support our truly independent journalism
By registering, you will also enjoy limited access to Premium articles, exclusive newsletters, commenting, and virtual events with our leading journalists
Already have an account? sign in
Register for free to continue reading
Registration is a free and easy way to support our truly independent journalism
By registering, you will also enjoy limited access to Premium articles, exclusive newsletters, commenting, and virtual events with our leading journalists
Already have an account? sign in
Join our new commenting forum
Join thought-provoking conversations, follow other Independent readers and see their replies