Harry Kane has to start ahead of Wayne Rooney at Euro 2016 - Roy Hodgson must be brave
Football Matters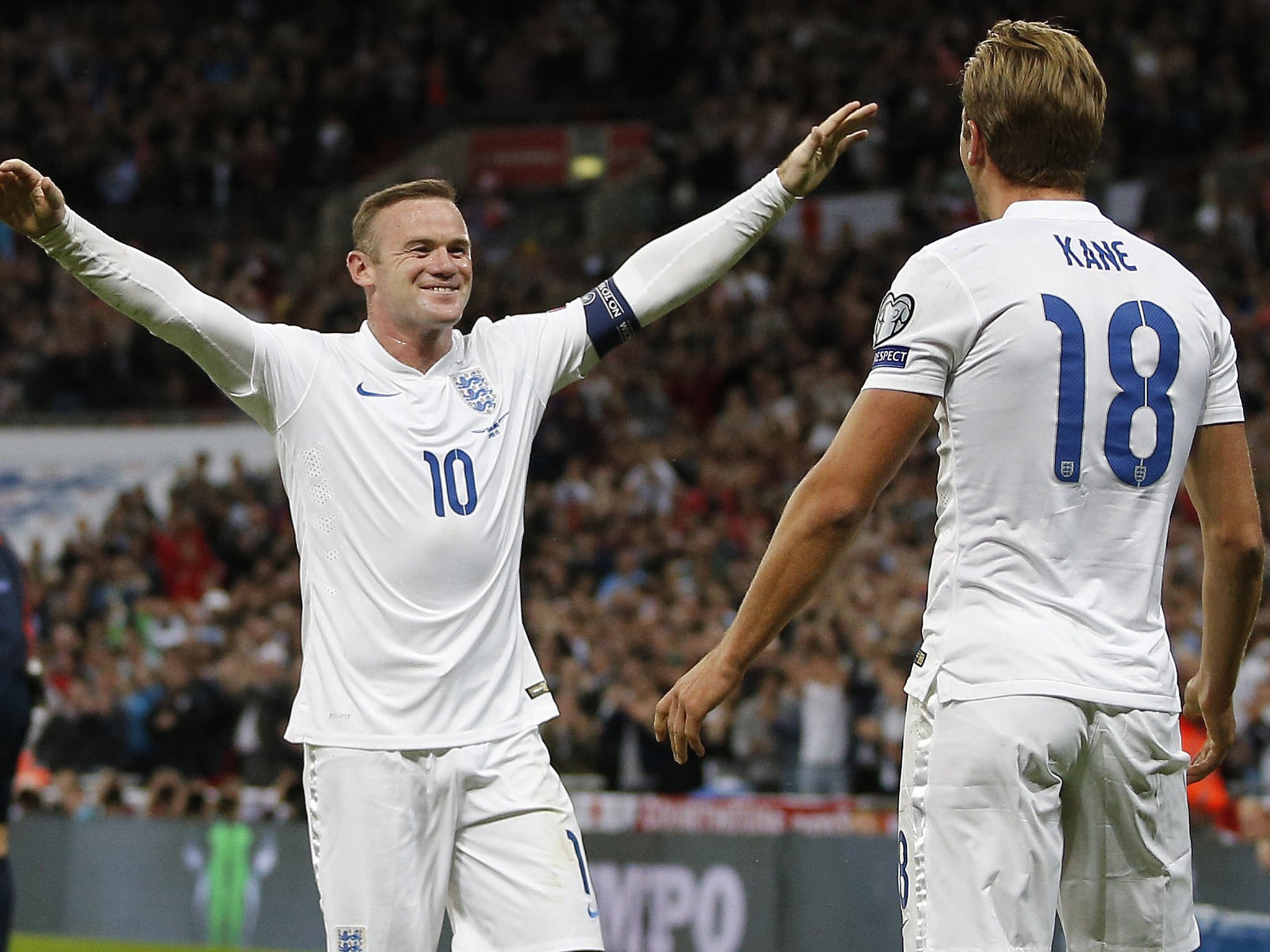 Roy Hodgson made a beeline for Luke Shaw in the Old Trafford directors' box on Sunday, with the England manager spending a good minute chatting to the Manchester United left-back, sharing nods and smiles before the pair parted, with the defender receiving a pat on the back as he returned to his seat.
It appeared a positive discussion, although whether Shaw is able to fulfil Hodgson's wish by returning from a double leg fracture in time to claim a place in England's Euro 2016 squad remains an outside hope, at best.
Still, one thing was clear – it was not one of those conversations which usually takes places behind closed doors or over the telephone.
Or indeed, the type of conversation Hodgson may now have to consider holding with Wayne Rooney. The United and England captain was not alongside injured team-mates such as Shaw and Ashley Young in the directors' box during the FA Cup draw against West Ham United, but the 30-year-old tends to watch home games from the privacy of his executive box nowadays anyway.
Of United's 46 games in all competitions this season, Rooney has been unavailable because of injury on 14 occasions and there is currently no confirmed date for his return from the knee ligament injury that is beginning to raise questions over his ability to make a difference at Euro 2016 in France this summer.
Rooney may yet be out for another month and nobody needs reminding how England's all-time record goalscorer struggles for form and fitness in the early stages of his return to action after an injury lay-off but, just for those who may have forgotten, his summer tournaments in Germany, South Africa and Poland-Ukraine were nothing short of disastrous following preparations disrupted by injury.
He has now missed United's last eight games in all competitions and will be absent from Hodgson's squad when the party for the forthcoming friendlies against Germany and the Netherlands is named on Thursday.
Harry Kane will be available, as will Jamie Vardy. Daniel Sturridge is also likely to be back in the fold after making a promising return to action with Liverpool, while Danny Welbeck is now showing that he is finally over his lengthy knee injury at Arsenal.
There may even be room for Saido Berahino, while Andy Carroll's unique qualities as an old fashioned, defence-terrorising centre-forward could yet prompt Hodgson to consider the West Ham United player.
But whichever way Hodgson goes, it is clear he is not short of options in attacking positions and that is bad news for Rooney.
In the past, he has been insulated from his form slumps for club and country by a lack of adequate competition and the lingering belief that he remains England's talisman, but believe it or not, it is now approaching 10 years since Sven Goran Eriksson described Rooney as the "golden boy" of English football. If anyone can now claim to be the golden boy of English football, it is Kane and he is the forward who should be the first name on Hodgson's teamsheet when Euro 2016 begins for England against Russia in Marseille on 11 June.
Kane's double in Tottenham's 2-0 victory at Aston Villa on Sunday took his tally for the season to 24 goals in 48 games for club and country – a statistic which buries any suggestion that the 22-year-old would suffer from second-season syndrome after such an impressive campaign last year.
Even at such a young age, he has become a senior figure in the Spurs team, leading the line with the authority of a young Alan Shearer and scoring plenty of goals in the process. Rooney simply does not do that any more, either for United or England.
When fit this season, Rooney has actually delivered in front of goal, with 17 goals in 36 appearances, but everything has still seemed so laboured.
Where Kane covers the pitch with athletic grace and power, watching Rooney has become an effort – a story of reminiscing how it used to be and whether we would ever see him at his best again.
He retains the neat flicks and ability to pick a pass, but he can no longer escape his marker with a burst of pace and the ball has a habit of bouncing off his shins when it should be cushioned and then fired towards goal. But the numbers play to Rooney's favour, with Hodgson fully respectful of his achievement in surpassing Sir Bobby Charlton's goalscoring record earlier this season.
So what does the England manager do? Does he stick with Rooney and try to make it work with him in tandem with Kane or is it time to be ruthless and plan for Euro 2016 with his captain in the squad, but not in the team?
England have fallen short at major tournaments too often in the past because the manager has avoided a tough decision in order to accommodate a star name. David Beckham was past his best at the highest level at Germany 2006, but remained in the team under Eriksson, while Fabio Capello stuck with David James at South Africa 2010 despite the urge to go with Joe Hart.
Hodgson is facing a similar crossroads with Rooney, but he now simply cannot start without Kane. Playing them together would merely be a compromise, particularly if Sturridge is fit and firing this summer and therefore able to offer a younger, quicker alternative.
With Kane now the undisputed No 1 and Vardy, Sturridge and Welbeck offering Hodgson the opportunity to alter tactics, the big question is where Rooney would fit into it all.
If he is fit, his experience and track record should ensure a place in the squad at the very least, but Rooney can no longer be classed as a certain starter. He may be captain, but his ship has sailed, overtaken by faster, more reliable rivals.
Signing Varela was Fergie's parting gift to United
Not much went right in the summer of 2013 for Manchester United, with Sir Alex Ferguson's retirement being followed by a catalogue of bad decisions on and off the pitch, but time often offers greater perspective and Guillermo Varela is now showing that it wasn't all bad news.
The Uruguayan full-back, thrown in at the deep end by Louis van Gaal this season, was Ferguson's final piece of business, with the Scot acting upon the recommendation of chief scout Jim Lawlor to sign the youngster, who completed his £2.4m move from Penarol a month before David Moyes officially took charge on 1 July.
Varela, 23 later this month, has impressed many at Old Trafford during his 10 appearances this season, with some hoping he can become as consistent and reliable as former captain Gary Neville.
The troubling lack of English Champions League hat-tricks
A sobering thought for English football as the Champions League round-of-16 ties conclude this week – only six Englishmen have managed hat-tricks in the competition since it replaced the European Cup in 1992-93.
Six Englishmen in 23 years is a fairly grim statistic and it is difficult to see where the next will come from, unless the likes of Jamie Vardy and Harry Kane get a real crack at the Champions League next season. As for the six so far, they are Andy Cole and Michael Owen, who both have two hat-tricks to their name, Alan Shearer, Wayne Rooney, Mike Newell and Danny Welbeck.
Come in, please, No 7.
Join our commenting forum
Join thought-provoking conversations, follow other Independent readers and see their replies