Harry Redknapp was right – young Frank Lampard did turn out all right
After 14 years as an England player, Lampard is ready for a landmark in Kiev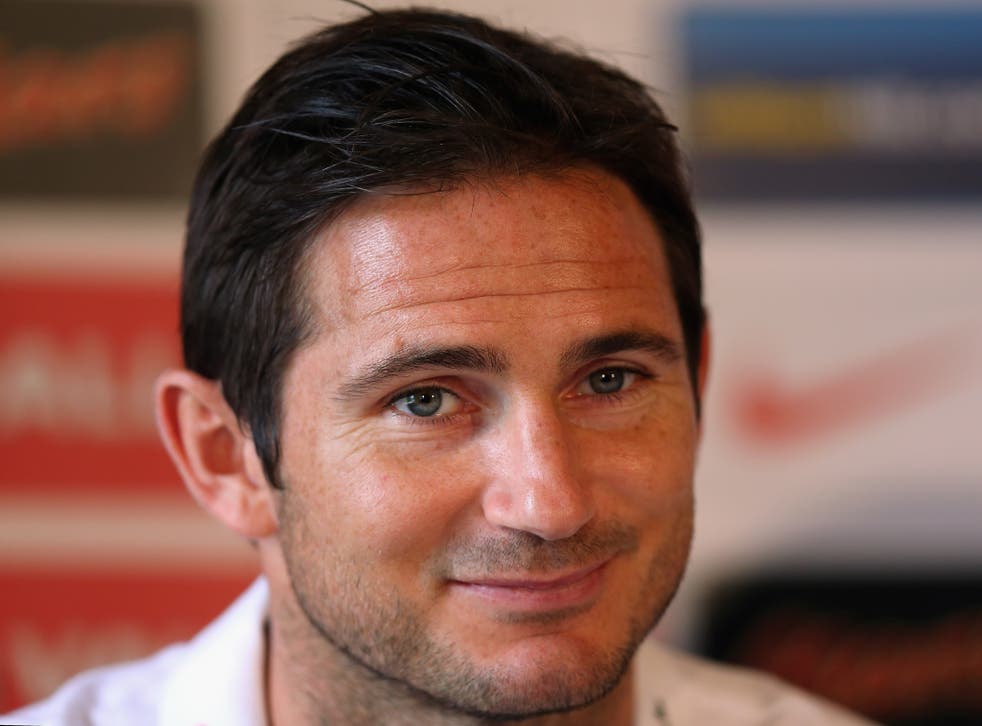 Frank Lampard was reminded yesterday of that famous YouTube clip of him alongside Harry Redknapp, then West Ham manager, at a fans' forum in 1996, when his uncle was being harangued by a supporter over allegations of favouritism toward "young Frank".
Chubby of face and wearing a polo neck jumper Lampard, then just 17, looks mortified. Redknapp, however, entertains no doubts. Under fire from a supporter accusing him of favouring his nephew over youth-team players Matt Holland and Scott Canham, he replies: "I'm telling you now, he [Lampard] will go right to the very top. Right to the very top. 'Cos he's got everything that is needed to be a top midfield player. His attitude is first-class. He's got strength, he can play, he can pass and he can score goals. I couldn't be more strong in how I feel about him."
Ninety-nine England caps later, via three Premier League titles, one Champions League triumph, one Europa League, four FA Cups, two League Cups and the all-time goalscoring record at Chelsea, it turns out that Redknapp was right after all.
"It was a difficult evening, at a 'Rollerbowl' actually, near the training ground," Lampard said. "I'll never forget it. I was surprised it popped up [on YouTube] when it did recently. It was a tough time for me. Some people forget that it was tough or they try to change history and say it wasn't like that. It was.
"I had the nepotism one thrown at me regularly there and as a kid I found it quite hard to deal with. Certainly that day I did. I watched it back and not only my embarrassing curtains hairstyle and my chubby face, but the whole moment was brought back. It made me smile and it probably made someone duck their head somewhere in east London."
It will be 100 caps for Lampard should he play some part for England against Ukraine in their crunch World Cup qualifier tomorrow night. It is testament to his longevity that he will probably start the match, even amid competition from the likes of Michael Carrick and Tom Cleverley. Two more goals would take him to 32 in total and install him as England's sixth-highest all-time goalscorer.
There is a great deal at stake in Kiev but the milestone of 100 caps merits some reflection.
He played his first game, aged 21, against Belgium on 10 October, 1999, in a team that included his cousin Jamie Redknapp and the then-Leicester City winger Steve Guppy. Apart from Lampard, only Kevin Phillips from the starting XI that day is still playing professionally.
Lampard said: "The game was tough and it was a real eye-opener. I didn't play [for England until February 2001] after that.
"I remember Gareth Southgate having a few words with me in the dressing room, calming me down and wishing me luck and all that sort of stuff. I'll never forget that. And now nearly at 100 caps, I try to do that with younger players.
"I'd like to think people will remember me as a player who gave everything and was very proud to play for his country. Certainly that will be first and foremost for me.
"There's obviously been ups and downs and we all understand that. Steven Gerrard said when he got to 100 that in terms of winning something we've failed. But I don't think you should write off every England player of the last 50 years as a failure because we've not won anything. I'd like to be remembered as someone who gave everything. I'm proud to have played for my country and that I've done pretty well at times."
He said that the period after the 2006 World Cup, in and out of the Steve McClaren side, were the worst times but a phone conversation with his father put him back on track.
Frank senior still follows his son home and away with Chelsea and has been looking up the flights for Kiev since Lampard junior's 99th cap in the 4-0 win over Moldova on Friday night. Lampard always cites his father as his fiercest critic, and the driving force in his career, who would instruct his son to do sprint training in running spikes in the garden every night to improve his pace and stamina.
"He probably bullied me into it a bit in younger year; I didn't always like it at the time. But I can't thank him enough for it now," Lampard recalled. "Nowadays he'll still have a go at me for not tracking a runner! And then he'll ask me if I have been doing my sprints. I tell him, 'I'm 35, for God's sake!' I'm used to that. I just humour him!"
Lampard will stay in football and one imagines that there will be jobs for the asking when he has finished. England, one day?
"We have not won anything for 50 years and they always say take the job when it can only get better!" he said. "I think at some day somebody is going to do that and that would be great. So the England job is something you always aspire to – it is the top job for an English manager, whoever that might be."
Join our new commenting forum
Join thought-provoking conversations, follow other Independent readers and see their replies