Hope Powell: 'I see him now and again but I don't swap notes with Steve McClaren'
Brian Viner Interviews: The manager of the England women's football team could give her male counterpart a few tips after qualifying in style then winning new fans at the World Cup finals in China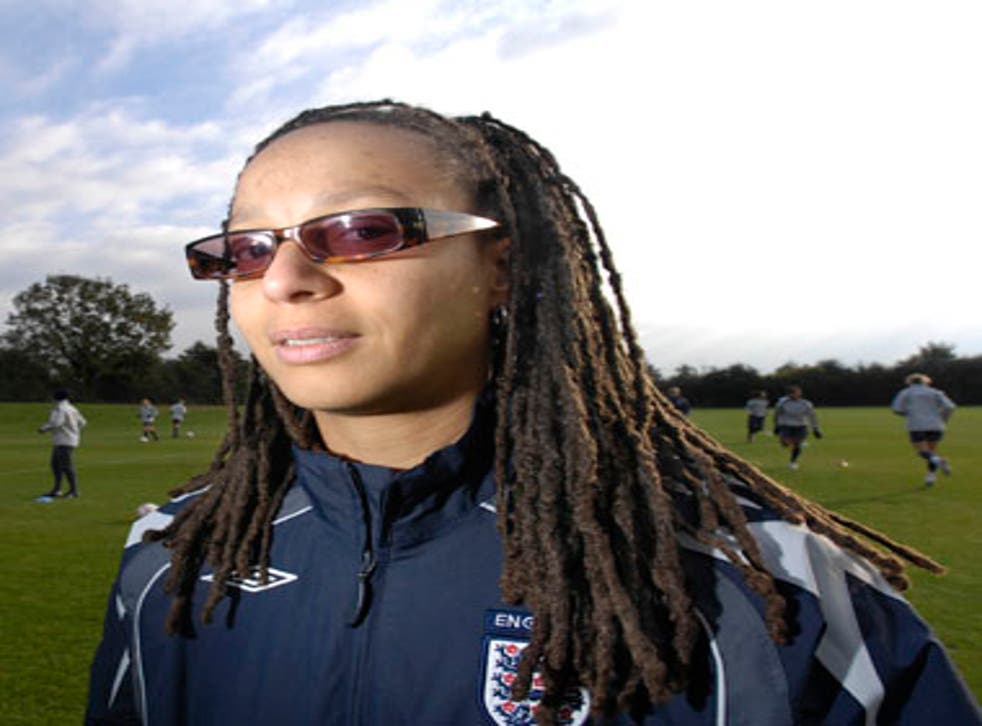 To paraphrase a certain Nike advertisement, 1966 was a great year for English football: Hope Powell was born.
Powell has managed the England women's team, who continue their qualifying campaign for the 2009 European Championship against Belarus in Walsall tomorrow, for nine years. In that time she has seen three of her male counterparts – Glenn Hoddle, Kevin Keegan and Sven Goran Eriksson – come and go. The odds are that she will outlast Steve McClaren, too. So when I ask her what the men's game can learn from women's football she would be entitled to say stability at management level, except that, being an essentially modest sort, she doesn't. "In the women's game we're very good at sharing ideas," she says. "Learning from each other to make the game better. I don't know if that happens in the men's game, except maybe at Uefa conferences."
Powell must be heartily tired of conducting interviews with male journalists whose reference point is men's football, but today it is unavoidable, for we are closeted in her office in the Football Association headquarters in Soho Square, an hour or so before McClaren's team loses, disastrously, 2-1 to Russia. After the interview, Powell and I both watch the match in the FA's media room. Discreet as well as modest, she does not say what tactical decisions she would have made had she been in McClaren's shoes, but it's reasonable to assume that she might have done things differently. As the first woman to gain the Uefa Pro A-Licence, the highest coaching qualification in the game, she has some firm ideas on how football should be played.
Moreover, Powell also won 66 England caps and scored 35 goals as a midfield player of rare artistry. A kind of Glenn Hoddle, I venture. "I was better than Glenn Hoddle," she says. Then laughs. Then adds hurriedly that she was only kidding, in case there is any lingering doubt.
Whatever, having played in the 1995 World Cup, she was thrilled, last month in China, to lead England to the tournament for the first time since. Her team lost 3-0 to the USA in the quarter-final, but losing to the Americans in women's football is not the disgrace it would be for the chaps. Powell came home from China satisfied that her players had given their all, and with the additional satisfaction of a 1.2 million audience for the televised quarter-final.
"In total there was an audience of around five million over all the games, so interest has really flourished, and almost all the tickets have been sold for the game against Belarus," she says. The statistics generally are encouraging. In 1993, women's football had 10,400 registered players; today there are more than 147,000. And for the last five years it has been Britain's top female participation sport.
Yet still, I unhelpfully point out, the game attracts negative, sexist and sometimes downright misogynistic comments. There were some corkers during the World Cup, in print, over the airwaves, and doubtless down the pub. Does this make her blood boil or does she let it wash over her? "I just put it down to ignorance," she says. "And on the positive side, so many people who'd never seen it before have written in saying how brilliant it was. That easily outweighs all the negative stuff."
I tell her that she might consider my next question fatuous, and prefer not to answer it. "I'm not going to answer it," she says, grinning. But I'll ask it anyway, since it echoes precisely the debate that unfolded down the Dog and Duck during the World Cup. If her England team were to play a men's side, what level of opposition would give them an even game? Arsenal? Dagenham & Redbridge? Bognor Regis Town? Or indeed a Dog and Duck XI?
She sidesteps the question as neatly as I thought she might. "We can't compete physically against men. But then we don't want to. We're not trying to play against men, so I don't know why the issue is raised. As for skill levels, if you compared Arsenal Ladies with Arsenal men, physically there's no comparison, but in terms of technical ability on the ball... some of those girls are pretty good, you know."
She's right, though; it's a pointless (if enjoyable) exercise to consider what level of men's team would give her girls a decent game. And the comparison with men's professional football doesn't apply because the women's game is not professional. For example, Powell has had her players since Tuesday in preparation for tomorrow's game, but one asked if she could bring her kids with her, because she couldn't organise a babysitter, and another arrived late because her son had a hospital appointment. That's not a problem McClaren has to deal with.
"To take their four days off some of them have to square it with their employers, some have to take unpaid leave, some have to organise childcare. But they're all so committed. A few of them are teachers who have quit full-time jobs to become supply teachers. A few of them are still at college or university themselves. During the Euros in 2001 [in Germany], two of the players were sitting exams in the middle of the tournament, so we had to get them back for their exams. They all make sacrifices, and we're always hoping to improve things for them, perhaps by bringing in centralised contracts. I'd like to say that the game will eventually become fully professional here, but to be honest, I just don't know."
That women's football in Britain has any sort of infrastructure is thanks in large measure to Powell herself, whose remit extends a long way beyond coaching an England XI. She has helped to develop a women's player development centre at Loughborough University, not least in response to those pesky Americans, who kept coming over and tempting our best players westward. Powell's hope is that the set-up at Loughborough will help to diminish the lure of America. "But it's a fact that women's football over there doesn't have to compete with the men. It's a female sport. Here, it's different. Here, we're competing with the men."
And losing hands down, of course, if column inches and broadcasting hours are anything to go by, although if it's success we crave for our national team, we might all be better off investing our support in Powell's team than McClaren's. Her lot stand a much better chance of qualifying for the next European Championships, anyway. I ask Powell whether she sees much of her men's counterpart, and whether they swap notes. Not, I add cheekily, that anyone would want to swap notes with McClaren, given the reams that he seems to produce.
"I see him now and again, but when he's out I'm in, and when I'm out he's in. We don't swap notes, no." A giggle. "He probably wouldn't be able to read my writing. But we do get support from some of the players. David James sent us a good luck message when we were in China, and he's been to see us train. A few of the men have sent text messages, which is great. And [the FA chief executive] Brian Barwick came out to China and saw at first hand what we do. Trevor Brooking has been excellent, too. He's probably missed one game this year. He really supports us, which makes a massive difference."
My own knowledge of women's football being less extensive than it might be, I ask her which games linger in the collective memory, the distaff equivalents of England v West Germany 1966... England v Brazil 1970 ... England v the Netherlands 1996?
"Well, when I first started, there was an A-band of international women's football, and a B-band. We had a game against Romania to stay in the A-band, and it was very much do-or-die, because had we lost and dropped out of the top tier, the funding situation would have been very different. As it turned out, we won 4-1. And more recently, qualifying for the World Cup by drawing 1-1 with France, in France, in front of 19,000 partisan supporters going mad. The manner in which we did that, the grit and resolve we showed, was just fantastic. Also, in the World Cup, we were the only team that got a point from Germany and didn't concede. That's a big deal."
For Powell, the whole deal began growing up in Greenwich, kicking a ball around on the street with her brother and stepbrothers. At secondary school she was one of the best players on the team, until the Women's FA banned her from playing with the boys when she was 12, much to the chagrin of her games teacher, who, she thinks, was less incensed about the gender issue than the blow of losing his star player. "The media came down to the school, and there was quite a bit of publicity," she recalls. "I've still got all the clippings."
By then, happily, she had joined the local women's team, Millwall Lionesses, defying her mother who thought that girls – or at least her girl – had no business playing organised football. "I went one Sunday and I was amazed to find so many females playing football. My mum asked me not to go again, but the following Sunday I went anyway, and I just kept going. My mum's my biggest fan now."
Her mum has good reason to be proud. Powell completed her coaching qualification alongside men of the calibre of Stuart Pearce, Sammy Lee and Steve Cotterill, and is thus formally better qualified than Avram Grant, to pluck a name out of the air, to coach a Premier League club.
Does she fancy the idea? She smiles. "You can be persuaded by anything if the bucks are right. Is it likely? If I'm honest, I can't see it." I persevere. It's surely not inconceivable, if England's women continue to prosper under her stewardship, that a forward-thinking chairman of a club outside the Premier League might make her an offer? "Yeah, well, I wouldn't rule it out. Could I do it? Oh yeah, without a doubt." But for now she's got other fish to fry, beginning with Belarus tomorrow.
Hope and glory: Prodigy at club level becomes coach with progressive ideas
FACT FILE
Date of birth: 8 December 1966
Place of birth: London
Position: Attacking midfielder
Former clubs: Millwall, Fulham, Croydon
England caps: 66
Goals: 35
Powell shares her birthday with the England legend Sir Geoff Hurst. Her brother is the drummer of indie group the Dirty Pretty Things.
CAREER HIGHLIGHTS
1978 Plays for Millwall aged 11.
1983 Considered a footballing prodigy, Powell makes her international debut at 16: England beat the Republic of Ireland 6-0.
1984 In England team that reach European Championship final, losing to Sweden.
1989 Powell scores twice for Fulham in women's FA Cup final. They lose to Leasowe Pacific 3-2.
1991 Wins women's FA Cup with the Millwall Lionesses, beating the Doncaster Belles 1-0.
1996 Captains Croydon to the league and Cup double.
1998 Powell becomes England coach. She is the youngest, the first black and the first female to coach the national side.
2002 Awarded an OBE.
2003 First woman to achieve the Uefa Pro A-licence, the highest coaching qualification.
COACHING CAREER
2001 England seniors qualify for the European Championships.
2002/03 England Under-19s reach the semi-finals of the 2002 and 2003 Uefa Championship. They also reach the 2002 quarter-finals of the inaugural Fifa Under-19 World Cup.
2005 The European Championship is held in England. Three million tune in to watch as England fail to qualify from their group by one point, losing their final game to Sweden 1-0.
2007 For the first time since 1995, England qualify for the World Cup finals and reach the quarter-finals. They lose 3-0 to the United States.
Register for free to continue reading
Registration is a free and easy way to support our truly independent journalism
By registering, you will also enjoy limited access to Premium articles, exclusive newsletters, commenting, and virtual events with our leading journalists
Already have an account? sign in
Register for free to continue reading
Registration is a free and easy way to support our truly independent journalism
By registering, you will also enjoy limited access to Premium articles, exclusive newsletters, commenting, and virtual events with our leading journalists
Already have an account? sign in
Join our new commenting forum
Join thought-provoking conversations, follow other Independent readers and see their replies