Hugo Lloris' gaffe has changed everything for France as Didier Deschamps faces period of uncertainty
The defeat could accelerate change with young stars such as Kylian Mbappe no longer held for the future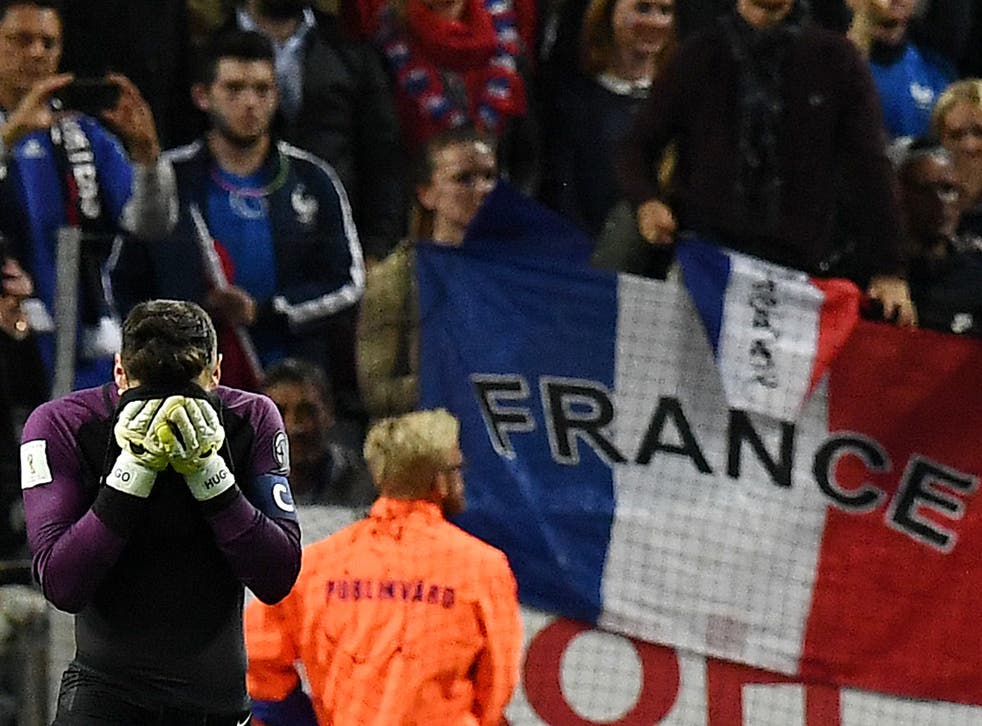 As the jubilant Sweden substitutes and support staff invaded the field, the French simply rubbed their eyes in disbelief. None more so than Hugo Lloris, stood wiping his aghast face with his shirt after his inexplicable rush from his goal and fluffed clearance which went straight to Ola Toivonen, leaving the oft-maligned Toulouse forward to strike an improbable last-gasp winner into an empty net from his own half.
"It was decided on a mistake – mine, unfortunately," said the Tottenham goalkeeper with a sigh after his side's dramatic defeat in Friday's World Cup qualifier at the Friends Arena, a week after he became Les Bleus' most capped goalkeeper ahead of Fabien Barthez. "I've made errors before and always taken responsibility for them. The only regret that I have is that it had a direct impact on the result, even if this France team is a strong one and we still have four matches to make sure of qualifying."
The sense of shock was palpable among France's players, though they quickly closed ranks around their skipper. "It's a shame for Hugo," Antoine Griezmann told The Independent. "He doesn't deserve this. He's saved us plenty of times, so we have a lot of confidence in him."
Coach Didier Deschamps does too, and France – despite no longer being top of Group A, with Janne Andersson's side having caught them up – should be able to close out, with three of the remaining four games at home. Purely in terms of the qualification picture, this was more of an irritant than a disaster.
Yet for Deschamps personally, it means something a little different. Had Lloris not had his brainstorm and France seen out the remaining 20 or so seconds, this would have been a decent away point, in keeping with a respectable if unspectacular performance – "we were solid," as Lloris said. Instead, the defeat has brought the issue bugging so many France watchers to the fore.
One of Deschamps' most admirable qualities is his loyalty. Now, it might be used as a stick with which to beat him. Give or take Monaco's irresistible full-back pair of Djibril Sidibé and Benjamin Mendy, Friday night's XI was the same one which saw France through the back end of Euro 2016 with Moussa Sissoko, for example, getting the nod after a poor first (and possibly last) season with Tottenham.
Those choices were not uncontested. The talent on the France bench would be good enough to beat most sides in world football, including probably the two on the field on Friday night. Monaco's two most coveted stars, Kylian Mbappé and Thomas Lemar, were restricted to late cameos, while N'Golo Kanté, Ousmane Dembélé and Alexandre Lacazette were among those reduced to spectating.
When Toivonen's unlikely winner hit the net, the validity of Deschamps' approach changed from being a discussion for tomorrow into one for today. "The biggest clubs and coaches in Europe are fighting over Mbappé and Dembélé," tweeted L'Equipe's Bilel Ghazi shortly after the final whistle. "Tonight, one played for 18 minutes while the other stayed on the bench."
It leaves the coach in a tricky situation ahead of Tuesday's friendly with England in Saint-Denis. Rotation is inevitable with some of Deschamps' most trusted men, notably Griezmann, looking tired. Lemar, on the other hand, looked lively after coming on in Sweden, and he and Mbappé will almost certainly be two of those to come in. If they excel, tough choices must be made ahead of August's next qualifier, against the Netherlands.
The 18-year-old Mbappé will be firing on all cylinders, and he gave the idea of fatigue short shrift after Friday's game. "The majority of players here have played 50 or 60 matches this season," he said after the game, "because they're key players for their clubs. They're great players, so we can't allow ourselves to make excuses."
The message is clear. There is no room for mistakes for France's go-to guys, with competition fiercer than ever. Those knocking on the door aren't just young talents, but the here and now of European football's top rank. Dembélé is in the process of becoming Borussia Dortmund's best player. Presnel Kimpembé's form demands that he must soon start at centre-back for Paris Saint-Germain. Lyon's Corentin Tolisso, who travelled to Sweden but didn't even make the bench, is set to join Bayern Munich in the coming days.
So it's not just Sissoko under pressure, but Blaise Matuidi, Dimitri Payet – and maybe even Griezmann. "Antoine gives so much of himself," Deschamps said on the eve of the Sweden match. "Too much so for my liking," he added, making it clear that he thinks his star man's efficiency in front of goal is suffering from a big workload under Diego Simeone.
That is unlikely to change, but France's first-choice XI may well do. Having looked like one of the most stable teams going into Russia 2018, one moment of madness means that a revolution could be on the cards for Les Bleus rather earlier than expected. The future is now, it appears.
Register for free to continue reading
Registration is a free and easy way to support our truly independent journalism
By registering, you will also enjoy limited access to Premium articles, exclusive newsletters, commenting, and virtual events with our leading journalists
Already have an account? sign in
Register for free to continue reading
Registration is a free and easy way to support our truly independent journalism
By registering, you will also enjoy limited access to Premium articles, exclusive newsletters, commenting, and virtual events with our leading journalists
Already have an account? sign in
Join our new commenting forum
Join thought-provoking conversations, follow other Independent readers and see their replies