The Independent's journalism is supported by our readers. When you purchase through links on our site, we may earn commission.
I'm not jinxed, says Cleverley, as he eyes place on Euro plane
United midfielder insists first England cap will come as he dreams of call-up for finals squad
Brendan McLoughlin
Friday 02 March 2012 01:00 Comments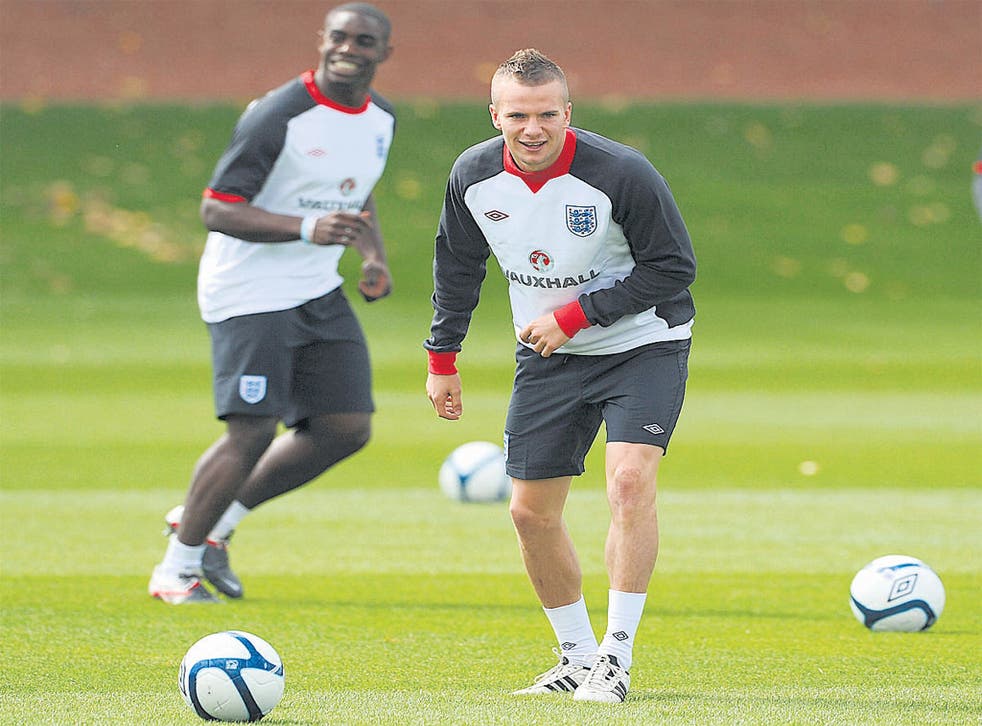 Tom Cleverley has not abandoned his dream of playing in Euro 2012 but concedes the prospect of turning out for Great Britain at the Olympics would cushion any disappointment in what the Manchester United midfielder has branded a summer of opportunity for young English players.
The 22-year-old would almost certainly have made his senior international bow against the Netherlands on Wednesday but was once again reduced to a frustrated observer after being forced to withdraw through a fresh ankle problem in what has been an injury-interrupted season.
After a striking start to the campaign, Cleverley has played just four times in almost six months, following two aborted comebacks with separate injuries. He will miss Sunday's game against Tottenham but is expected back within a fortnight.
With pre-tournament friendlies against Norway and Belgium all that remain before Poland and Ukraine, time is running out for Cleverley to stake his claim to the England manager, whether it be Stuart Pearce, a "great manager who knows the up-and-coming players inside out", Harry Redknapp or someone else.
Cleverley, however, hopes United's title run-in and a potential prolonged run in the Europa League can still earn him a place on the plane. "It has been a massive season of highs and lows," Cleverley said yesterday. "I broke into the United team, which I waited a long time to do, I got an England call-up but, on the other side, I have had to deal with injury setbacks.
"My bad luck seems to be coming around on international breaks. I watched Wednesday's game at home and it was massively frustrating, but I've been in that situation a few times this season. But I don't feel that jinxed. I feel that if I can get fit and find some good form between now and the end of the season, that first cap will come.
"I'm not concerned about missing out at the moment. If we have a good run in the Europa League, there are almost 20 games left with United and if I can play as many of them as possible, get in good form like I was at the start of the season, maybe I can be a part of the squad."
For those who fail to make the cut, any other summer would be spent wallowing on the beach. Not this year, for the likes of Cleverley, thanks to the Olympics. "If I'm representing England at the Euros, I'll be delighted," Cleverley said. "But I'd be very proud to represent Britain at the Olympics.
"As a footballer, you want to have all these experiences to look back on at the end of your career. I spoke to Anderson last week and he said he played in the last Olympics for Brazil, and he said it was a great tournament.
"An Olympic gold at Wembley would be unbelievable. It's an exciting summer in general for young English players, and especially us at United. We have the Europa League, the Premier League and then Euros and Olympics. There's a lot of silverware up for grabs by the end of this summer."
His opportunities at Old Trafford could be limited by the return of Paul Scholes, 15 years his senior. Not that you will hear Cleverley complain.
"I always had a soft spot for him when I was growing up," he added. "I was actually a Bradford City fan but Beckham, Scholes and Giggs were always my three idols, and to be able to train with two of them day in and day out makes me feel massively lucky.
"I'm most impressed with Giggsy's awareness and Scholes' passing range. Growing up at United you are bred to deal with that sort of thing. You know what the expectations on a Manchester United player are. You have to be the best, and work hard at it."
Tom Cleverley was talking on behalf of adidas at the launch of 'The Albert', the official ball of the London 2012 Olympics. Visit: www.adidas.com
Ferguson orders De Gea to bulk up
Sir Alex Ferguson, the Manchester United manager, has said that he wants his 21-year-old goalkeeper David de Gea to put on a stone in weight to enable him to deal with the physical challenges of the Premier League.
"He's doing a lot of work in the gym. If we can get maybe a stone on him without losing any of his flexibility or speed it would be a great boost to him," Ferguson told Inside United magazine.
Ferguson will welcome back Wayne Rooney against Tottenham on Sunday after the striker recovered from the throat infection which has caused him to miss two games. Chris Smalling is likely to be missing with the head injury he sustained against the Netherlands, despite being released from hospital.
Ian Herbert
Register for free to continue reading
Registration is a free and easy way to support our truly independent journalism
By registering, you will also enjoy limited access to Premium articles, exclusive newsletters, commenting, and virtual events with our leading journalists
Already have an account? sign in
Register for free to continue reading
Registration is a free and easy way to support our truly independent journalism
By registering, you will also enjoy limited access to Premium articles, exclusive newsletters, commenting, and virtual events with our leading journalists
Already have an account? sign in
Join our new commenting forum
Join thought-provoking conversations, follow other Independent readers and see their replies