I tested Daniel Sturridge's resolve by playing him unfit, admits Roy Hodgson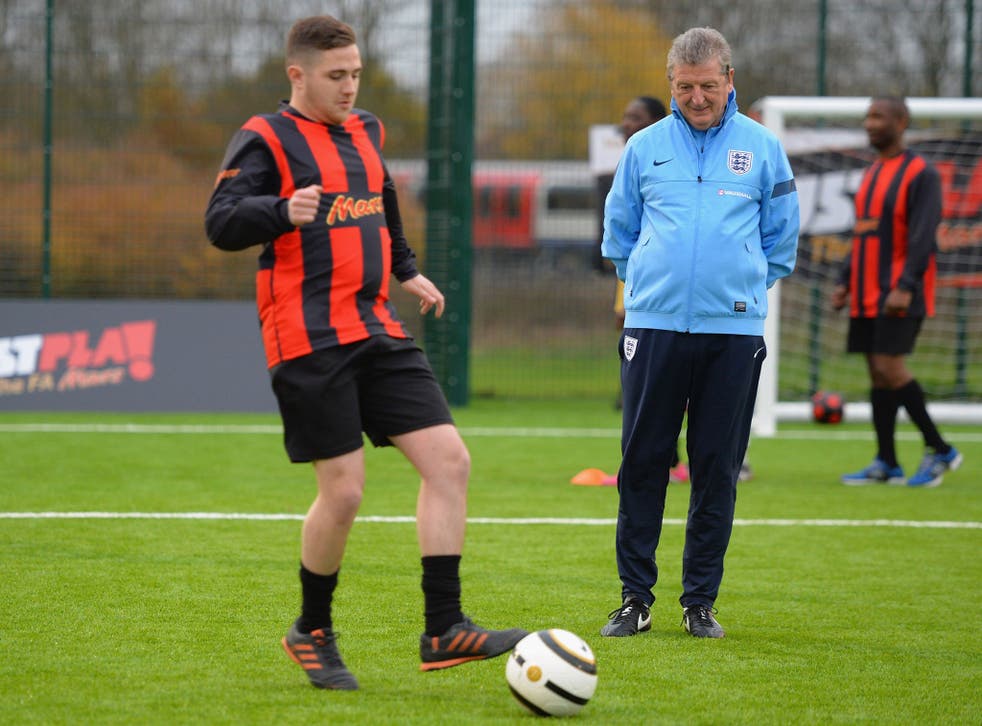 Roy Hodgson has admitted that he tested Daniel Sturridge's commitment to England by picking him against Germany last month even though the striker was not completely fit.
The Liverpool striker played 90 minutes for England in the 1-0 defeat at Wembley but has since been ruled out of action for two months with an ankle ligament problem. Hodgson said that the subsequent injury was different to the dead leg that was plaguing the player in the lead-in to the internationals against Chile and Germany.
In the summer, Sturridge had been forced to pull out of England's trip to Brazil for a friendly in June and had missed the August friendly against Scotland, as well as the two September World Cup qualifiers. He was back in the team for the final qualifying victories over Montenegro and Ukraine but faced with losing him again for the Germany game, Hodgson said that he tested the player's "resolve".
Hodgson said: "The good thing for me about that was that he did get out there. Dan has pulled out of a few matches with us for injury reasons. He has been unlucky with injuries. The first game he [started, against Ireland in May] he got injured.
"It was important for me to test his resolve a little bit. I might have been guilty of putting that resolve to the test, but I don't apologise for it. And I am delighted he did get out there, even though he maybe didn't feel 100 per cent, because that means in future I will know I can trust him as an England player and he is not going to be playing when he feels like it, he is going to be playing when he's fit to play."
In his press conference before the match, Sturridge himself conceded that he was suffering from a "lingering" thigh injury but would do his best nonetheless.
Hodgson flies to Salvador in Brazil today ahead of the World Cup draw on Friday for next summer's tournament, but he said it was the prospect of playing games in the north of the country, in tropical conditions, that concerned him more than the opposition. England will be seeded in the second tier, meaning they will face one of the highest-ranked nations in the world.
Potentially the most challenging venue is the Amazonia Arena in Manaus, where June temperatures are in excess of 30C, higher than more southerly cities. Hodgson said: "The venues we play in do worry me more than the opponents. Playing Argentina is a problem any time because they are a good team but I think there's definitely going to be climatic conditions which will be problematic for teams, not least of all the northern European sides.
"Manaus will be a difficult venue for everyone including Argentinians, Chileans and Colombians but for northern European players it will be a little bit harder. You have a better chance if you get one of the venues where the climate is kinder. I'm not an expert on the venue... but I'm just mouthing what everybody who has been following it has been saying. Manaus is the place ideally to avoid and Porto Alegre is the place to get."
At the end of the season, England will play a send-off game at Wembley, then two friendlies in the United States, one against the US – providing they are not drawn in the same World Cup group again – in New York or Chicago, and another against a South American side in Miami. Hodgson said he was giving great consideration to making sure the players did not burn out during the build-up.
"I don't know the details of the [Jonathan] Trott situation but it doesn't surprise me that players get stress-related problems. Representing your country... is not an easy situation. We will do our very best to avoid it."
The FA and Mars aim to offer one million 'Just Play' opportunities over the next four years – for more information, search 'Just Play' online or visit facebook.com/marsbar
Register for free to continue reading
Registration is a free and easy way to support our truly independent journalism
By registering, you will also enjoy limited access to Premium articles, exclusive newsletters, commenting, and virtual events with our leading journalists
Already have an account? sign in
Register for free to continue reading
Registration is a free and easy way to support our truly independent journalism
By registering, you will also enjoy limited access to Premium articles, exclusive newsletters, commenting, and virtual events with our leading journalists
Already have an account? sign in
Join our new commenting forum
Join thought-provoking conversations, follow other Independent readers and see their replies