Raheem Sterling to the rescue as England beat Iceland in Nations League
Iceland 0-1 England: The visitors lacked quality in midfield but showed impressive patience to find a way to win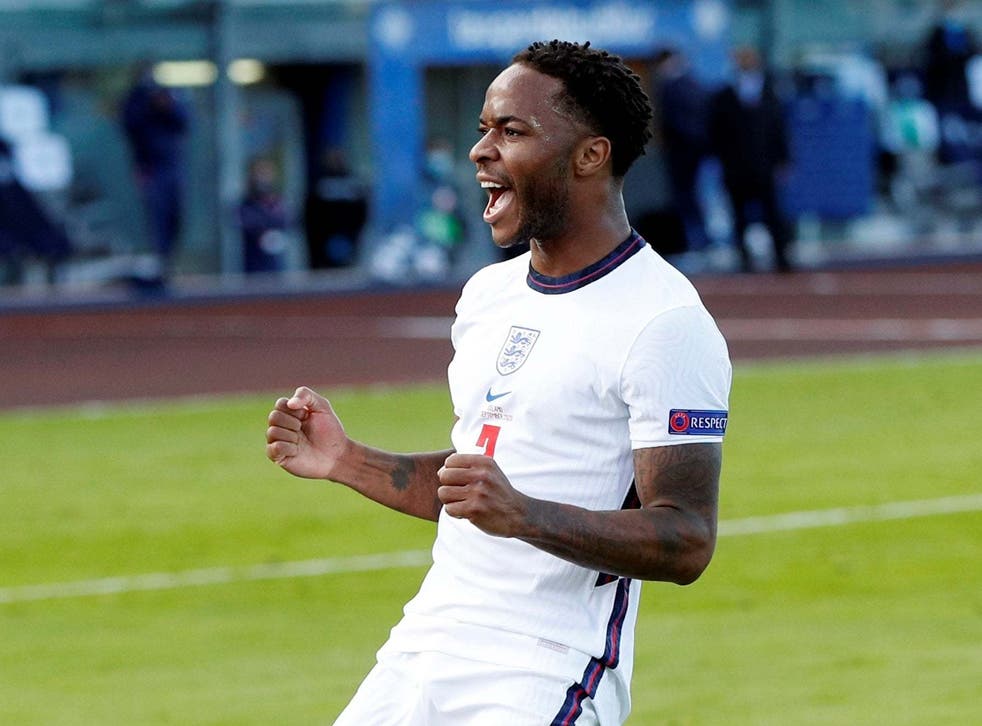 Leer en Español
A symbolic win for England, for reasons way beyond anything as simple as revenge for 2016. The late and somewhat lucky manner of this 1-0 victory over Iceland was more important than anything, and is tangible evidence of the evolution of this squad. That it was Raheem Sterling – one of two surviving members of that team – who got the winner made it all the more pointed.
That Euro 2016 elimination has become a touchstone moment for Gareth Southgate side, a moment zero from which everything must be rebuilt. One of the primary problems he saw in that humiliation was a lack of composure, a panic that afflicted the team when it became apparent things weren't going their way.
Things really didn't look like they were going their way in this opening Nations League match, with Kyle Walker sent off and England barely creating chances – until a lesson of 2016 paid off. England had learned composure. They've learned patience.
They kept going and got their goal through Sterling's somewhat fortuitous late penalty, before getting lucky through Birkir Bjarnason's own spot-kick miss. It was a total inversion of 2016 in that regard.
"For us as coaches the biggest thing from the Iceland game was the patience once you go behind," Southgate has said. "Then the decision-making under pressure, the patience to wait for better opportunities is something we've added as a team over the years. We've talked about it a lot."
They put it into action here.
This was of course a completely different context to a tournament knockout, and it's difficult not to think much of the struggles of this game were down to the wider context of 2020 than anything else. England had just ended their longest run without an international since the second world war, in the middle of a truncated pre-season, with many first-choice players out.
Defensively brilliant as Iceland were, a first-choice England from 2019 would surely have beaten them fairly easily.
This was a largely experimental team, but it did re-emphasise an area that Southgate needs more experimentation on.
While one psychological issue has clearly been worked on, a tactical problem remains persistent.
It still feels like Southgate is going to have to figure out exactly what midfield he wants if he is to truly complete this team, and complete the job of winning a trophy.
Iceland are currently well short of top level – as their very approach indicated – but this match encapsulated a few challenges the England manager has. Chief among them is the focus of that midfield for different challenges.
In principle, after all, Southgate would ideally have a fluid ball-player in the pivot position, to offer structure to the team in possession, and just keep things moving. Rice has many qualities as a player, but it can often feel he remains a touch too blocky on the ball there. The counter argument is that – because of these very deficiencies – England are going to need pivots who can defend when they come up against the superior international sides. And that's true… but it doesn't feel like a match against Iceland is going to tell us much in that regard. A pivot who primarily defends felt almost pointless, since England didn't face much attacking.
It just highlighted the absence of a true ball-playing midfielder, and raised the question of why Southgate didn't go for an attacking midfielder there in a game like this. The England manager is admirably adaptable and has preached the necessity of variety, after all, so it stands to reason he has different midfield approaches for different quality of opposition.
As it was, the nature of this game meant many of England's best chances fell to the central midfielders arriving from deep, but that they couldn't take advantage.
Rice scuffed at one Sancho run, and blazed another effort over the bar. James Ward-Prowse got his feet in a tangle for another.
Some of that may be down to a natural rustiness given the time of the year we're at, but it's equally difficult not to think that the situations would have suited more technical attackers.
England's growing frustration gradually became visible in rushed shots and rash challenges, never more evident than with Kyle Walker's needless lunge on Arnor Ingvi Traustason. He could have few complaints over a second yellow card.
England had few chances up to then, and that job suddenly got harder.
That's where the patience came in. Sverrir Ingi Ingason threw himself at a Sterling shot to receive a harsh red card. Things were about to get even worse for Iceland. Sterling himself rolled the ball in, before Iceland got a penalty of their own.
Bjarnason blazed it over. It only emphasised the sense that England have got over a psychological block.
Join our new commenting forum
Join thought-provoking conversations, follow other Independent readers and see their replies