It's a sprint, not a marathon, as 'Jogi' presses fast forward to put Germany ahead of the rest
Coach Löw's methods have changed the nature of national side's game to produce a slick machine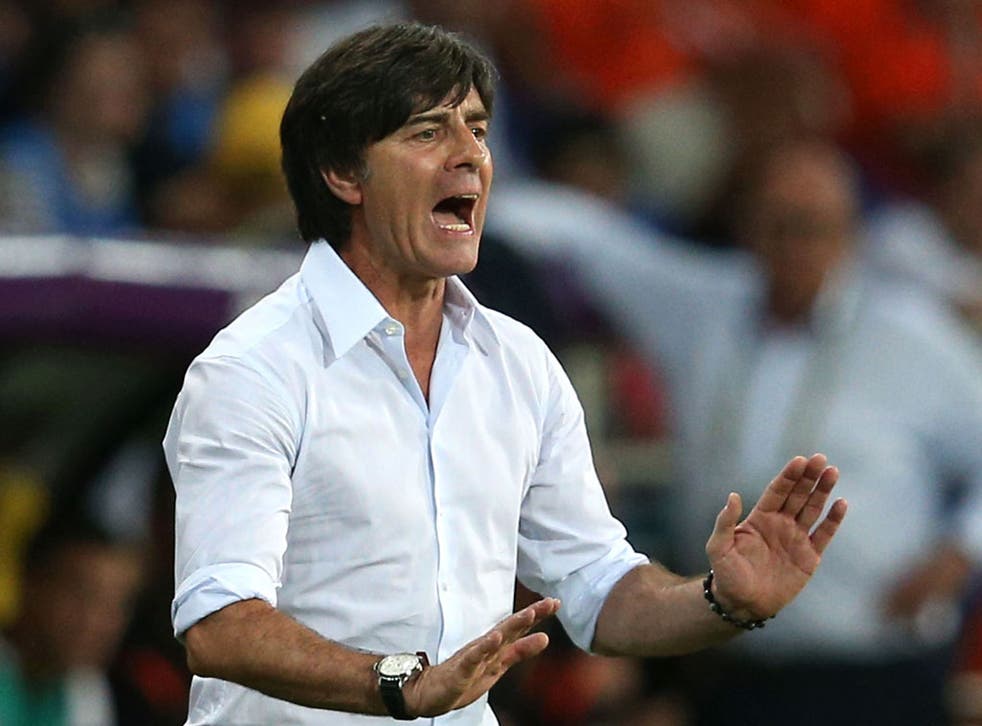 Cast your mind back to Euro 96 and an image of Dieter Eilts may appear. The stocky midfielder did not gladden the eye like Jürgen Klinsmann or Karel Poborsky, but for three weeks he was the most important footballer in England. Powerful, disciplined and selfless, Eilts – with the likes of Stefan Kuntz and Oliver Bierhoff – epitomised the character of a footballing nation. And in the end the Germans won.
That nation has changed utterly. The process began to be widely recognised seven years ago, during the Confederations Cup, in which Germany practised hosting the World Cup with a coltish willingness to attack that some of us ascribed to the difference in personality between Klinsmann and, say, the old-school graduate Berti Vogts, who had managed his country to ultimate triumph over the Czechs at Wembley in 1996.
It was a superficial theory. Klinsmann supervised the new philosophy's introduction but its principal architect was Joachim ''Jogi'' Löw, his then assistant and now successor. Löw guided Germany to the European final in 2008. By 2010, having blended in the products of revamped Bundesliga academies, some of whom had become European Under-21 champions, Löw had built a team lively enough to beat England 4-1 in the World Cup, albeit with luck when Frank Lampard's goal was not allowed.
The impression that their best days were to come has survived a build-up to this tournament that included a 5-3 defeat by Switzerland. Mesut Ozil and Sami Khedira – your Germans seldom have names like Dieter these days – have become even brighter stars at Real Madrid. Mario Gomez has supplanted Miroslav Klose and Mats Hummels edged out Per Mertesacker. Thomas Müller is again hinting at top class. And among those unable to command a shirt are Toni Kroos and the lavishly gifted young Mario Gotze.
There is no equivalent of Eilts. Worthy though he was, the Germans now expect slick passing and movement from everyone between the goalkeeper, Manuel Neuer, and the arch-predator Gomez. Bastian Schweinsteiger, who holds in midfield, is a fine distributor of the ball.
If Spain did not exist, aesthetes would hardly pine as long as Löw and his team were there to lead flair's procession (not that Germany alone have entertained us in this highly enjoyable tournament).
Like many an outstanding coach, the 52-year-old Löw, who returned to Germany to help Klinsmann after a club career that featured Fenerbahce and Austria Vienna among others, often seems to speak in tangents. Until you realise how rigorous a researcher he is.
During the Confederations Cup he responded to a victory by saying how pleased he was that the players had committed so few fouls (no doubt he had analysed the adverse effect of free-kicks conceded), and the other day he willingly answered someone who had asked if he stood by a 2010 description of football as a sport ''defined by a succession of sprints''.
Low said: ''It is like that now, more than ever before. Generally speaking, the tempo of the game has increased. People do an awful lot of running now and the way that has traditionally been interpreted is to say that the team who runs more wins the game. Our analysis, though, has shown that that view is too superficial. Our focus now is on what kind of sprints players make, where they do it, how they do it and in what direction.
''Emotionally speaking, sprints forward have much better connotations than running back. We ran a lot against Switzerland but the runs were all backwards, so they had very negative emotional connotations. If you are going forward, you forget how much you have run and how fast you have done. It doesn't hurt as much to sprint forwards.''
A relish for detail is, of course, only part of Löw. Though fortunate in having been in charge of the national team when the academies bore their first fruit, he has applied brilliant man-management to the task of subjugating egos; that his players like where he is taking them is obvious from the way they perform together.
Maybe qualification requires a point, at most, from tonight's match with Denmark. Then it's onward, upward – and fast forward.
Register for free to continue reading
Registration is a free and easy way to support our truly independent journalism
By registering, you will also enjoy limited access to Premium articles, exclusive newsletters, commenting, and virtual events with our leading journalists
Already have an account? sign in
Register for free to continue reading
Registration is a free and easy way to support our truly independent journalism
By registering, you will also enjoy limited access to Premium articles, exclusive newsletters, commenting, and virtual events with our leading journalists
Already have an account? sign in
Join our new commenting forum
Join thought-provoking conversations, follow other Independent readers and see their replies