Italy fail to qualify for first World Cup in 60 years after play-off defeat to Sweden
The Azzurri, four-time winners of football's most important trophy, will miss their first finals since 1958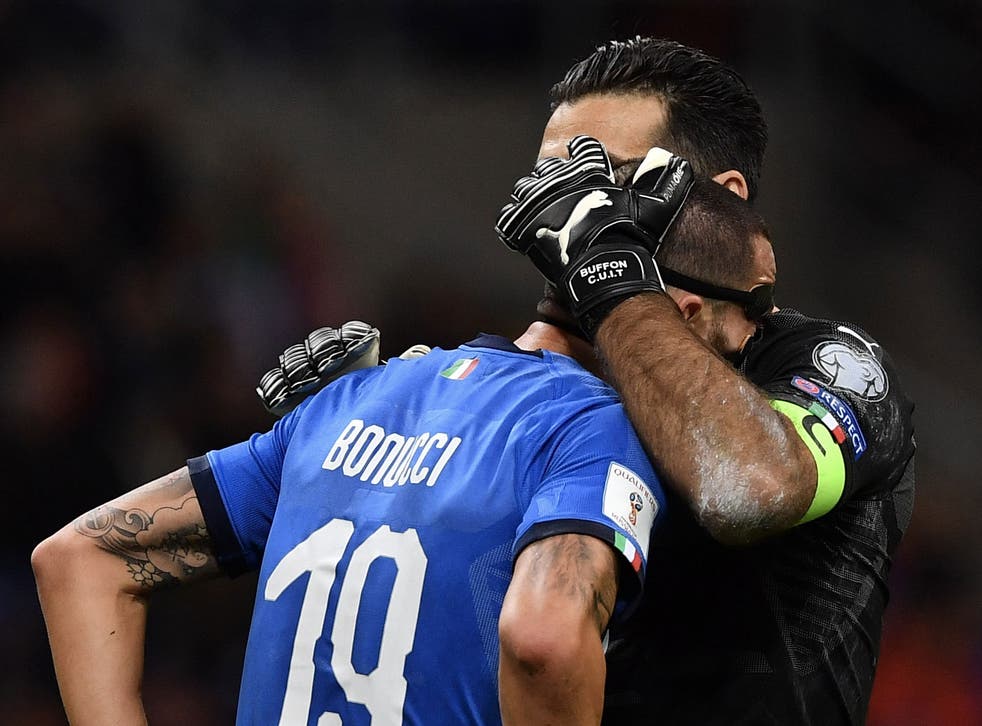 The mood was eerie, simmering from disbelief towards anger and the result was unthinkable.
But no noise the San Siro could produce was capable of willing Italy to a goal, and the four-time World Cup winners have missed out on their first World Cup finals since 1958 after a 1-0 aggregate defeat to Sweden.
The Azzurri, led by the hapless Gian Piero Ventura, couldn't muster a goal over 180 minutes of football, meaning Jakob Johansson's first-leg winner was enough to send the Swedes to Russia.
Ventura had the unenviable task of replacing Antonio Conte as Italian coach, and the unenviable challenge of getting past Spain in an unforgiving qualifying group.
But questionable team selection and curious tactics saw Italy miss out on a top spot and consigned to a play-off spot, where they were bested by the Scandinavians.
For what remains of Italy's 2006 World Cup winners, this was a shameful and distressing way to exit international football. Gianluigi Buffon, who roared with passion, tears in his eyes before kick-off was crying again at full-time for altogether more unhappy reasons. Daniele De Rossi, one of the key under-performers in this agonising two-legged defeat, can also be expected to retire from international football with this.
Much of the blame will focus on Ventura, and in the immediate aftermath of such a monumental defeat for a football-obsessed nation it feels impossible to imagine the 69-year-old coach getting another job on the peninsula. But there are other factors that have contributed to this, not least one of the weakest Italian squads in a generation and the Italian football federation (FIGC) being outsmarted by rivals who have gamed Fifa's world rankings system.
Those rankings feed into seedings and qualification and if Italy hadn't been a second seed then they couldn't have been tossed in with Spain, ultimately a draw that condemned them to this play-off months and possibly years ago.
But perhaps that does a disservice to Sweden. This was a side that was expected to be in a rebuilding period following the retirement of talisman Zlatan Ibrahimovic, but despite being drawn as a third seed, they beat second seeds France - who would eventually win the group - and eliminated top seeds the Netherlands. The Dutch, much like the Italians, are destined to do much soul-searching over their approach to football when the world descends on Russia next summer.
As for Sweden, the only thing we know is that the party will be huge and that, come June 2018, they will be at the World Cup. Whisper it quietly but there is a Manchester United centre-forward who must be tempted to re-join the party now they are there.
Sweden, whatever happens, are destined for good times and another World Cup finals appearance. The only thing certain about Italy right now is that this hurts, that this will take some time to get over and that, for better or worse, tonight was a pivotal night in modern Italian football.
Register for free to continue reading
Registration is a free and easy way to support our truly independent journalism
By registering, you will also enjoy limited access to Premium articles, exclusive newsletters, commenting, and virtual events with our leading journalists
Already have an account? sign in
Register for free to continue reading
Registration is a free and easy way to support our truly independent journalism
By registering, you will also enjoy limited access to Premium articles, exclusive newsletters, commenting, and virtual events with our leading journalists
Already have an account? sign in
Join our new commenting forum
Join thought-provoking conversations, follow other Independent readers and see their replies