Italy vs Spain Euro 2016 match report: Giorgio Chiellini and Graziano Pelle fire Azzurri into last eight
Italy 2 Spain 0: Holders elimated from as Antonio Conte's masterstroke sees Italians through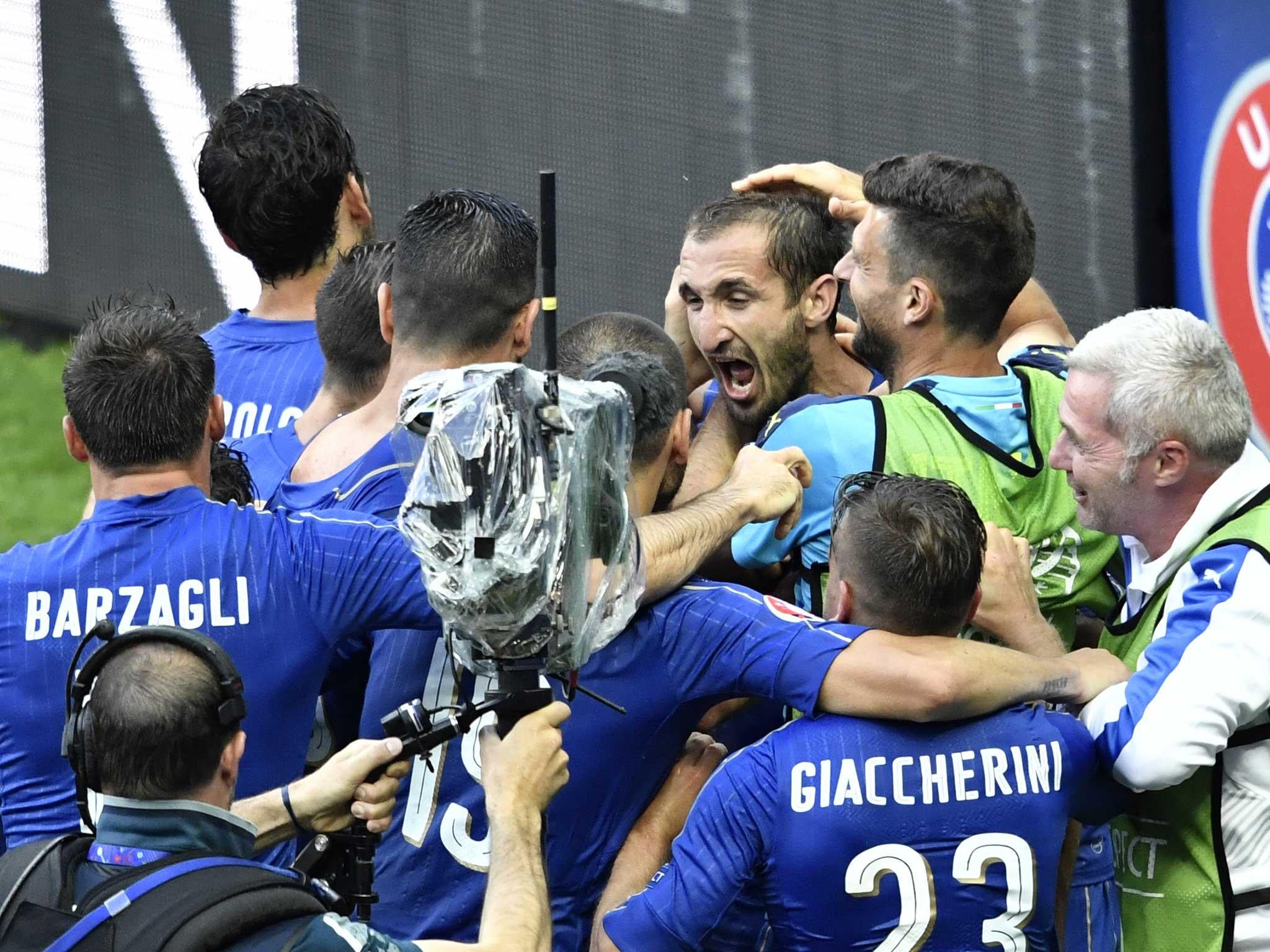 This is what Antonio Conte means when he talks about values. This is what Italian football is meant to be all about. This was a performance of personality, intelligence and discipline, characteristics in far more demand than the patriotic motivation which every team in France claims to have.
All good football teams bare the imprint of their coach and none more so than this Italian side. Conte is the best manager at this tournament, and it shows. Despite a lack of talent that no recent Italian coach has had to deal with, he has built a team which will contest what will feel like a final in all but name against Germany in Bordeaux on Saturday night.
Germany have played the best football in France so far, thanks in part to the fact that they have the best players. Italy do not, but they are the best team. Here at the Stade de France they showed the true sign of tactical mastery, as the whole match was played on their terms. In the first half they created chances, took one and should have scored four. In the second half they sat back, defended, and took their opening on the counter.
In that sense it was just like their 2-0 group stage defeat of Belgium in Lyon, right down to the detail of Graziano Pelle ending the game in added time. Except this was not Marc Wilmots' messy Belgium side. This was Spain, the reigning European champions, who beat Italy 4-0 to win Euro 2012, their third big title in a row. That was four years ago but just this month Spain beat Turkey 3-0 in the group stage, looking like they added a fresh dimension to their old control.
But here in the rain in St Denis, Spain looked slow, tired, predictable and soft. They were never in the game, they were second to everything and they ought to have lost by more. They could not stop Italy's attack and they could not beat Italy's defence. When Belgium lost to Italy two weeks ago they did at least create chances and make Gianluigi Buffon work.
Here he only had to make one good save, from Gerard Pique with one minute to go. That was Spain's only real chance, after a half-hearted late siege in which Pedro, the reluctant substitute, was playing the unlikely role of battering ram. One minute later Italy broke down the left, switched to Matteo Darmian on the right, who set up Pelle's emphatic finish. Pelle was mobbed on the corner flag, in front of the Italian fans, with coaching staff joining in. This is a group which believes in the direction it is heading.
The only surprise is that it took until stoppage time for the result to be confirmed. Because the first-half was a tactical masterclass. Knowing that Spain would play their usual narrow 4-3-3, Antonio Conte's response to the passing carousel was to by-pass it. His assertive energetic 3-5-2 sent his two wing-backs Mattia de Sciglio and Alessandro Florenzi bombarding down the flanks, dominating spaces where Spain had no-one.
Almost every Italian attack featured a quick ball out wide to one of the wing-backs. Every time the cross was dangerous. Not once did Spain re-adjust. The threat should have been clear when David De Gea had to brilliantly save Graziano Pelle's header from Florenzi's free-kicks but clearly it was not. Florenzi found Pelle again, Emmanuele Giaccherini's overhead was penalised as it was hacked off the line.
De Sciglio from the opposite flank was just as open, just as dangerous. His first cross was headed wide by Alessandro Florenzi. His second sliced just over the bar by Sergio Ramos. The Spanish captain prides himself on his ostentatious machismo, but Italy matched him with that out there and he had no response.
Ramos was growing anxious and he hacked Pelle down 25 yards from goal. Eder drove the free-kick along the damp grass and it spat out of De Gea's grasp. There were four blue shirts onto the rebound before any Spaniard saw the danger. De Gea could not hold them all off and Chiellini hooked the ball in. It was the difference between playing with a plan and playing without one.
Having controlled the first half on the front foot, Italy controlled the second half from the back foot. Retreating into a deep 5-3-2 they dared the great Spain – Andres Iniesta, David Silva and the rest – to pick through them. They could not. Alvaro Morata got a header away under pressure, but it was straight at Buffon.
Vicente Del Bosque threw on Aritz Aduriz and Lucas Vazquez, and Spain realised that their best option was to throw the ball into the box. But when Aduriz limped off and was replaced by Pedro as a number 9 even that was no longer an option. They did create a chance, when Pique got on the end of a dipping free-kick and stabbed the ball towards the bottom corner, but Buffon was quick enough to get down and keep it out. Two minutes later Pelle had scored.
When Spain crashed out of Brazil two years ago, beaten by the direct pace of Holland and Chile, Vicente Del Bosque was given a chance to renew the team. Two years later the same thing has happened again, as wins over the Czech Republic and Turkey were followed by defeats to Croatia and Italy. Clearly their era is over, clearly they need new ideas, new players and a new coach. Because there is no substitute for vision, freshness and conviction, as Conte's Italy show.
Join our commenting forum
Join thought-provoking conversations, follow other Independent readers and see their replies