Italy will make own luck, not worry over any 'fix' - Cesare Prandelli
Azzurri haunted by 2004 exit but coach focuses on his 'most important ever match' with Ireland
Miguel Delaney
Monday 18 June 2012 12:09 Comments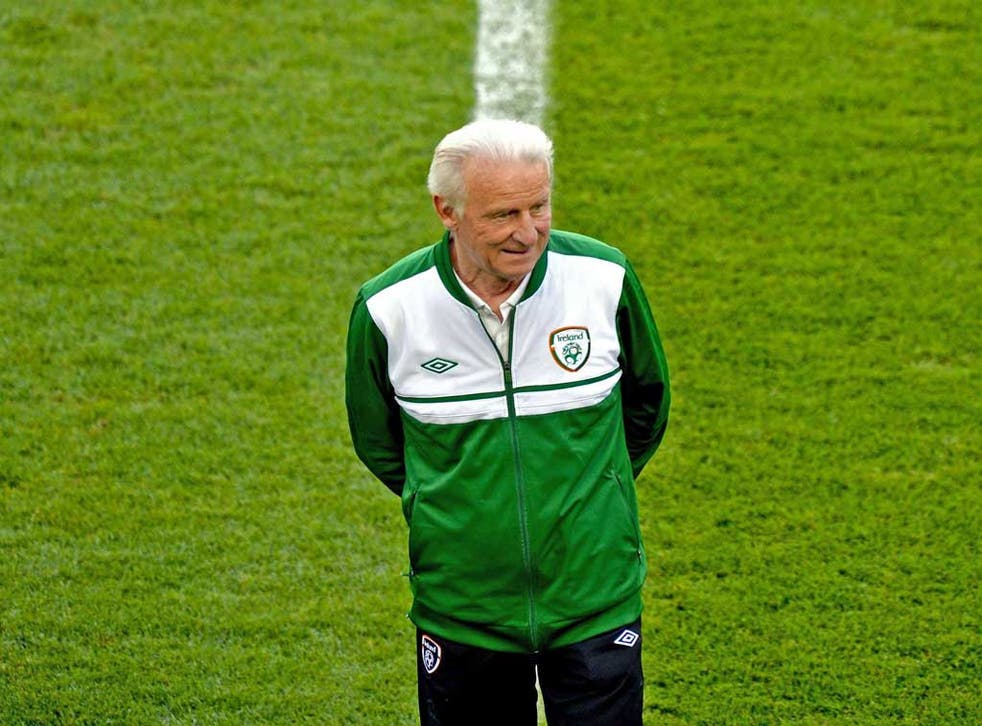 It's a match with so many deep dimensions swirling around it that you could forgive Cesare Prandelli's pre-match press conference descending into fractious debate. The Italy coach, however, did his best to boil it all down to a single issue: his team simply must beat the Republic of Ireland in what he terms his "most important ever match".
Unfortunately for Italy, that may not be enough. And it certainly wasn't enough for their media. The build-up, after all, has seemingly been boiled down to three issues by the Italian press: formation, fortune and figures.
Overshadowing the match is the fact that Italy may be unluckily eliminated by a mutually beneficial result elsewhere for the second time in eight years; underscoring it is a deep domestic debate about the formation Italy will use.
But, in a press conference that was almost completely dominated by in-depth – and often very testy – tactical talk, Prandelli sounded one clear note on all of it: "You've got to go out and make your own luck. You only earn luck by playing attacking football."
And, with all of Italy obsessed with the possibility of a biscotto – Spain and Croatia replicating Sweden and Denmark's 2-2 draw of 2004 to send both through at Italy's expense – Prandelli felt there was a bit too much presumptuousness about his team's own match with Ireland.
"This is a very organised side. They can play football and fight. They want to give pride to their fans. It will make it a tough game. I am solely focused on the result in our game. I'm not really concerned about what everyone else is saying."
He did, however, have something to say about the Spanish: "I don't think a side like Spain, who've based their entire image on providing a show, will think of planning a game to that detail."
The Italian journalists, however, demanded Prandelli himself go into even more detail on his own formation, whether he'd play three at the back or four. Prandelli had only one answer. "I've been quite clear on this," he said. "I'm not going to tell you before the game. Let me have a slight advantage. It might not even be an advantage. The most important aspect is the way you're playing. The formation is just numbers. You have to be flexible.
"In terms of the team itself, we've trained well. If it only depended on us, we're happy with how we are in terms of fitness so we're going to run for 90 minutes and set a high tempo."
Deepening this potential drama, of course, is Prandelli's meeting with his old boss, as well as former Italy coach, Giovanni Trapattoni, who is also finding himself on the other end of 2004's intrigue.
For his part, the Ireland coach has kept things simple: he will pick the exact same team that started against Croatia "out of respect" for those very players and the group situation, while handing Damien Duff the captain's armband on his 100th cap.
Trapattoni, meanwhile, also had a simple response for Roy Keane yesterday: "He has to think about what he has done as a coach, for fuck's sake."
Register for free to continue reading
Registration is a free and easy way to support our truly independent journalism
By registering, you will also enjoy limited access to Premium articles, exclusive newsletters, commenting, and virtual events with our leading journalists
Already have an account? sign in
Join our new commenting forum
Join thought-provoking conversations, follow other Independent readers and see their replies