New York City's Jack Harrison on moving Stateside and his likely return to England
Interview: The Englishman abroad opens up to The Independent ahead of an expected January transfer to Stoke City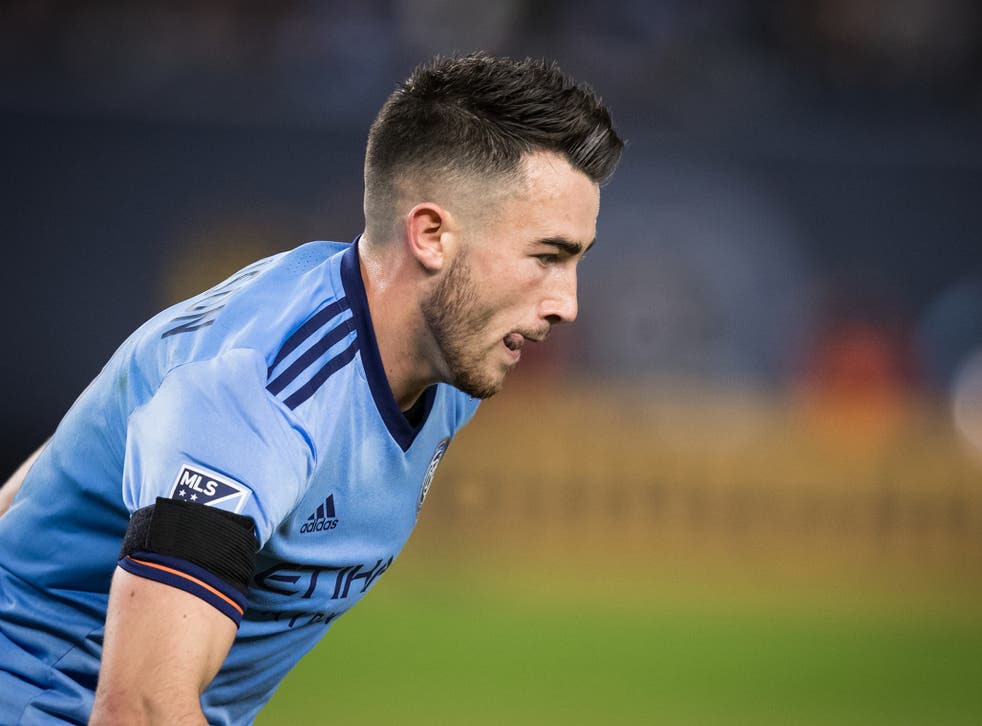 England Under-21 international Jack Harrison is ready to swap New York City FC for Stoke City this month, but has insisted that no deal is done yet to take him back to his hometown club.
In an interview with The Independent, the impressive Harrison is coy on rising noise about a return to England but the Potters' interest is real and the opportunity to play in the Premier League could be too good to turn down for a player released by Manchester United at 14.
"As to the Stoke City rumours, nothing is official yet," says Harrison.
"I'm still a New York City player right now and that's where my mind is at."
But Harrison's denials lack the conviction of the previous two years, when inevitable questions arose over English interest after his breakthrough into the NYCFC first-team. Multiple sources confirm a bid is on the table from Stoke – who are in the market for reinforcements after new boss Paul Lambert enjoyed a winning start to his underwhelming appointment.
The Potters' interest represents a huge opportunity for a winger who moved Stateside at 14, successfully went through the American collegiate system, and ultimately graduated into the NYCFC first team with honours.
Harrison confirms that his agent is holding talks with interested parties and he'll know more if and when anything concrete materialises. He's also a little more clear in describing his Premier League ambitions.
"Everyone dreams of playing in the top leagues in Europe and the Premier League is obviously up there. Growing up in England, it's always been a dream of mine to play in the Prem.
"But as of right now, I'm still a New York City player.
"I just leave it all to my agent. I don't like to think too much about that stuff or get caught up in it."
As he discusses the upcoming MLS season at a launch event in Los Angeles though, Harrison doesn't give the impression of taking any move for granted or hankering after a switch. After all, Patrick Vieira's NYCFC granted him the opportunity of regular first team football after a goal-scoring full debut in June 2016.
The former Manchester United academy player outlines the aspirations of Manchester City's sister club to lift a first MLS Cup in 2018 and how he hopes to pass on the knowledge gleaned from the team's star name, David Villa.
But after netting 10 goals in 34 MLS appearances last season, the time is probably right to test himself in his homeland, particularly as a move to his birthplace Stoke would lend a full-circle narrative to his journey.
Certainly, Harrison has banished the doubts over whether he is good enough to be a Premier League player or whether he made the right decision in moving to the States in his early teens.
His inclusion in the England U-21 squad last October boosted his self-belief after he was able to train alongside those boasting game-time at the top level.
"When I went there, I was expecting to kind of struggle a little bit, with the standard of those guys. They're all playing at a high level," he said.
Who are the Premier League's highest earners?

Show all 11
"But I actually surprised myself. It was very encouraging to go there and see where I was at in comparison.
"After coming out here, I'd always wondered if it'd been detrimental to my development.
"It turns out, it wasn't. I was able to hold my own and play alongside them. It was a really encouraging trip."
Harrison was such a hit that many of his new colleagues were even casting envious glances his way.
Premier League transfer round-up: Latest deals from the January window
"They were mostly asking about the lifestyle in New York, really. They thought it was awesome that I was playing here," said the 21-year-old.
"It surprised me how many questions they were asking. I had to explain it wasn't like the movies!
"They still thought it was really cool living in New York."
If Stoke's bid – mooted to be around the £3.5m mark – does prove to be successful, then Harrison will inevitably become the English poster boy for the football scholarship programmes of US schools and colleges.
There are already several links between Premier League clubs and the States, to help young hopefuls released at 16 or 18 find a new path.
He adds: "I think a lot more are starting to take the path that I took now. Since I left when I was 14, there's been several other guys coming over to college.
"It's definitely something I'd recommend and it's becoming more of a trend from England.
"I don't think it's a bad option at all. It's a great alternative for players who are not necessarily getting the opportunities they want at a big-time Premier League club.
"It's good to come here and get that game-time and experience."
That brave decision aged just 14 will undoubtedly have paid off for Harrison, if he ends up at the bet365 Stadium by 31 January and plays a successful part in Stoke's survival battle.
Join our new commenting forum
Join thought-provoking conversations, follow other Independent readers and see their replies