Jack Wilshere eager to learn his new England job – and from Xabi Alonso
Arsenal man takes crash course over Euro qualifiers in arts of the creative holding midfielder
Sam Wallace
Monday 13 October 2014 18:00 Comments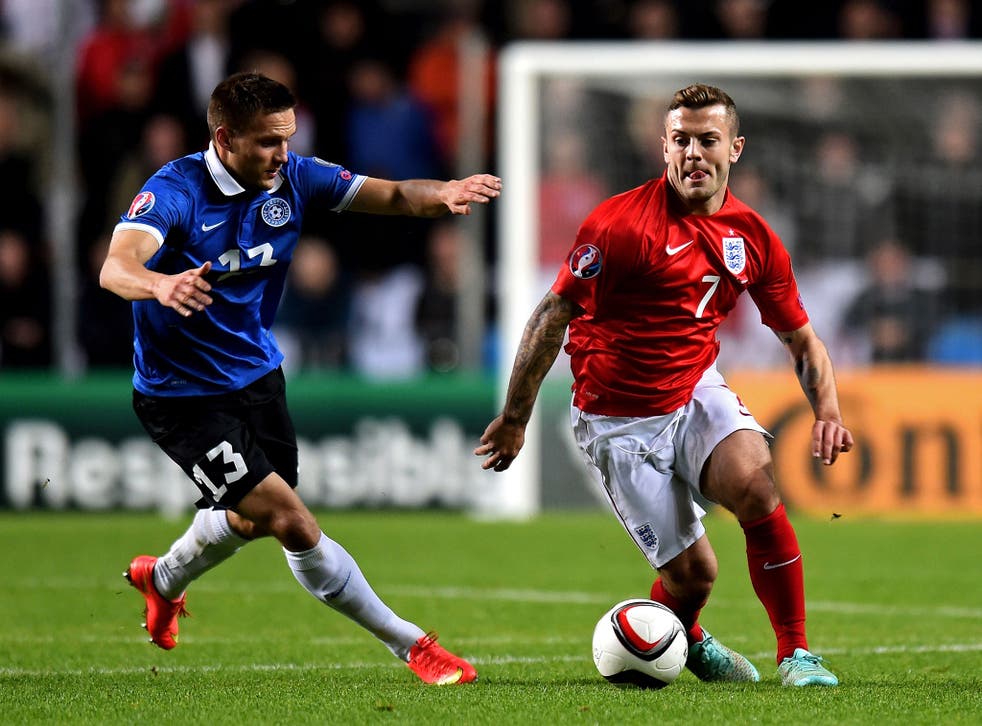 It was video clips of Andrea Pirlo that Gary Neville sent Jack Wilshere as homework last month for his new role in the England team, but more recently it has been Xabi Alonso whom the Arsenal midfielder has been studying as he adjusts to life at the base of England's midfield diamond.
Three games into his new incarnation as distributor and defender of the back four and Wilshere is keen to stress that he is still learning the role. In the 1-0 win over Estonia on Sunday night, he had one of those games when everything seemed to revolve around him and his connection with Wayne Rooney felt like the most important in the team. As ever with Wilshere, it is not quite straightforward, but there is no doubt that his enthusiasm is there.
He is being asked to marry his instincts to beat an opponent via a change of pace and feint with the responsibilities of a position in which giving the ball away can be potentially disastrous. He has to conserve possession as best he can, but he must also judge when to attempt the high-risk ball into the strikers. And it is a very different role to the one that awaits Wilshere when he returns to club duty this weekend with Arsenal.
"I am starting to enjoy it a lot more," he said on Sunday. "After the Switzerland game I said it was my first game there and it was only going to get better as each game goes on. I feel a lot more comfortable.
"I have watched a few players, Xabi Alonso is probably the best in the world now in that position, and I am learning. I do not play that role for my club so it is vital I do watch players like that. I have been watching Alonso and Pirlo but probably the best is Xabi Alonso."
As for knowing when to risk it and when to play safe, that is a fine judgement that takes time to develop. "It's part of watching the videos," Wilshere said. "The main thing that stands out for me is their [Alonso's and Pirlo's] game intelligence. You can still go for a little run there but if I lose it, the whole team is in trouble. Whereas, if I am playing a little bit higher, if I lose it, there are players around me who can recover it.
"There will be times when I do lose the ball and I lost it once [against Estonia] and then it is about maybe making a smart foul – I am still learning. It is only my third game there. I still say I am getting better in that position."
Estonia 0 England 1 player ratings

Show all 12
He checked himself at mention of the foul because at 22, Wilshere is still young enough to wonder whether he might be better off not saying those kinds of things. But he is right, the tactical foul a safe distance from goal has always been a useful tool for even the most gifted midfielder. What is interesting about Wilshere's new role is that he is being asked by Roy Hodgson and his staff to challenge himself and adjust at a stage of his career when the scrutiny is at its height.
It has been rare over the years for England players to be required to study and learn a different way of playing, more commonly they have been forced, like a square peg into a round hole, into the problem positions. In the becalmed waters of Euro 2016 qualifying Group E, however, Wilshere has been given a long-term goal to transform the way he and the team play before the tournament in 20 months' time.
It was noticeable on Sunday that as England struggled towards the goal that Rooney would eventually score to give them three wins out of three in qualifying, Hodgson changed the personnel but not the system. The temptation in those closing stages might have been to unleash substitutes Raheem Sterling and Alex Oxlade-Chamberlain in wider positions but England stuck to the diamond and they got their goal.
"I think it went well," Wilshere said. "I am starting to develop an understanding with Wayne Rooney. His movement is world-class. He knows when to go in behind, he knows when to come to feet. So I am developing that and I am feeling better and better as each game comes.
"With a world-class striker they are going to make the movements – I remember playing with [Robin] van Persie, he did the same and they get a little bit frustrated when they don't get the ball. All I can do is put the ball in there and I know he is going to be there. There were a few chances, not just Wayne but myself, I missed one. [Had we scored] we would probably have come away winning by three or four. But we kept going and we are happy with the win."
Hodgson refuses to describe Wilshere as a "holding midfielder", arguing that he sees the Arsenal man as having a role in attacking and defending. "If you make 15-20 passes in a game you can get a quite high passing accuracy," he said. "When you get to 80-85 passes you have to find a difficult pass as well because there is no point dinking it square. We want him [Wilshere] to look forward and pass forward and I think he took that responsibility very well. And his defending was good."
There was a time when an injury to Mesut Özil would have opened up a world of possibilities for Wilshere but even before that development last week the Englishman had established himself in a central position for Arsenal. Özil had been pushed out left in the 4-1-4-1 formation that Arsène Wenger has favoured of late, with Wilshere occupying one of the two central positions in front of the holding midfielder.
"He [Özil] was playing on the left a bit so it probably won't change much in the centre," Wilshere said. "Chambo [Oxlade-Chamberlain] will get a chance. Theo [Walcott] is coming back as well. We are devastated for Mesut because he can play in that No 10, we have seen what he can do at No 10. We have players who can come in."
It will be back to the day job for Wilshere this Saturday against Hull, although he sees no reason why he cannot do both.
Register for free to continue reading
Registration is a free and easy way to support our truly independent journalism
By registering, you will also enjoy limited access to Premium articles, exclusive newsletters, commenting, and virtual events with our leading journalists
Already have an account? sign in
Join our new commenting forum
Join thought-provoking conversations, follow other Independent readers and see their replies