Jay Rodriguez interview: World Cup 2014 heartache is hard to take for Southampton forward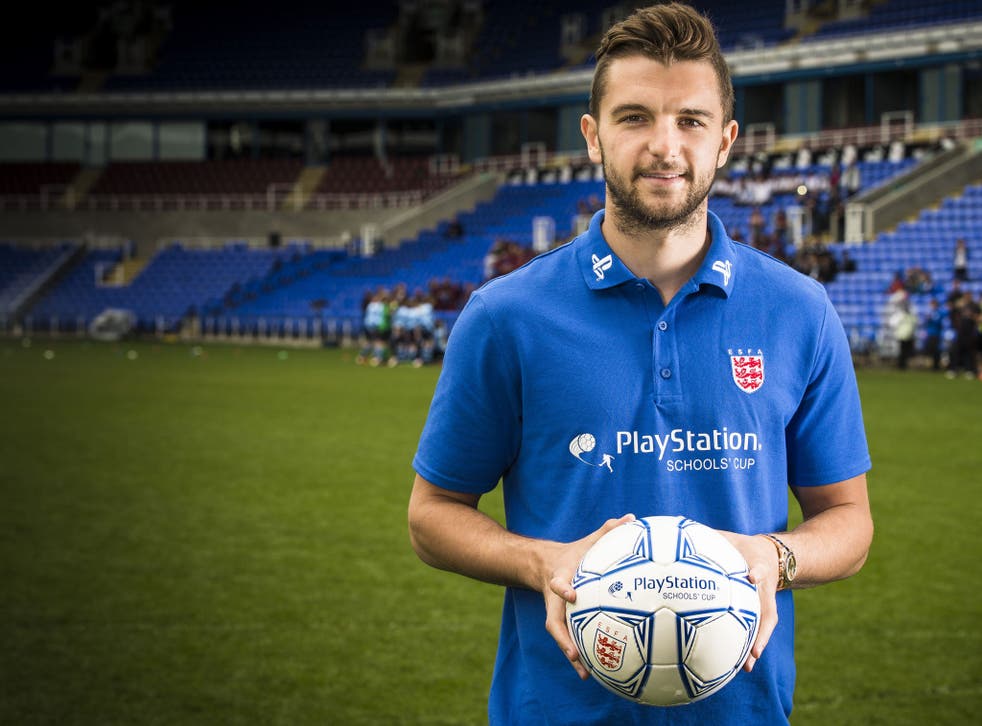 Jay Rodriguez is not part of the England squad that will face Peru in Friday's friendly before flying to Miami and then on to Brazil, but he is not very far from their thoughts.
The Southampton forward was in the form of his life when his season ended while playing Manchester City at the Etihad Stadium on 5 April, when he ruptured the anterior cruciate ligament in his right knee. The injury devastated Rodriguez, who had earlier broken into the England set-up, leaving him in tears in the dressing room afterwards with no hope of making the World Cup.
The striker was lifted, though, by the kind words of his international team-mates, those who would be going to Brazil without him, including Manchester City's goalkeeper. "Joe Hart came in after the game and said a few nice things," Rodriguez, still in a knee support, recalled last week. "Wayne Rooney texted me, which was really good, and Theo Walcott texted because he's going through the same process." Walcott had ruptured the same ligament in his left knee three months previously.
The England manager, Roy Hodgson, who gave Rodriguez his international debut against Chile last November, called as well. "He spoke to me and said some really nice things, which really gave me a lift. It was a really nice call from him. It meant a lot to me."
"It's really nice to know that people care. It shows what great team spirit and bunch of lads they are. It's really nice and made me feel a lot better."
No one knows for sure whether Rodriguez, if fit, would have made Hodgson's final 23 for the World Cup. But despite missing the final five matches of the season, he finished with 15 Premier League goals. Of English players, only Wayne Rooney and Danny Sturridge scored more.
England training at St George's Park

Show all 11
But Rodriguez is not too downhearted, sticking with his belief that "everything happens for a reason". He will watch the England games as a fan at home in Hampshire, albeit a fan watching some of his closest friends.
"For me it was great news," Rodriguez said of the inclusion in the squad of Southampton team-mates Luke Shaw, Adam Lallana and Rickie Lambert. "I never had any doubt they would go. They're good friends so it gives me a boost just seeing them there because they fully deserve it. It means everything to me they are there."
As for his own absence, Rodriguez remains philosophical. "I never expect anything in my life and my career," said the man who, in the run-up to the 2010 World Cup, had been on loan at Barnsley, recovering from a broken ankle. "I would never talk about 'what if', or anything like that. I'll just be happy to see the England team out there for the World Cup, hopefully doing really well."
It must be painful for Rodriguez but he has been on the way back to fitness for almost two months now, and is pleased with his progress. "I pretty much knew straight away," he says of the awkward landing. "I felt something in my knee. The physio ran on, I said, 'Is it a big one?', and he said, 'Yes, but don't worry, you start recovering from now'. It was quite hard to take."
Rodriguez speaks with warmth about the help he has received from Saints' physio Matt Radcliffe and the leading knee surgeon Andy Williams, who operated on him one month ago. "I sat down with the surgeon and he explained what's going to happen," Rodriguez said. "I got focused and thought this was another test in my career, that I can overcome and come out stronger. I've got great faith in Andy Williams, he's a great guy, I felt really confident having met him. The surgery went unbelievably well. Now I'm waiting for the scar to heal and get the swelling down."
There is lots of hard work left as Rodriguez tries to get fit for next season. His focus is on muscle building and getting movement back in his knee. "I've reached my targets so far," he said, "and I am happy with how it's going." Rodriguez would not set a time for his return and his instinct is to be cautious.
What this means is a summer spent primarily at Southampton's training ground, in what will be a transitional period for the club. With manager Mauricio Pochettino having left for Spurs and some of his team-mates linked with moves, Rodriguez hopes that the club continues to be ambitious.
"There are no limits to what we can do," Rodriguez said. "If Southampton want to improve there is no reason why they shouldn't. It's been a great journey for the past three or four years, and I hope that it carries on."
Rodriguez also wonders whether more teams might learn from the way Southampton have gone about gaining that success. "It'd be great if teams did learn from it," he said. "I really enjoy playing this way, all the lads enjoy it and it's good to see young English lads come through the academy. It's a great way [of playing] to set out to a club."
Jay Rodriguez was supporting the PlayStation Schools' Cup National Finals. This season has attracted close to 2,000 schools entries and 100,000 participants. Visit www.playstationschoolscup.com
Register for free to continue reading
Registration is a free and easy way to support our truly independent journalism
By registering, you will also enjoy limited access to Premium articles, exclusive newsletters, commenting, and virtual events with our leading journalists
Already have an account? sign in
Register for free to continue reading
Registration is a free and easy way to support our truly independent journalism
By registering, you will also enjoy limited access to Premium articles, exclusive newsletters, commenting, and virtual events with our leading journalists
Already have an account? sign in
Join our new commenting forum
Join thought-provoking conversations, follow other Independent readers and see their replies