Jiracek strike breaks Polish hearts
Czech Republic 1 Poland 0: Nerves consume co-hosts as chances go begging and Czechs go through as group winners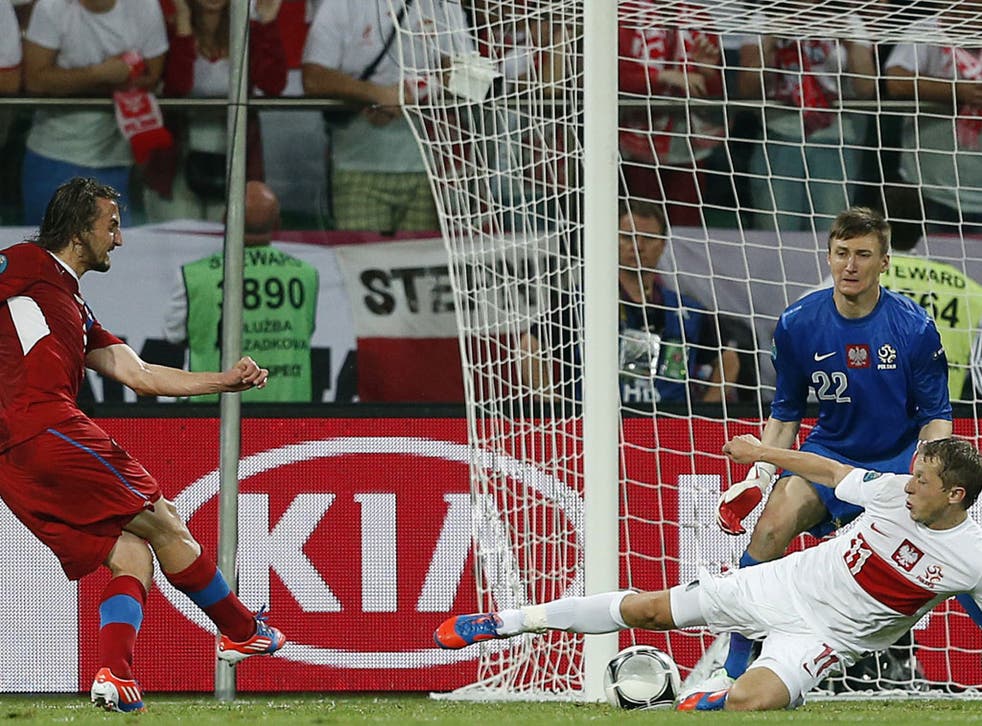 The party's over, at least for the co-hosts. All through the first week of this tournament, there had been pessimistic down-playing of expectations from Polish supporters despite the generally raucous atmosphere.
Last night, the rest of us finally realised why, as Petr Jiracek's second-half goal sent the Czechs through as Group A winners and broke Polish hearts.
When it came to it, Poland couldn't get the single win that would have done justice to the tournament they're helping to stage with such good nature and also put them through to a knock-out stage of a major tournament for the first time since 1986.
The worst part was that it looked at first like they would roar there. Within moments of kick-off, Dariusz Dudka attempted a bicycle kick from a narrow angle which just went wide.
By the 16th minute, they had had six very dangerous efforts on goal. With Eugen Polanski and Sebastian Boenisch – twice – both going close, the livewire Robert Lewandowski then seemed to go clear only to skew his shot wide as he fell to the turf. It should have been 1-0 Poland. In truth, it could have been 4-0 Poland.
Soon, there was a deluge from a thunderstorm to match Poland's flood of chances. But still lightning wouldn't strike for them. And, with every opportunity that failed to produce a sure finish, the feeling started to grow that the Poles were going to regret them. Inevitably, all of that energy and enthusiasm started to wear off. And, when it did, it became increasingly evident the Poles lacked an element of innovation in midfield.
Soon the Czechs began to assert themselves. Shortly before half-time, Vaclav Pilar struck low almost forcing an error on the sodden surface from Przemyslaw Tyton – selected ahead of Arsenal's Wojciech Szczesny – but the stand-in goalkeeper just about managed to collect it.
It was the Czechs who started the second half in a more proactive manner. The tightness in the pool meant that tension reigned. The Czechs proceeded to dominate possession with little penetration – something that characterised their qualifying campaign. Milan Baros feigned shots and tried to force opportunities with industry to little effect. It was, increasingly, the story of the game. As the anxiety rose, the quality and openness declined.
Indeed, it could even have been argued that Poland's previous tendency to playing well for one half of every game became an outright trend. They were a markedly different team from that which looked so mobile in the opening stages... and the start of the tournament itself.
Their confused, tentative mindset was reflected in the fact that, on 64 minutes, a deflection from a free-kick that Tomas Sivok knew little about almost made its way past Tynon. But, although the goalkeeper increasingly looked like he had a big error in him, he then at least got down well to meet a shot as Baros finally burst through. Eventually, disaster struck. But the Poles couldn't argue that, by then, it was undeserved.
Worse, the key goal only came after a Polish attack – inevitably – broke down. Attempting to push forward, Rafal Murawski gave the ball away in an atrocious position. With sufficient space on the counter, the Czech passing finally had true purpose as they surged forward.
The ball came to Baros on the edge of the box and, although he hasn't always been prolific, his build-up play is hugely underrated. It was his touch which set up Steven Gerrard's drive and, consequently, Xabi Alonso's penalty in the 2005 Champions League final and he illustrated it again here. Holding the ball up superbly, he delayed his pass until the onrushing Jiracek arrived to sweep the ball past Tynon. To compound matters for Murawski, he was then immediately taken off Franciszek Smuda tried to force a change in both his team and the game.
On 85 minutes, it almost came as Marcin Wasilewski headed just over. Poland could also complain of a perceived Baros handball in the penalty area. It still wouldn't have been enough for them.
And, ultimately, the Poles could only look to themselves. Despite a late rally and clearance off the line, the fervour of their attacking never quite matched that of the atmosphere. It will remain here. They won't.
Czech Republic (4-4-1-1): Cech; Gebre Selassie, Kadlec, Sivok, Limbersky; Jiracek (Rajtoral, 83), Hubschman, Plasil, Pilar (Rezek, 87); Kolar; Baros (Pekhart, 90).
Poland (4-4-1-1): Tyton; Piszczek, Wasilewski, Perquis, Boenisch; Blaszczykowski, Dudka, Polanski (Grosicki, 56), Obraniak (Brozek, 73); Murawski (Mierzejewski, 73); Lewandowski.
Referee: Craig Thomson (Scotland).
Register for free to continue reading
Registration is a free and easy way to support our truly independent journalism
By registering, you will also enjoy limited access to Premium articles, exclusive newsletters, commenting, and virtual events with our leading journalists
Already have an account? sign in
Register for free to continue reading
Registration is a free and easy way to support our truly independent journalism
By registering, you will also enjoy limited access to Premium articles, exclusive newsletters, commenting, and virtual events with our leading journalists
Already have an account? sign in
Join our new commenting forum
Join thought-provoking conversations, follow other Independent readers and see their replies