John Barnes interview: The England star of the Maracana is still fighting for a higher goal
His amazing strike in Brazil's iconic venue, where England play on Sunday, was a side issue when he talked to Sam Wallace
Sam Wallace Comments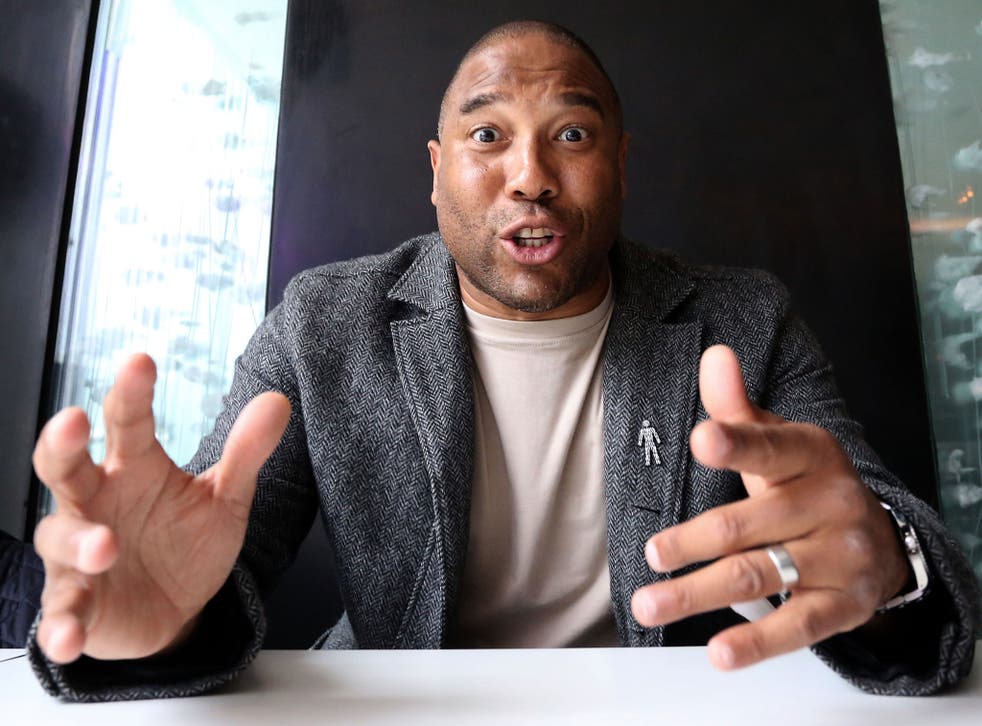 Everyone can remember the goal John Barnes scored against Brazil in June 1984, the last time England played at the Maracana. What not as many people know was later on that South America tour, he, Viv Anderson and Mark Chamberlain were racially abused on a flight to Santiago by National Front activists posing as England fans.
It is a shocking story, one of many that Barnes tells about racism in his autobiography published in 1999, still one of the great football memoirs. "They [the NF] kept saying 'England only won 1-0 because a nigger's goal doesn't count'," Barnes wrote. "I leaned back in my seat and thought to myself, 'Well, I crossed the ball for Mark Hateley's goal, so does that not count either?'"
When we met this week, I suggested to Barnes, 49, that, as English football wrestles once more with issues of race, the book is long overdue a reprint. He is working on another which will concentrate on his theories of racial attitudes in Britain. As a pioneering black footballer, one of the leading players of his generation – in a generation in which attitudes towards a successful black man could be dreadful – he has a perspective like no other.
I went to talk to John Barnes about that goal, with England's game on Sunday at the Maracana in mind. Instead, we talked about everything else. Back in 1984, Barnes had already noticed the NF activists before he boarded the flight to Santiago, but it was then they made themselves heard. Astonishingly, no one from the Football Association, the squad, or the journalists on the flight confronted them effectively
"The [white players in the squad] signed autographs [for the NF activists] but they wouldn't be friendly because they knew it was offensive. The NF lot sat at the back and they held their flag up. This is how they are – they are cowards. If I was walking by they would be OK but if I was 10 yards away they would hold the flag up. They never confronted me. They were in the hotels and on the plane.
"Last week I was with Gabriel Clarke from ITV and he brought all the back pages [about my goal and the tour], you had the Daily Mirror "Barn-storming!" Looking through the newspapers there was not one mention of the incident on the plane to Chile. The good old days. The issue I have is that they have journalists around then who are around now who now feel just like you [about the incident]. They champion the cause that racism is wrong. Then, they never said a word. Have they changed their mentality? Would they have got sacked if they wrote it?"
Barnes' views on race, and the incidents that have dominated the agenda in recent times – the Luis Suarez and John Terry episodes – are very different to what he calls "the party line". He admits that he will never be offered a role by the Professional Footballers' Association or the "Kick it Out" anti-racism campaign because he does not believe in "zero tolerance, quotas, the Rooney rule and forcing people to give a black man a job and all that kind of rubbish".
Instead of legislation, Barnes asks people to confront what he says is the "unconscious racist" in everyone, including himself. He works in Malaysia, Abu Dhabi and mainly South Africa as a pundit for their Premier League coverage but he also speaks on race at universities. "With Suarez, Terry, Serbia, we treat the symptoms [of racism] but we have to go back to treat the cause of it," he says. "If you can treat the cause then you can get rid of it."
When he arrived at Anfield in 1987 he received letters telling him to "go back to Africa and swing from the trees". Kenny Dalglish stood up for him in public but in those days the dressing-room jokes knew few boundaries. The discs on the tactics board were red, although one day there was one black one for Barnes. In his book, Barnes said he was comfortable with it. For his first players' fancy dress Christmas party, he turned up as a Ku Klux Klansman to show racism should be "laughed at".
But the reason Barnes says he survived was because when he came to England from Jamaica at 14, his self-esteem was already well-formed. From a middle-class family, his late father Ken had a remarkable career: Sandhurst heavyweight boxing champion, Jamaican international footballer, politician and diplomat. His mother was a social worker. His sisters, Tracy and Gillian, were academic high-achievers.
The black team-mates Barnes played with at the all-conquering Stowe club in west London did not have the benefit of his background. "If you were born in England in a poor area and you see your parents can't get a job, those formative years are your character. I was very fortunate that my character allowed me to play [despite the racism]. I know a lot people who were given opportunities who were then sacked because they responded in a certain way."
He despairs of the storm that blew up recently over Alan Hansen using the outdated word "coloured", and not just because Hansen is a former team-mate. "In the 1970s people were afraid to call me black because they thought it was an insult. They would say 'coloured'. Now it has gone full circle. It's not an issue. The intention is the most important thing."
His problem is more the notion he would encounter for years as a player – he was told by people, many of whom he says are still in the game, "that we don't see you as black'". "My response now would be, if you don't see me as being black, what do you see me as being? Normal? Is black not normal? And secondly, if you don't see me as being black, what is your impression of what black is? Because I may well speak well and I am OK, that's not the impression of what you have as black?
"What I say about myself, black footballers or black pop stars is that we have been 'elevated out of blackness'. Because when people see us, they don't see us as being black. These are the issues that we should address.
"If you go into a Premier League press conference you won't see many black journalists, apart from Darren Lewis [of the Daily Mirror]. Not because anybody is physically or verbally abusing black journalists, but does that mean there is unconscious racism in journalism? I know there are black journalists on The Voice and the Nation – so this is a thing where we have to change people's perspective."
It brings us to the issue of black managers. There are just five in the top four leagues. Barnes believes that positive discrimination is wrong and that the problem will eventually go away, "which is fine in 20 years' time but it is not fine for black managers now".
"In the 1970s you would have had lots of black goalkeepers and defensive midfield players but never made it professionally because the perception was, 'You don't think too much, you can't play in positions of responsibility so you play on the wing or up front'. Lots were lost to the game because of the perception. There are lots of black managers at this particular time. Whoever is making those decisions, you have to change their perspective on the people they are interviewing or the way they see a certain group of people. If you are forced to give someone an opportunity when you don't want to, that's going to turn you even more against it.
"So what you will do is tick the box. I can tell you there is a chairman who told a player I played with in 1994, 'We don't sign black players at this club'. Now that club has at least six black players. It is nothing to do with the fact that he likes black players, it is because he thinks if people are going to ask questions. 'I have got six black players'.
"It is changing with kids [of all races] growing up with each other. Some of them will be the movers and shakers and decisions makers. We have to get them above the glass ceiling so they can give opportunities based on merit. That's the only way it will change.
"When I coached Jamaica, we had 11 games and we never lost once. We played Nigeria, we played teams better than us. We won eight and drew three matches. All the players from Jamaica saw me as being English because I had played for England and Liverpool, so the response they gave me is better than the response they give their local Jamaican coaches."
Was it not because of his achievements as a player that they responded? "I was John Barnes, a very successful footballer, but the response I got from the Celtic and Tranmere players [his two other jobs in management] was not the same. It's understandable from what they [Jamaicans] have been told about themselves."
He accepts that his time at Tranmere, where he lasted just 11 league games, was a bad one but he believes he would have been given longer had he been white. "It's true, if I had won enough matches I still would have been in the job. But I can lose fewer matches than a white manager, a Scottish manager, a Spanish manager and be sacked. If you are successful, racism doesn't come into it. The abuse [in his playing career] will not exist if you do well. But if you are crap it will exist.
"What I say to the Tranmere fans is that I know for a fact that a white manager would have been given longer to lose and to fail. I was third from bottom and it was 9 October when I was sacked. The season was two months old. A white manager would have been sacked in December, but he would have been sacked after me."
He still lives on the Wirral, and has seven children, three from his second marriage. His oldest son, Jamie, is now 28 and a consultant at a hospital on Merseyside. Barnes is still engrossed by football and is in demand for his television work but he does not dwell on his own career too much. When we eventually talk about that goal in the Maracana, he jokes that the Brazilian players were probably "p****d the night before".
"Watching it now it looks like Leandro [the Brazilian defender] thought, 'Yeah, I'm going to chase back but surely someone is going to tackle him'. Whereas with Ryan Giggs' goal against Arsenal [in 1999], everyone was trying from the start. Same with Michael Owen [against Argentina] at the 1998 World Cup. My goal could have been avoided and in a serious game it would have been."
In the hotel lobby where we meet, people want their picture taken with Barnes. He obliges happily but has other concerns. "Until black people are regarded as intellectually and morally equal we will never be equal. That is why I don't like the idea of black sporting role models. What we are saying to our black kids is, 'You don't have to worry about education, you can become a boxer, you can become a runner'.
"Now it's OK for white sporting role models because white people also have role models to show the kids who can't do sport they can be Prime Minister or whatever. What role models do black kids have? John Barnes? Yeah, but what if you don't like football?"
Register for free to continue reading
Registration is a free and easy way to support our truly independent journalism
By registering, you will also enjoy limited access to Premium articles, exclusive newsletters, commenting, and virtual events with our leading journalists
Already have an account? sign in
Join our new commenting forum
Join thought-provoking conversations, follow other Independent readers and see their replies