Jordan Henderson ready to push on for Liverpool and England after putting injury woes behind him
The 27-year-old midfielder took his physio on holiday this summer in a bid to get fit and firing and now has his eyes set on leading the national team at the 2018 World Cup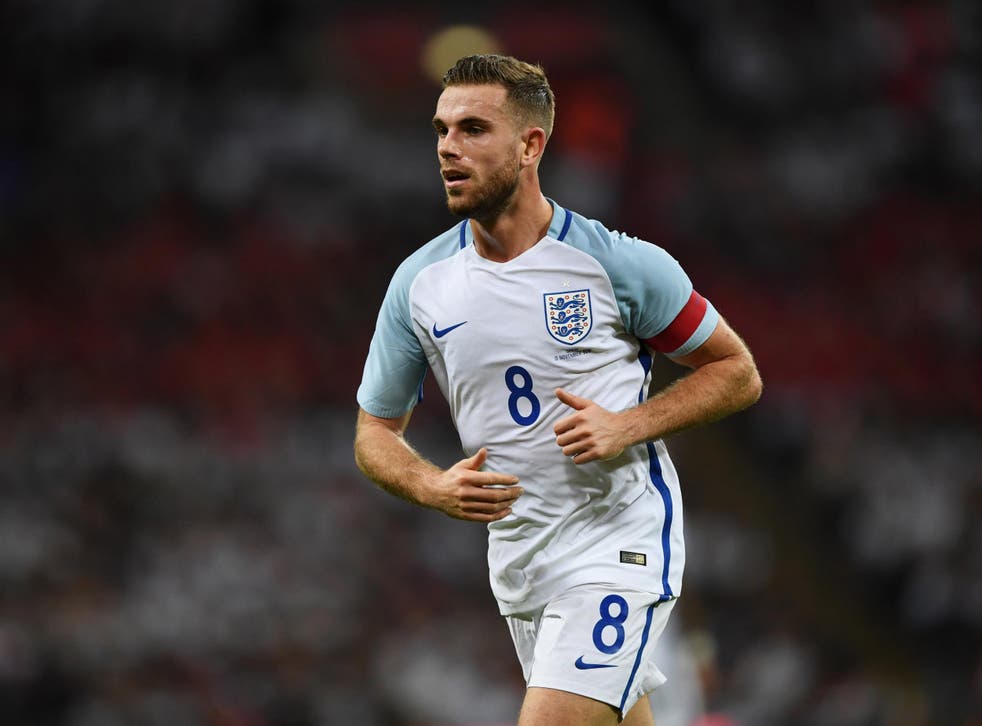 Jordan Henderson lets out a smile at the mischievous nature of the question, even if he obviously won't quite let us know what he's really thinking.
After Sunday's sensational 4-0 win over Arsenal, the Liverpool midfielder is asked whether Malta - his next opponents with England - will actually represent a step-up.
"I'll not say anything!" he laughs. Or, at least, he won't say anything about the opposition. He is willing to say a lot about Liverpool right now.
"Arsenal are still a very good team with very good players. I know they'll get a lot of criticism, especially after our game, but at the same time we were very good. When we play like that, with that intensity, it's hard for any team to come and perform really.
How Liverpool could line up with Keita, Van Dijk and Lemar

Show all 11
"A lot of credit has got to go to the lads at Liverpool for the way that we played and the intensity that we played at. Anyone coming to Anfield that day would have struggled.
"We've started well, we've improved each game. Last game was very good, but we need to make sure we keep that going. We've got a tough game when we get back in [Manchester] City, so there's a still long way to go. We're in a good moment, but we can still improve in a lot of areas."
Henderson himself is also in a good moment. He is feeling fresh and ready to go, having spent the summer getting back up to speed following the foot injury that kept him out of the last few months of last season. He even brought his physio on holiday to Portugal with him to help the process.
"I feel good, obviously I had to do a lot of work over the summer, I had a good pre-season, feeling very good at the minute. Hopefully I can just continue that for England over the next couple of games. For the majority of the time I was at Melwood, and then I got to go away for a week, in Portugal, but I still trained while I was there, the physio came with us, just wanted to make sure I was doing everything so when I came back for pre-season I was fine and I was, and all that work paid off, and I feel really good. He comes and makes sure I am doing the right things, he treats me, just so I can get a little break in the summer, because it's going to be a long season."
So what about the moments on holiday when he wasn't training?
"When we go on the beach, he [the physio] comes with us sometimes, if he wants to. I get him an ice-cream."
The 27-year-old has previously described missing last season's run-in as "devastating", but also knows he had to display a more measured outlook, because of his more influential role at Liverpool.
"I'm captain of the club, so I make sure I am there for the lads off the field as well. My focus was just to get back as strong as possible. I tried to focus all my energy on everything I needed to improve on to get my body stronger. I managed to improve certain things while I was injured, because when you're playing it is difficult to do. I tried to come back stronger, physically, and thanks to the medical team who've done some great work to help me.
"I don't need to manage it. It's done. It was a kick on the top of my foot, a stress response on my metatarsal, so I had to wait until it healed. The problem with the second metatarsal was it healed a little bit slower than normal. I tried to come back too quick at one point which set me back a little bit. It was tough to go through but I'm stronger for going through that and I feel good in myself."
If England aren't quite capable of the impressively relentless football Liverpool are, Henderson did notice an improvement in the team from the sidelines - and feels that reflects Gareth Southgate's work, as well as some of the frank discussions about the side he's been willing to have.
"We have spoken together as a squad and the target is to be the number one team in the world, however long it takes, we don't know. It is down to us as a team how far we want to go and how far we want to push ourselves. Hopefully we can do that sooner rather than later. I know it is going to take time, but I feel as though we have a great set of lads, a great set of players, a lot of talent, a lot of hard work goes into it. At the same time, we have not performed in the last few tournaments I have been to, definitely, and a lot more before that. We need to change something. First and foremost we have to get there and make sure we are there. Then the mentality has to change and we need to go and be better than we have been. Obviously we know the Euros was not good enough and the World Cup was disappointing. It is a big challenge but one I feel we are ready for.
"International football is different. I feel as though, since Gareth's come in, there's been improvements in games, even when I haven't played and I've watched… but it's up to us as players to change it on the pitch when we hopefully do get to the tournament. And when we get to the tournament, then we're ready and we're focused."
It is also an England team now adjusting to the loss of a hugely influential player, now that Wayne Rooney has retired.
"I was a little bit surprised because of how good he is and how hungry he is to play football," Henderson says. "I could see that watching him against [Manchester] City, he was outstanding, and the impact he has on the lads, how good a captain he was. But at the same time you have to respect his decision, he felt as though it was the right time to go out, and everyone has to say thanks for what he's done because he's been unbelievable for England for the last however many years, and hopefully he can keep doing what he's doing for Everton, because he's been brilliant when he's been there – but not too good."
Rooney's retirement actually only emphasises Henderson's own enhanced importance for the national team. Recently turned 27, he is one of the senior figures, as reflected by the fact Southgate has picked him as captain so many times when he was fit. Henderson then surely has designs on getting the armband for the long-term, once the manager finally decides?
"Of course. If you ask a lot of the lads in the dressing room, they'll feel as though they're ready to lead this team. And of course I'm no different but it's up to the manager at the end of the day, and whoever gets it the lads I'm sure will be right behind the person to help lead.
"It's a massive honour, when Gareth gave us the opportunity to captain for the first time, in November, it was a huge honour for me and looking at Harry [Kane] when he captained the squad, it was a huge honour for him, Joe [Hart] has done it, Gary [Cahill] has done it. There's a lot of lads in the team that have done it and that can do it… [but] it's totally down to the manager and what he feels is right for him and the team.
"He's spoken and he doesn't really want to give it to anyone at the minute, he wants to sort of mix and match and bring leaders through, whether you're experienced, whether you're a young player, and I think it's just finding the right captain for him, and for this team, to lead, and that's totally his decision. I feel as though I'm ready, but I'm sure there's other lads that feel that as well. It'll not change the way I am in this team. I'll do everything I can to help in my role."
That role for England is not quite the same as it is for Liverpool, even if he is notionally the same roving midfielder for both.
"It is a little bit different and I have got to adjust at Liverpool maybe. I have got to be more aware protection-wise and be a little bit deeper at times. With England it is a different formation and a different role so I have to make sure I adapt to that situation. The players around me are different as well. I am sure I will have conversations with Gareth over the next few days in terms of if I am playing what he wants me to do. Then whenever the game comes, I will try to do what he wants."
Henderson will have another midfielder partner coming in at Liverpool next season, as it has been confirmed Naby Keita will sign in the summer of 2018.
"If you play for top teams you are going to sign good players. I have seen Naby play quite a few times and he looks a top, top player. There have been a lot of transfer rumours over the summer and thankfully we ended up doing the business. Okay, he comes next year, but I am sure the club are delighted to get him because he will be a real addition to the squad and will hopefully help us over the next few years."
Henderson, however, is fully ready to go right now.
Join our new commenting forum
Join thought-provoking conversations, follow other Independent readers and see their replies