Real Madrid's Karim Benzema demands answers from Didier Deschamps as his international exile continues
Benzema remains a key player for Real Madrid and only this week was described as 'the best number nine in the world' by Florentino Perez. But his international exile continues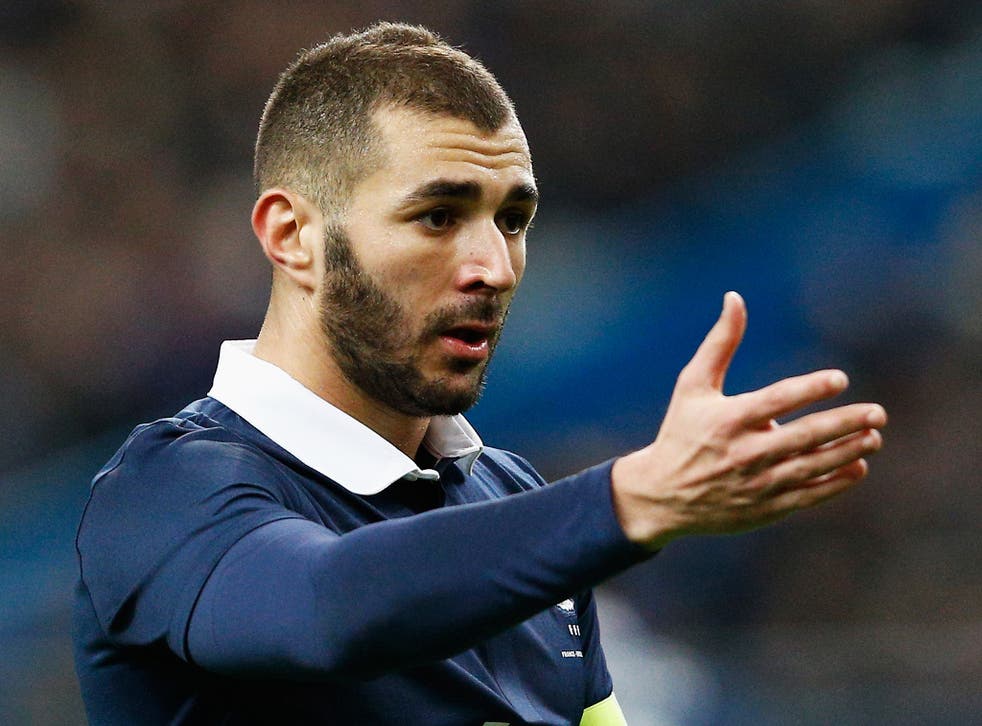 Karim Benzema has demanded that Didier Deschamps explain to him why he is being continually overlooked for a place in the France national team, telling the French press "I have to know".
Benzema has been a key player for Real Madrid over the past eight seasons and was described by Florentino Perez, the club's president, as "the best number nine in the world" this week.
But he has not represented Les Blues since October 2015 after being suspended by the French Football Federation (FFF) because of his alleged role in the extortion of international team-mate Mathieu Valbuena.
The striker was forced to watch Euro 2016 from the side-lines as France finished runners-up although Deschamps, as well as FFF president Noel Le Graet, have both publicly opened the door for the striker's return.
However, it looks like Deschamps has no intention of calling him back into a squad that performs well without him, much to the bewilderment of Benzema.
"What I would like is to at least have a discussion with the coach, that he tells me what he thinks. I have to know," Benzema told RMC.
"The last time I spoke to the coach on the phone, it was well before the Euro. He told me, 'Karim, I'm going to tell you something you're not going to like. I'm not going to pick you.'
"At the time, I was very disappointed, I didn't need explanations.
"We haven't had contact since. But today, having taken a step back, I would like him to explain to me why he doesn't pick me and why it continues. I ask myself that question every day."
Most expensive players by age

Show all 27
Benzema added that playing for a successful club like Real Madrid makes his exclusion all the more difficult, because of how sparsely attended training sessions are during international breaks.
"There are only internationals [at Real Madrid]. It's hard because I love football, big matches, and you know that the national team is a very high level. Each time I've been able to come and play with France, I was proud. So when I'm not on the list, I'm disappointed.
"Given what I've done at Madrid for eight years now, I think I've proven that I still had a lot of years ahead of me in the France team. It's been a year-and-a-half that I'm not in it any more.
"It's hard for me. Some people say I don't love the French national team. If that were the case, I would have said so directly to the coach, because I'm a big boy.
"But today I find it unfair because I don't have an explanation, let them explain to me why they don't pick me. I'm going to keep in my head that if they don't pick me for the moment, it's for football, it's that there are players that are better than me. If we talk about things outside of sport, the story with Mathieu, I'm not guilty. I've paid, it's been a year-and-a-half."
Benzema was charged with conspiracy to blackmail relating to an extortion scam over a sex tape allegedly involving Valbuena, although he has repeatedly denied any wrongdoing.
The case is still ongoing, with Deschamps clearly still worried Benzema's recall would prove divisive.
"I'm making sporting choices, for the sake of the French team," Deschamps said this week. "He can be selected. We did without him at the Euro, and we made it to the final."
Register for free to continue reading
Registration is a free and easy way to support our truly independent journalism
By registering, you will also enjoy limited access to Premium articles, exclusive newsletters, commenting, and virtual events with our leading journalists
Already have an account? sign in
Register for free to continue reading
Registration is a free and easy way to support our truly independent journalism
By registering, you will also enjoy limited access to Premium articles, exclusive newsletters, commenting, and virtual events with our leading journalists
Already have an account? sign in
Join our new commenting forum
Join thought-provoking conversations, follow other Independent readers and see their replies