Taliban, death threats and not giving up: Afghanistan's football pioneer Khalida Popal tells her harrowing yet heroic tale
Exclusive interview: In 2011, the Afghan women's captain was forced to flee her own country in fear for her life. Today she is a global icon. This is her story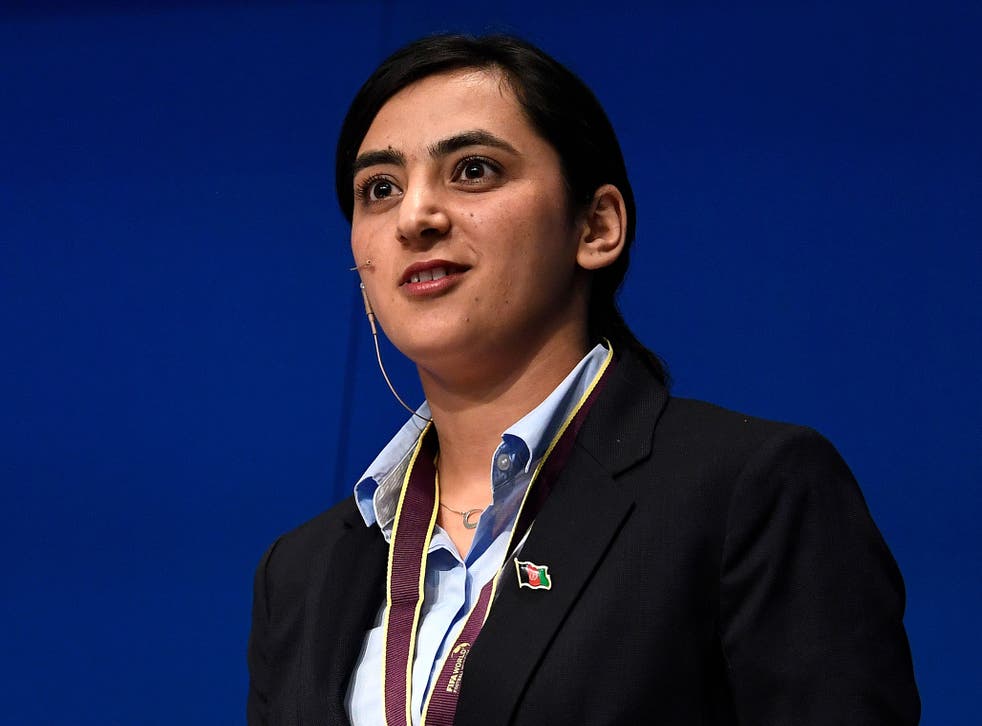 In April 2011, Khalida Popal thought she was going to die. "I was facing regular death threats from the Taliban, and I knew that if I stayed in Afghanistan my life would have been in real danger," she says softly. "I had a choice — I could either stay in my own country and face the consequences, or leave and continue working towards my goal. And I didn't want to die."
It is a beautiful winter's day in Monte Carlo and, as she recounts the darkest moments of her life, hotel guests mingle happily, sipping cocktails ordered from an expensive menu. When Popal first took to the football pitch — long before rising to become the captain of the Afghanistan national women's team — she could never have imagined that she would end up here.
Now, Popal lives in Denmark having sought asylum in the country, and travels the world speaking out on behalf of those who cannot defend themselves. But she began playing football in silence.
In the city of Kabul, she and her friends would play in a secluded yard in the shadow of their school, careful to keep the noise to a minimum. The Taliban began growing in influence during Popal's early years, spreading an ultra-conservative ideology that heavily restricted individual freedoms. It was not long before women were banned from participating in sport or attending stadiums altogether.
"I started to play football simply because it was fun," Popal recounts. "But it was not long before it became a lot more serious than that. They said that it was not good for me to play football and that it dishonoured me."
The forbidden kickabouts grew in number as more girls joined in and, encouraged by their swelling numbers, Popal and her friends defiantly took to the public playing fields. But although the Taliban occupation of Afghanistan officially ended in 2001, the hardline mentality of the group remained. Large swathes of the community turned on the girls, throwing stones at them as they played and declaring them "prostitutes" simply for playing the sport they loved.
"Afghanistan is a very traditional country," Popal explains. "It's a very closed country when it comes to women and honour killings are common. But it's not just the Taliban, it is the Taliban mentality which is still common in society to this day.
"There are people going to work in smart suits who look like gentlemen, but in reality their mentality is so, so against women. And unfortunately these types of people do not want to support our rights. What is even worse is that this Taliban mentality still exists among some people in the government, too, and they are creating a lot of problems for women, and making it difficult for them to develop or to function in society."
Despite the adversity they faced, Popal and her friends did find a handful of allies and the local NATO base allowed them to train at their compound — so long as they scarpered whenever a helicopter needed to land. In 2007 the national women's football was formed, with their first ever match against an International Security Assistance Forces XI. They won 5-0.
Yet even the fledgling team's achievements were interwoven with tragedy. The landmark fixture took place at the Ghazi Stadium, where Taliban officials had previously carried out stonings, amputations and executions in accordance with Sharia law. Locals whispered that so much blood had soaked deep into the turf that the grass would no longer grow.
"Whenever I kicked the ball there I could not stop my mind from racing and imagining," Popal says. "I had seen photos and videos of what had happened there before. I knew that this was the place for public executions and that so many women had died on this very field. And I knew that those things had happened in exactly the place where I was now kicking a football."
She pauses briefly. "But also, every single time that I kicked the ball it felt like a victory for all of the women who had died, and all of the women who had been unable to stand up for their rights. Who had been made victims for no reason. So breaking the barrier of playing there was very important and we were all proud to make history."
International matches against the likes of Nepal, Pakistan and the Maldives followed. But her success came at a price. The death threats intensified, with Popal's family also made to fear for their safety, and a vicious smear campaign was launched to discredit her. Eventually, Popal felt she had no choice but to quietly flee the nation she had fought so hard to represent.
"When I started playing football, or even when I made the decision to begin taking football more seriously, I truly never thought that one day it would lead to me leaving. I went as far as I could but in the end I felt I no longer had enough support to remain there.
"People threatened my life and I did not want to die, because I knew if I did then generations of women after me would live with this fear. And I did want this to stop them from playing football. So I chose to leave the country and live, and still continue fighting for my own gender."
Weeks on the road followed. Without a visa, Popal nervously edged her way across Pakistan, before going underground in India. Eventually she managed to make her way to an asylum centre in Norway and from there she crossed into Denmark, where she waited at another centre for months, depressed and alone.
Popal needed to draw on every ounce of her inner strength to persevere. "I'm the sort of person who hates to give up," she says resolutely, as if the past 20-minutes of conversation have left this statement in any doubt. "And I never want to see myself weak — no matter what happens I hate to see myself weak. I'm afraid to be weak and I'm afraid of what it feels like to give up."
But there was a time when she almost did. A life-affirming opportunity to play for a local team turned sour when, having not long dusted off her boots, Popal suffered a serious knee injury which ended her career. She had risked everything for football, only for the sport to let her down when she needed it the most.
"I arrived in Denmark struggling to adjust to an entirely different culture and language, and had no friends, no network, nothing. And then I suffered my injury, with my knee totally damaged, and I was told I could not continue playing football. So it was a time when I did seriously think about all the things that had happened to me, and I came close to giving up."
Fortunately, she didn't. "I said no," she adds. "I knew that there had to be something else. There had to be a Plan B, something that would allow me to continue working towards my dream. And I realised that it was okay if I couldn't play football, I could still support other women who can play, and who dream of having the kind of opportunities and support that I never had."
Although there is no longer any chance of her adding to her 20-appearances for the national team, Popal remains a key figure in Afghan women's football and currently serves as their Programme Director. She has also established her own organisation — Girl Power — which works to promote sports participation among minority groups, as well as co-operating with Uefa and Fifa.
And last year she worked closely with Hummel, helping the Danish sportswear company to design a lightweight sports hijab, to increase the opportunities of the women who chose to wear one. Popal hopes it will encourage even more Muslim women to become engaged in the sport.
"When I started working with Hummel it was at the request of some of the Afghan players, because some of our players want to wear the hijab when they play and for some it is the only way their families will allow them to play.
"The project has obviously been quite complicated and political at times, but the idea behind it is very simple: how do we give more opportunities to young women in Afghanistan and everywhere? How can we encourage them out from their homes? We wanted to provide support for women to make their own choices with something they would feel comfortable wearing and we wanted to show that football is not against religion or culture. It is just about having fun, enjoying the game and enjoying being together."
The hotel has fallen quiet and it is beginning to get dark outside: Popal has an awards ceremony to attend. Peace and Sport have named her their Champion of the Year, a prestigious award which recognises the extraordinary effort she has made towards peaceful change in the world. She is a global inspiration — and yet hopes that soon her example will not need to be followed.
"It really is my dream that, at some point in the future, there will be nobody like me," she smiles, as she heads towards the door. "I hope that there will not be a person who has been left totally alone, all by herself. The thing I love more than anything is women supporting women and that is what I want to happen in the future."
Khalida Popal was talking at the Peace and Sport Forum. For more information click here.
Register for free to continue reading
Registration is a free and easy way to support our truly independent journalism
By registering, you will also enjoy limited access to Premium articles, exclusive newsletters, commenting, and virtual events with our leading journalists
Already have an account? sign in
Register for free to continue reading
Registration is a free and easy way to support our truly independent journalism
By registering, you will also enjoy limited access to Premium articles, exclusive newsletters, commenting, and virtual events with our leading journalists
Already have an account? sign in