Kim Jong-il vs Obama? That's political football
They're unlikely to meet their neighbours south of the border, but North Korea could be drawn against the United States at next summer's World Cup. Glenn Moore reports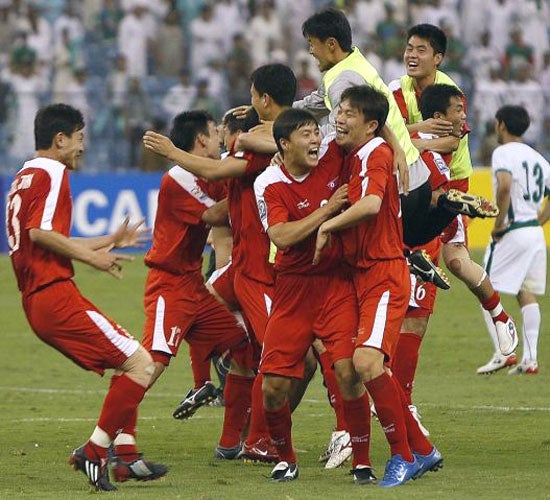 Sepp Blatter, Fifa's president, loves to imagine that his organisation can resolve global crises through football. So it can be assumed he is already dreaming of the moment when, in the VIP box at one of next year's World Cup venues, he can turn to Barack Obama and say: "Mr President, I'd like to introduce Kim Jong-il, Dear Leader of the Democratic People's Republic of Korea, I don't believe you two have met, but I'm sure you've lots to talk about."
It could happen following North Korea's qualification for World Cup 2010, their first finals appearance since 1966. With the United States team on the brink of securing their own qualification, the prospect looms of the most politically charged finals tie since the US met Iran at France '98. The way Fifa seeds teams means North Korea cannot be drawn against South Korea, who have also qualified for South Africa, but could well be paired with the US.
Iran's failure to defeat South Korea on Wednesday helped North Korea to qualify. Six members of the Iran team wore green wristbands, seemingly in support of Mir Hossein Mousavi, the defeated candidate in the Iranian presidential election. The players were asked to remove the armbands at half-time but three would only cover them with white tape. Mansour Pourheidari, Iran's coach, said: "This was not a political move but rather players were using an Islamic symbol. Because players felt the move may be mistaken for a political act, we asked them to take off the bands." It was certainly interpreted as a political act. Within hours, photos of the players were being waved by opposition demonstrators.
It would inevitably have been feared, by many in the North, that South Korea would throw the match as they had already qualified, but Manchester United's Park Ji-sung destroyed such conspiracy theories when he levelled nine minutes from time. WhenNorth Korea held Saudi Arabia, they became the fifth team to qualify for 2010 following Japan, Australia, South Korea and the Netherlands. Quite how many fans will be allowed to travel from the secretive state, or how the team's authorities will deal with Fifa's media requirements, remains to be seen. The majority of the squad play in North Korea but a few play in Japan, Russia, South Korea and Switzerland. These are usually Japanese-born Koreans, known as Zainichi.
North Korea's appearance will evoke memories of 1966 when they stunned football by knocking out Italy, then taking a 3-0 lead against Portugal in the quarter-finals only to lose 5-3 after Eusebio inspired a comeback. The North Koreans played all their group games at Ayresome Park and were adopted by the Middlesbrough public. When the ground was turned into a housing estate after Middlesbrough moved to the Riverside, a bronze cast of the imprint of a football boot was laid in one of the gardens marking the spot where Park Doo-ik took the shot which beat Italy. Initially feted, Park and his team-mates were later "re-educated", which in Park's case meant being assigned to forestry labour. When Kim Jong-il came to power Park was rehabilitated, which suggests the Dear Leader is a football fan. With Obama lending his support for the US World Cup 2018 bid, Blatter's dream may yet come true.
No such thing as a friendly: World Cup grudge matches
1974 West Germany 0 East Germany 1 (Hamburg)
The only ever meeting between the two Germanys, won by the DDR through Jürgen Sparwasser's late goal. The result meant the Federal Republic went into the easier second-stage group, but it was no fix. West Germany's manager, Helmut Schön, had defected in 1950 and was devastated by the defeat.
1982 Poland 0 USSR 0 (Barcelona)
The draw meant Poland reached the semi-finals but the match was overshadowed by the strong-arm manner in which Spanish police – allegedly in response to a request from Soviet television – removed banners pledging allegiance to Solidarnosc, the Polish trade union which would eventually inspire Poland to throw off Soviet control.
1998 US 1 Iran 2 (Lyons)
Then, as now, there was mutual hostility between Washington and Tehran but on the pitch the players exchanged garlands and gifts, then posed for a joint photograph before a match won by the counter-attacking Iranians. The only tension in the stands was primarily between dissident exiles and "official" Iranian fans.
Join our commenting forum
Join thought-provoking conversations, follow other Independent readers and see their replies